Gallant Is Taking The ESPYs Stage Tonight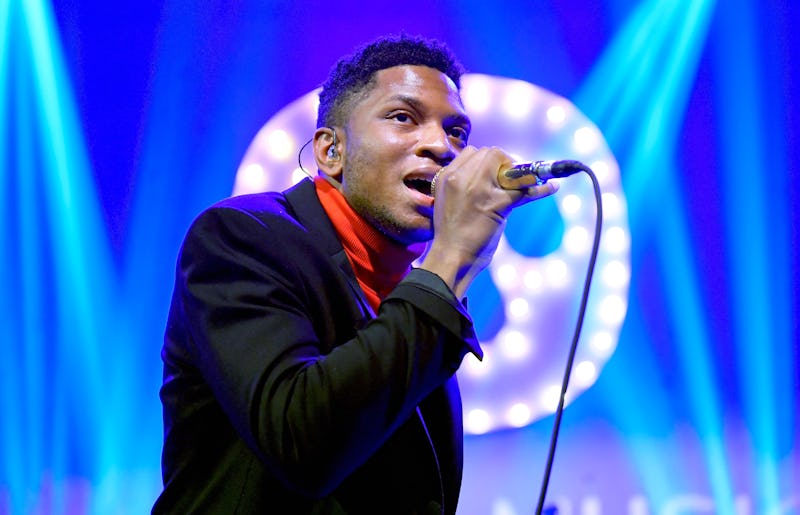 Matt Winkelmeyer/Getty Images Entertainment/Getty Images
Music and sports are inextricably linked. From Whitney Houston's rendition of the national anthem to Drake and Future's "Jumpman," music gets athletes game ready and sports fans even more hyped up. So, it should come as no surprise that the annual ESPY Awards always feature top notch musical performances. This year, up-and-coming R&B singer Gallant is performing at the ESPYs. The 25-year-old Maryland native has garnered much acclaim for his hit single "Weight in Gold," which he dropped in 2015. He also released two singles the following year with featuring big name artists: "Skipping Stones" with Jhené Aiko and "Borderline" with James Fauntleroy.
Gallant spent much of 2016 promoting his Grammy-nominated debut album Ology everywhere from Coachella and Bonnaroo to The Tonight Show with Jimmy Fallon and The Late Late Show with James Corden. After performing as the opening act for John Legend's "Darkness and Light" tour in 2017, the singer — whose full name is Christopher Gallant — is now as ready as ever to take his talents to the ESPYs stage. But before Gallant dazzles the audience with his flawless falsetto, here are a few facts about him.
He Was Nominated For A Grammy In The Same Category As Beyoncé
Obviously, Queen Bey went home with the Grammy for Best Urban Contemporary Album for Lemonade, but Gallant was surely honored to be nominated.
He Attended NYU
Gallant graduated from New York University in 2013 with a degree in music, according to The Fader. "I studied music but I mixed in a lot of anthropological and sociological studies," he told the publication. "I studied trends. I studied cultural movements. It helped me understand contextually where I am."
He Loves Video Games — Especially By Nintendo
Gallant told Red Bull, "Video games relax me, it's the best way to escape from reality."
He Initially Put Off R&B In Favor Of Rock
Gallant told The Fader that as a black man he felt obliged to like soul music. "I tried to rebel against R&B because I felt like it was too close to what I was supposed to like, you know?" he said. "It was hard but it was a blessing because then I discovered progressive rock from bands in the U.K. and lyrics from Incubus and textures from Radiohead."
He Wrote His First EP During His Last Year Of College
However, Gallant waited a year before finally releasing his nine-track EP Zebra in 2014.
He Has A More Quiet Persona Than Some Of His Peers
In reference to Ology, Gallant told The Fader, "I'm not focused on bravado or an obscene level of masculinity or power or whatever. I just wanna understand the world in a certain way and I wanna understand myself in a certain way."
He Was The Only Musical One In His House Growing Up
Gallant told the Sydney Morning Herald, "Neither of my parents are musical, but they both worked and so I had a lot of time to myself at the house, where I would write things and work on music. I didn't have any kind of magical musical upbringing, which would've been cool … I've found a lot of the interesting strength in my creative process in isolation."
Seal & Elton John Are Some Of His Biggest Fans
Gallant performed "Weight In Gold" with Seal at Coachella in 2016. Seal told the audience he "loves that he's the future" and referred to the singer as a "talented young man." Gallant also got to sing his hit song with Elton John at the Apple Music Festival in London the same year. John told the crowd, "When I hear his voice I just lose it because it's an astonishing instrument and he's a great writer and a great artist."
From The Looks Of Instagram — He Loves Sports
The singer posed for a photo with NBA star Russell Westbrook and captioned it, "biggest congratulations on the MVP brother!"
With Peyton Manning as the ESPYs host and a slew of the world's greatest athletes competing for the top prizes of the night, sports lovers are in for a good show.