A Former Trump Aide Just Admitted To Lying To The FBI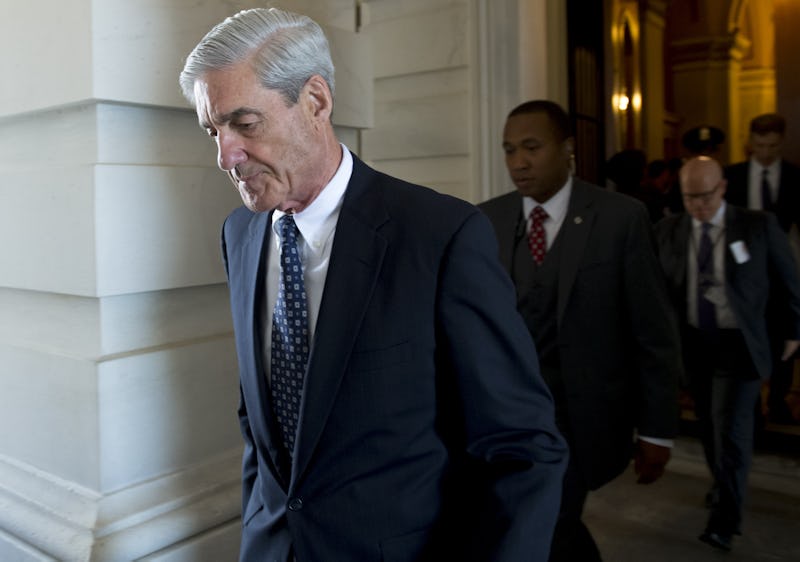 AFP Contributor/AFP/Getty Images
On Oct. 5, former Trump adviser George Papadopoulos pleaded guilty to one count of lying to FBI agents in relation to the special counsel's investigation into potential ties between the Trump campaign and Russian meddling in the 2016 campaign. Papadopoulos was the first person charged in the FBI investigation, but it wasn't public knowledge until the case was unsealed Monday. According to the unsealed documents, he lied about his 2016 interactions with a foreign national.
On top of Papadopoulos pleading guilty weeks ago, former Trump campaign chairman Paul Manafort and his longtime business associate Rick Gates turned themselves into federal authorities Monday morning after being indicted on 12 counts. The two men face charges of conspiracy against the United States, conspiracy to launder money, making false statements, and failure to report foreign bank and financial accounts. According to the indictment, they "repeatedly provided false information to financial bookkeepers, tax accountants and legal counsel."
Papadopoulos was a foreign policy adviser to Trump during the 2016 election, though Trump aides have claimed he had no access to the then-presidential candidate. He was arrested July 27 and pleaded guilty more than two months later. He is reportedly working with the government in the ongoing investigation into whether or not Trump's campaign colluded with Russia.
The former adviser met with a Russian professor he knew was related to Russian President Vladimir Putin in March 2016, as the presidential election raged on. According to the unsealed documents, Papadopoulos acknowledged that he believed the professor had emails that would prove damaging for Trump's opponent, Hillary Clinton, before meeting. However, while he claimed it had happened before he joined the Trump campaign, the meeting with the professor actually occurred on or around March 14, after he had already known he would be an adviser to Trump. He also learned about the "thousands of emails" allegedly in her possession weeks later, in April. The documents state that the Russian was only interested in Papadopoulos because of his connection to the political campaign.
Papadopoulos also lied to federal agents about how he perceived the professor, saying he thought they were "a nothing" when the FBI knew Papadopoulos understood the Russian had connections to the Kremlin.
"He sought to use her Russian connections over a period of months in an effort to arrange a meeting between the Campaign and Russian government officials," the documents read.
He was charged for making false statements and thus impeding the the FBI's ongoing investigation. The fact that he pled guilty, along with Manafort and Gates turning themselves in on Monday, adds serious heat to the federal investigation into Trump's 2016 campaign.
Like Papadopoulos, a meeting Manafort attended with Russians was under scrutiny this summer. Manafort sat with Russian lobbyists, Donald Trump Jr., and Trump's son-in-law Jared Kushner during the campaign. Although the meeting was downplayed as unimportant, a later report that Manafort took notes on his smartphone suggested it was taken at least somewhat seriously. Also like Papadopoulos, Manafort is accused of making false and misleading statements.
However, the charges against Manafort seem to originate from his business ventures with pro-Russian politicians and businessmen. He owed pro-Russian interests millions of dollars before joining the Trump campaign and used shell companies in Cyprus to accept their money. As part of his indictment, the federal government accused Manafort of laundering more than $18 million, and both he and his ex-association, Gates, were accused of making false statements. Gates was accused of transferring more than $3 million from offshore accounts.
Both Manafort and Gates have denied any wrongdoing previously, but it is possible they will take a deal to avoid potentially long prison sentences. It is not yet clear what Papadopoulos' sentence will be, but pleading guilty will likely result in a less harsh punishment for the former Trump adviser.