The Youngest 'Big Brother 20' Houseguest Has The Perfect College Major For This Competition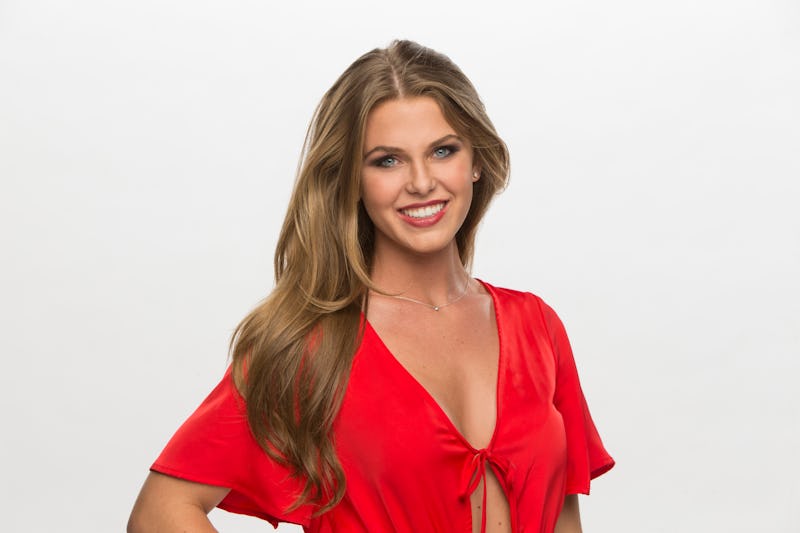 Sonja Flemming/CBS
People from all walks of life appear on the Big Brother, but no matter a houseguest's backstory, all the contestants have one thing in common: They want to win. That will certainly be just as true in the competition's 20th season. One of the houseguests hoping to leave a mark is Haleigh, whose young age is sure to have audiences wondering about her background. Who is Haleigh on Big Brother, and what are the odds she takes home the $500,000 prize?
At 21 years old, Haleigh is the youngest of this season's houseguests. Her CBS Q&A lists her as a college student in Texas, and her Instagram bio reveals that she goes to Texas A&M. In that same CBS questionnaire, the coed used some pretty great alliterative adjectives to describe herself, going with "classic, cautious, and contagious." It remains to be seen whether the other houseguests (and viewers) will find Haleigh as contagious as she thinks she is, or whether her caution will get the better of her and get her voted out of the house. Her profile also notes that Haleigh loves traveling... which might not be the best fit with being stuck on the grounds of the Big Brother house for weeks on end.
But Haleigh isn't just a student of psychology (though that is her major, according to the CBS Q&A). She is also clearly a longtime fan of Big Brother, and she has a game plan for how to use her degree and her smarts to outwit the other houseguests. She told CBS:
I plan on using my school major, psychology, to analyze and deceive the houseguests. I know it is probably common for people to say they will use their careers or schooling, but I feel like mine will help, along with my social skills. I plan on feeling out the houseguests first, then pinpointing what makes them tick and rolling with it.
Since she is fairly young, the other houseguests might underestimate Haleigh's powers of deception and manipulation, but the psych major can't be counted out as a candidate to win the grand prize.
Haleigh's profile also revealed a few interesting facts about her life. She shared that when she was in 6th grade, she found out that she had been adopted; she once raised a goat named Ringo for Future Farmers of America; and that she volunteers at a mental health hospital because her father suffers from mental illness. Her biggest fears are crossing the street and chainsaws, so she's probably got her fingers crossed that neither fear gets incorporated into a Big Brother challenge.
She also shared her favorite former Big Brother contestant, which could give a clue as to how she plans to play the game:
I really liked Derrick from season 16. I felt like he played an honest and goal-oriented game. There was never any move he made that made me question him AND he made it to the end without being nominated. Plus, he's the cutest person in the world and I just want to hug him.
Maybe Haleigh will base her own game on Derrick's.
Other than the fact that she's about to appear on Big Brother, Haleigh's Instagram feed depicts the life of a typical millennial, though perhaps one who goes to the beach more than most people. She's got tons of pictures with her friends and family, and she gives off the impression that she's generally just a regular college student. But Haleigh's life is surely about to be turned upside down once she becomes a houseguest and gets thrust in the national spotlight. As for whether the psych major has what it takes to win it all, that's one answer that's not in the textbook.