Hannah Gadsby's 'Nanette' Is About To Become Your New Netflix Fave & Here's Why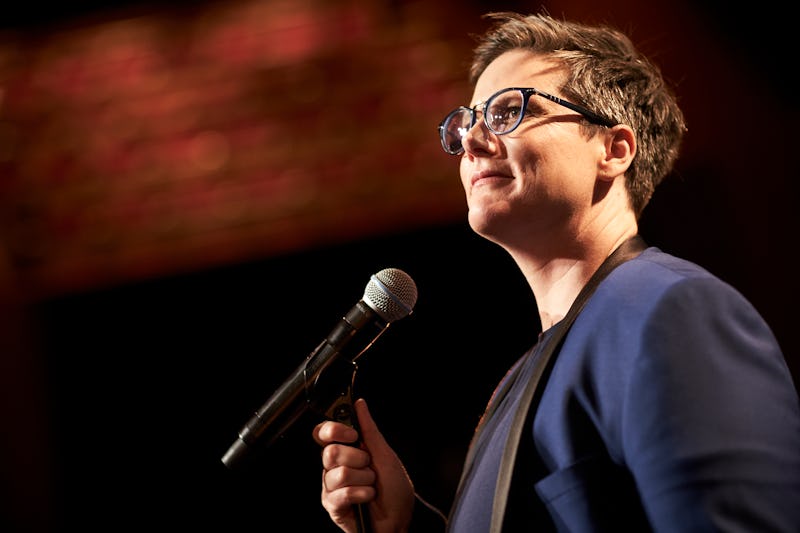 Netflix
Netflix recently announced everything that will be landing on the site this June, prompting many to immediately cancel any weekend plans and set up camp on the sofa. As well as announcing the new and returning shows and the films coming to the streaming service, Netflix also announced its comedy specials for the month. And among them is a much-hyped special called Nanette, by the Australian comic Hannah Gadsby. But who is Hannah Gadsby, and why is her show so hotly-anticipated?
Before it became a Netflix special, Gadsby toured her show Nanette at the Edinburgh Fringe Festival last year, followed by a run at London's Soho Theatre. The show received rave reviews in the UK, with The Scotsman describing it as "beautiful and awful" and The List naming it "one of the most powerful standup hours the Fringe has witnessed."
Perhaps one of the reasons the show touched such a nerve is the timely nature of the subject matter, which takes in everything from gender-based violence through to rampant societal homophobia, leading The Guardian to describe the show as "extraordinary." Gadsby talks about the permanent scars left behind from the debate surrounding the same sex marriage vote in Australia last year, and the lingering homophobia. "I'm a little bit furious," The Guardian reports her concluding with straight-faced sincerity at one point during the show, telling attendees to "deal with your own tension."
The Netflix special was filmed at the Sydney Opera House, and will be available to watch on Netflix on June 19. The special will be a reworked version of what she has already toured, and the trailer doesn't give away much. "My show is called Nanette," she tells the crowd. "I named it Nanette at around the time I met a woman called Nanette, who I thought was very interesting... so interesting I thought I can squeeze an hour of laughs out of you. Turns out... nah." However, according to EW, the special will also feature her thoughts on the #MeToo movement and feminism, leaving viewers with "a lot to unpack after the laughter."
Another reason the show might have generated such a sense of anticipation, is because the special is a self-described "swansong." Gadsby claims the show will be her last, putting an end to her decade-long career in comedy, with The Telegraph reporting that she feels the restrictive nature of standup isn't allowing her the space she requires to tell the stories she feels need telling.
Gadsby took a circuitous route to comedy, coming to prominence in 2006 after winning one of Australia's biggest open mic competitions, the Raw Comedy Award, reports The Sydney Morning Herald. But before that she studied Art History at the Australian National University, after which the newspaper reports she worked a succession of odd jobs, including stints in Canberra bookshops, as an outdoor cinema projectionist, and working in farming along Australia's east coast.
She grew up in Tasmania, and according to The Sunday Morning Herald, struggled with bouts of mental illness, eventually being rendered homeless. More recently she was diagnosed with attention deficit hyperactivity disorder, or ADHD. Gadsby got started in comedy a decade ago, and earlier this year told The Arts Desk the amount of time she has spent doing standup has taken its toll: baring her soul night after night, for others to laugh at. When she won the Raw Comedy Award in 2006, she had only 25 shows under her belt.
In 2014, she appeared in the Australian television series Please Like Me — her appearance as a LGBQT person on an Australian prime-time comedy is something Gadsby views as one of her most radical moves, according to Australian website The Music. But it might be back to Art History that Gadsby next goes, if she makes good on her word to leave comedy forever.
Earlier this month Gadsby made a two-part documentary series called Nakedy Nudes about Greek and Renaissance art, arguing that today's impossible beauty standards and oppressive gender norms are hungover from these works. "The sheer number of paintings of unconscious women is distressing," she told The Guardian. She also makes short art videos on her YouTube channel.
One of the elements of Gadsby's special, and her standup in general, that has been getting a lot of attention, is the candour with which she speaks about her personal life. And there can be a cost when you use your own life for you material. "I've made my story into a joke," Gadsby told The New Yorker in May of this year. "And there's only so long I can pretend not to be serious."
Gadsby recently announced she would be returning to the Edinburgh Fringe Festival, perhaps scuppering those swansong claims, with a new show about art. Perhaps with a little distance, she'll be able to carry on making her electrifying comedy. Here's hoping.