The Rabbi Who Helped Ivanka Convert Is "Deeply Troubled" By Her Dad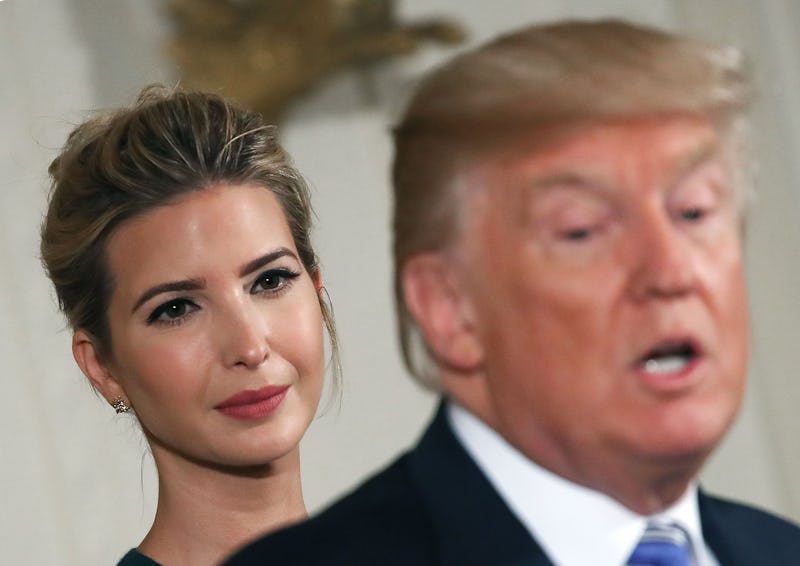 Mark Wilson/Getty Images News/Getty Images
Not many were satisfied with Donald Trump's comments on violence in Charlottesville last weekend. Criticism came from both Republicans and Democrats who found themselves agreeing with each other insofar as Trump's inadequate condemnation of neo-Nazis and white supremacists in Charlottesville were concerned. But it wasn't just public officials who noticed. Rabbi Haskel Lookstein, who supervised Ivanka Trump's conversion to Judaism, condemned Trump's speech in a letter to members of Congregation Kehilath Jeshurun on Wednesday, New York Magazine first reported.
Co-signed by Rabbis Chaim Steinmetz and Elie Weinstock, Lookstein's letter pointedly noted that they were "troubled by the moral equivalency" Trump attempted to strike in his comments.
In his initial comments on Charlottesville, Trump blamed the violence and hatred "on many sides" in a speech that sparked intense backlash. On Monday, Trump appeared to cave to the criticism and explicitly denounced white supremacists in his second speech. On Tuesday, though, he doubled down on his "many sides" statement and pinned the blame on a non-existent "alt left" movement.
Lookstein's letter minced no words. "We are appalled by this resurgence of bigotry and antisemitism, and the renewed vigor of the neo-Nazis, KKK, and alt-right." The letter noted that the council usually made efforts to remain neutral and out of political wrangling but that Trump's remarks compelled it to take a stand. "While we avoid politics, we are deeply troubled by the moral equivalency and equivocation President Trump has offered in his response to this act of violence," the letter said.
In the letter, the rabbis commemorated the memory of a young woman who had been killed at the white supremacist rally in Charlottesville. Heather Heyer, a 32-year-old woman, had been killed after a car driver plowed his vehicle into a group of anti-racism activists, according to authorities. In addition to Heyer, two state officers lost their lives in a helicopter crash near Charlottesville.
According to New York Magazine, Lookstein has enjoyed amicable relations with the Trump family. Last year, according to the report, the rabbi had been invited to speak at the Republican National Convention but upon protests from the Modern Orthodox community, Lookstein pulled out. Now the rabbi seems to have taken a more vocal and opposing position against Trump's assessment of the chaos that engulfed Charlottesville.
In addition to critics taking issue with Trump's deficient condemnation, observers took keen notice of Ivanka's initial day-long silence which she finally broke on Sunday with a tweet that said that there is "no place in society for racism, white supremacy and Neo-Nazis."