Rihanna's Mystery Man Is Not So Mysterious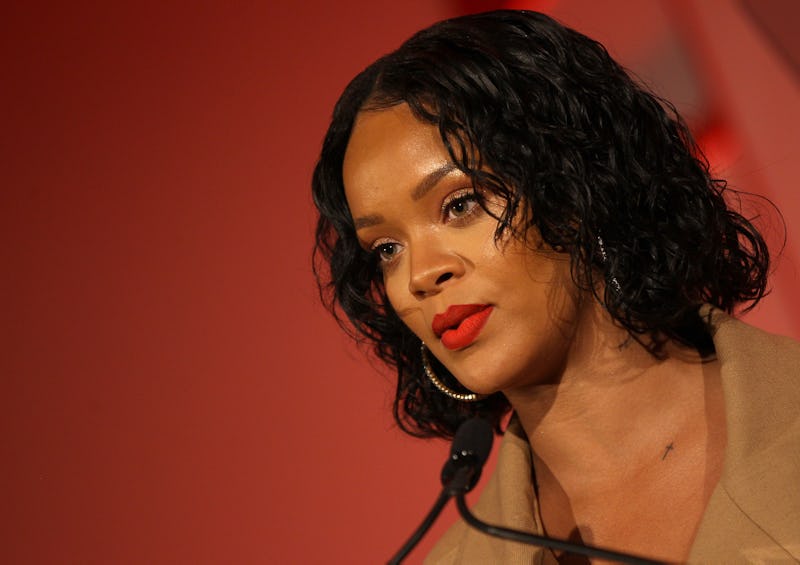 JP Yim/Getty Images Entertainment/Getty Images
Rihanna is so beloved that when she snags herself a man, people around the world rejoice. After Drake and Rihanna played with fans' heart strings with their on-off romance, they just want her to be with someone who really makes her happy. And some new photos of Rihanna and a mystery man in a pool seemed to hint that she was pretty happy. The Daily Mail posted photos of Rihanna making out with a man in a pool in Spain on Tuesday, and according TMZ, the mystery of who this guy is may now be solved. TMZ reports that Rihanna's pool man is Hassan Jameel, and he happens to be worth a lot of money.
Rih's fans are ecstatic to see her frolicking, laughing, and making out with a very good-looking man while on vacation. In addition to the pool photos, the two have now been spotted smiling while walking around in Ibiza. A source told The Sun about Jameel and Rihanna,
"They've been spending a lot of time together away from prying eyes and are really serious. They're really enjoying each others' company."
That sounds like a pretty ideal situation, and quite frankly, Rihanna deserves it. Jameel's identity might not have been a mystery for long, and now fans have the chance to learn more about this new friend of Rih Rih's.
He Is A Businessman
According to the Daily Mail, Hassan is the deputy president and vice chairman of Abdul Latif Jameel Domestic, Saudi Arabia's largest Toyota distributor.
His Family Is Worth Billions...
In 2016, Forbes Middle East ranked the Jameel family number 12 among the world's richest Arabs with a net worth of $1.5 billion. According to the publication, "In 1955, Abdul Latif Jameel won exclusive rights to distribute Toyota in Saudi Arabia," which amassed most of their fortune.
...And They Own A Soccer League
Yes, you read that correctly. The Saudi Professional League is known as the Abdul Latif Jameel League as the family sponsors the team, so yeah, it's pretty much theirs. Rih is a known soccer fan, so this could be a perfect pairing.
Rihanna's Fans Are Happy They're Together...
The support from the Navy is real, y'all.
...And Really Think He's The One
Maybe we should all give them a few more weeks?
Could this be the real deal for Rih and Jameel? Who knows, but it looks like they're pretty happy right now and that's all that matters.