Hayley Kiyoko's Music Exudes Self-Confidence, Making Her A Perfect Fit For This VMA Category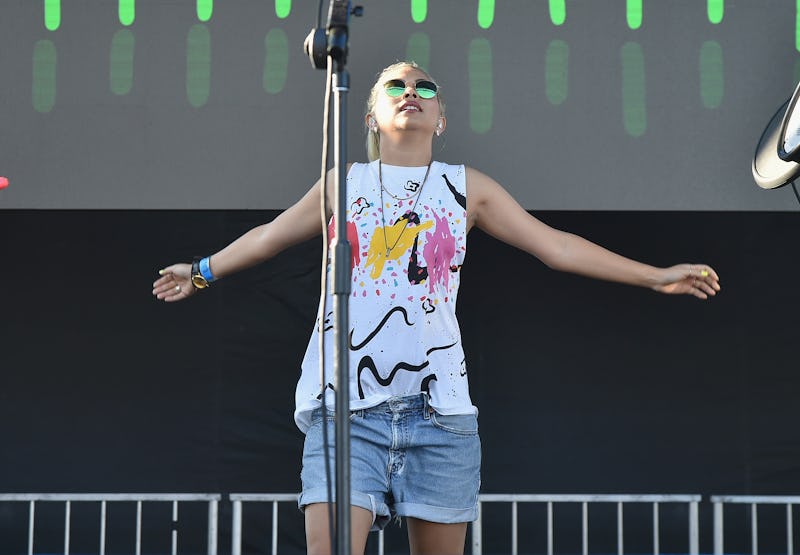 Theo Wargo/Getty Images Entertainment/Getty Images
If you don't know who Hayley Kiyoko is yet, get ready for that to change. Kiyoko is nominated for Best New Artist at the upcoming MTV VMAs, and she's already proving herself to be an unstoppable force in the music world. So, who is Hayley Kiyoko exactly? You've probably heard her radio-friendly pop tunes, but there's way more to Kiyoko than her catchy songs.
Kiyoko's debut album, Expectations, was released in March. Even if you don't know much about Kiyoko, you've likely heard "Curious" or "What I Need." But Kiyoko has been making music for plenty of years before that. She released her first EP, A Belle to Remember, in 2013. And she's released two other EPs — This Side of Paradise and Citrine in 2015 and 2016, respectively. And before her solo career, Kiyoko was a member of pop group The Stunners, whose credits include opening for Justin Bieber on his My World Tour.
Plus, Kiyoko already has a number of high-profile fans, including Taylor Swift. Swift invited Kiyoko onstage at a recent concert in Foxborough, Massachusetts, and they performed "Curious" together. So the "Best New Artist" nomination is a bit of a misnomer, though this year marks the time when her songs started becoming household names.
But what's truly put Kiyoko on the map is her openness about creating music for LGBTQ listeners. A number of her lyrics are about being attracted to women, and she's not shy when it comes to talking about it. In fact, Kiyoko's openness about LGBTQ relationships has led to her fans dubbing her the "Lesbian Jesus," as Out magazine proclaimed in a March feature on the artist.
Kiyoko told Rolling Stone in July that she knew she was interested in women when she was just 6 years old. But when she came out to her parents in middle school, they tried to tell her that her attraction to women was a "phase," the singer explained to Rolling Stone. Kiyoko said her mom realized that wasn't the case when she was in high school, but it was still difficult for her to come out to friends. But meeting others who weren't straight was a game-changer. She told Rolling Stone,
"My first [female-identifying] friend who liked girls really changed my life because she was comfortable with who she was. It made me want to be comfortable with who I was."
These days, that radical self-confidence is clear from Kiyoko's music. Her video for "What I Need," featuring Kehlani, shows two women unapologetically in a relationship with one another.
Kiyoko isn't afraid to call out what she sees as problematic in the music industry either. Back in May on Instagram, Kiyoko criticized Rita Ora's song "Girls," writing that it "fuels the male gaze while marginalizing the idea of women loving women." ( Cardi B, who's featured on the song, later apologized on Twitter, writing that she's had "experiences" with women in the past and has apologized for using terms she didn't know were "offensive to the LGBT community.")
Kiyoko's nomination at the VMAs is a win for LGTBQ representation, regardless of who wins the actual Best New Artist award. Kiyoko is unafraid to be who she is, and because of that, her music is resonating with fans of all sexual identities.