Why Bobby Cannavale's 'Mr. Robot' Character Probably Can't Be Trusted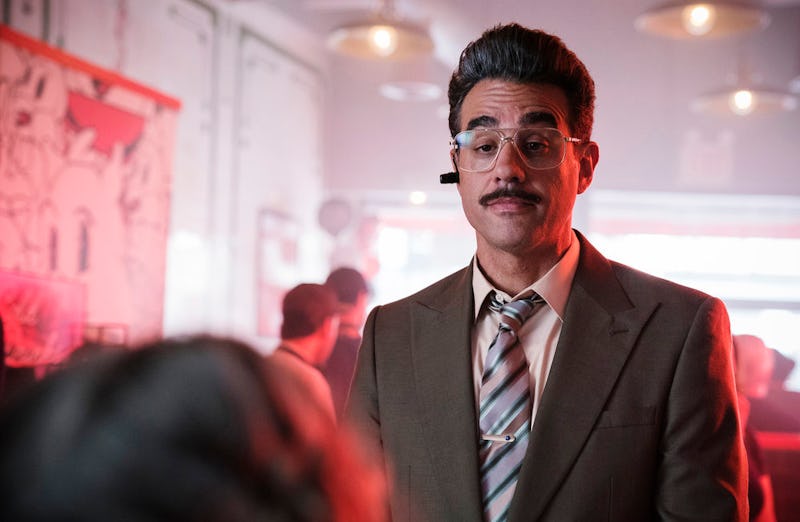 Peter Kramer/USA Network
Bobby Cannavale is joining Mr. Robot for the hacker show's third season when it premieres on Oct. 11. For now, much about the role is being kept under wraps, but Irving on Mr. Robot will be a major player this year, it seems. There isn't a lot of evidence about what exactly this mustachioed man will be up to, but the Season 3 trailer provides some insight into how Cannavale's character will fit into this world.
As The Hollywood Reporter noted, a March 10 statement from USA announced that recurring guest star BD Wong (Whiterose) would be a series regular in Season 3 and that newcomer Cannavale would also be a series regular in the latest season. The only description that USA has provided about Cannavale's character Irving is that he's "a laconic, no-nonsense used car salesman" and the network has continued to stick with that, well, laconic description throughout the months leading up to the Season 3 premiere.
But don't expect that Elliot will be buying a car from Irving. It may be no coincidence that the Cannavale announcement coincided with the announcement that Whiterose, a Dark Army leader, will now be a regular character. Then again, it's never been clear who can be trusted on Mr. Robot.
The Season 3 trailer proves that Irving does a lot more than sell cars. While it's never safe to make too many assumptions based on any show's trailer — and especially a show as purposefully manipulative as Mr. Robot — the trailer implies that Irving is associated with the Dark Army, since Darlene is talking about the Chinese hacking organization when the first clip of Irving is shown. While Darlene talks about the Dark Army turning on fsociety, Irving is accompanied by two members of the Dark Army wearing their tell-tale masks. It looks like the Dark Army members raise their guns on Irving's order, so it's possible that Irving's not just a part of Dark Army, but that he's in a leadership position.
In another moment from the trailer, Irving seems to be speaking to Tyrell Wellick when he says, "This is your moment. You cannot turn away now." Of course, that could be some misleading cutting and Irving is really speaking to another character — like Elliot — but it appears that Irving may also be in the background of a room that a disheveled Tyrell is in during a very brief shot.
Since Tyrell was revealed to be working with the Dark Army in Season 2, Irving could be his handler. Tyrell appears to be a bit shaken after shooting Elliot. Plus, this theory is fueled by Whiterose's voiceover saying, "If you pull the right strings, a puppet will dance any way you desire." While Whiterose is the ultimate puppet master, perhaps Irving is doing some of his own puppeteering when it comes to Tyrell and Elliot to ensure that the Dark Army's plan is completed.
USA shared a clip of the first seven minutes of the Season 3 premiere (spoiler warning!) and the preview proves that Irving is a fixer (with an affinity for BBQ) more than a handler or a cars salesman. Yes, he drops a business card for Irving's Auto Square, but his car dealership seems like a front. He assists Tyrell in cleaning up after he shoots Elliot, which turns out to be a very good thing as Irving's calm demeanor allows Elliot to be saved. The preview also shows that Irving doesn't answer to Tyrell, so he probably is working directly for the Dark Army and it seems that he's now going to be very involved in the lives of Elliot and Angela.
As for the actor behind Irving, Cannavale should be more than familiar to TV fans. He has been on Broadwalk Empire, Nurse Jackie, and Vinyl and is reprising his role of Vince, Will's ex, for the Will & Grace revival. He has won two Emmys for his TV roles and has also received two Tony nominations for his theater work. Besides TV and theater, he has been in movies like Blue Jasmine, Chef, and Ant-Man.
So although it's not 100 percent certain yet whether Irving is a friend or foe to Elliot (with foe the most likely scenario), Cannavale is a welcome addition to the cast. Because along with him being able to rock the '80s aesthetic of Mr. Robot, it looks like Irving has an ominous vibe that matches the rest of the show.