This New Cast Member Has A Good Strategy For Staying Of This Longstanding 'RHONJ' Beef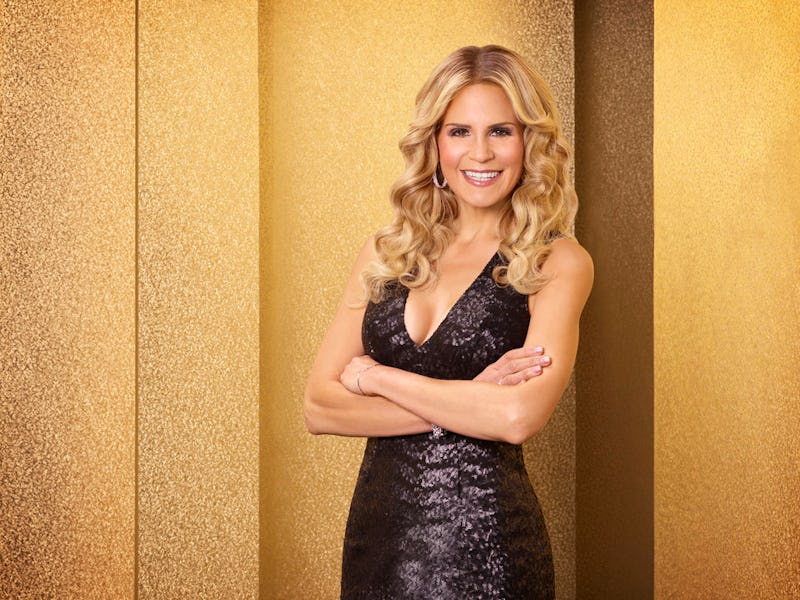 Tommy Garcia/Bravo
Shows like Real Housewives Of New Jersey always need fresh, new stars to create some drama, and now, coming into Season 9 of the show, there are two new cast members ready to stir up the fun (and make some problems, too). One such woman is Jackie, a former real estate attorney with a penchant for giving out advice, warranted or not, and her brazen attitude will definitely make longtime fans wonder who is Jackie Goldschneider is on RHONJ and whether or not Theresa and Melissa are going to welcome her into the crew. This parenting blogger has plenty to say, and she won't shy away from speaking her truth. That could end, well, badly.
In a recent interview with Bustle, Jackie said she wasn't at all afraid to jump into the Real Housewives Of New Jersey pool. "I was very open to it. I don't like to say no to anything just because I'm scared or because I don't know what it's about. I like to say yes," she says. Of course, it helps that Jackie has a friend in pigtailed Real Housewives Of New Jersey cast member Margaret Josephs, whom she knows through a mutual friend. Because Margaret was around, Jackie says she was far less intimidated about immediately being welcomed in by the group.
"It's not really scary [joining a show], but you don't know whether or not you'll be able to form friendships with people who have already been friends with each other for so long," Jackie says. "But I knew that I had Margaret, and as long as I had Margaret, I felt great because we have a really good friendship. So I was kind of secure — I didn't really mind if I didn't get close to the other cast members. But I ended up getting very close to some of the cast members, so it worked out."
Jackie has two sets of twins, both under the age of ten years old, so she knows a thing or two about parenting. She dispenses that advice on her blog, Into The Mommy Brain, as well as on websites like Huffington Post. Of course, anyone who writes anything on the Internet is bound to get some ugly feedback, but being a Housewife means Jackie is about to get a lot of feedback. Here come the trolls! Did being a blogger prep her for the Real Housewives experience?
"I've definitely [have had] to respond to some very negative opinions about my writing, so I've learned on a much smaller scale, I'm sure, to tune out really negative voices and how to respond to people that don't agree with me," Jackie says. "I actually enjoy when people don't agree with me because it gives me a chance to hear another side. But yeah, it's prepared me somewhat. I don't think you can fully prepare."
What Jackie can prepare for, though, is a season of drama on Real Housewives Of New Jersey. "I think when you put a group of opinionated, dynamic women together, you're always going to have some drama. I come in and I roll with it the way the other women do," she says. Previews for the upcoming season show Melissa Gorga and Teresa Giudice's feud seemingly starting again, but according to Jackie, it's not what it seems, and she's not about choosing sides.
"I don't think you need to choose a team there — I think all siblings, all family have their, you know, issues, and you fight, and you make up, so I don't think you have to choose a side," says Jackie.
How does Jackie describe Season 9 of Real Housewives Of New Jersey? "Passionate. Fun," she says. "Interesting, too." Bravo fans are looking forward to seeing that passion play out on their small screens, and it seems like Jackie is just happy to be a part of it.