Everything You Need To Know About Jackie Young, The Top WNBA Draft Pick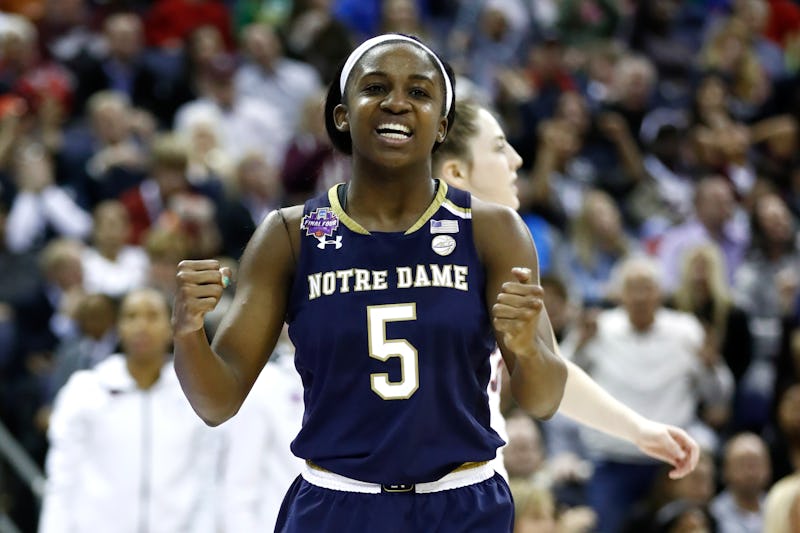 Andy Lyons/Getty Images Sport/Getty Images
To say Jackie Young has had a wild week is an understatement. On Sunday, the college junior played for the University of Notre Dame in the NCAA championship game against Baylor University. Then, literally hours after Notre Dame's one-point loss to Baylor, she entered the 2019 WNBA draft. On Wednesday, Young was chosen as the number one overall draft pick by the Las Vegas Aces.
To many, her massive success is not a surprise. Throughout her high school career the Indiana native was named a McDonald's All-American, Indiana Miss Basketball, and the Naismith National High School Player of the Year. Her time as a Fighting Irish has been equally impressive; according to Sports Illustrated, she averaged 14.7 points, 7.4 rebounds, and 5.1 assists per game her junior year. Young has helped Notre Dame in two consecutive NCAA championships and now she's taking her talents to the pros.
Of course, Young won't have much time to celebrate. The season begins on May 24, which means the Aces are putting her right to work. Since Young is probably be a name you'll be hearing for a long time, here are 11 things you should definitely know about the WNBA first pick and newest addition to the Aces.