How James Byous Went From Being Homeless To Starring On Netflix's Westside'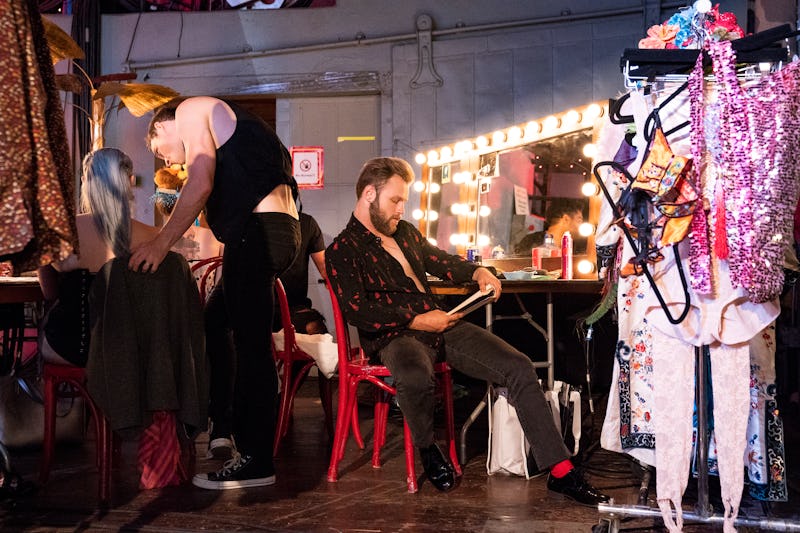 Greg Gayne/Netflix
With an Instagram bio like "being broke and looking good since 1988," you should have a pretty good picture of who James Byous is. He and eight other struggling L.A. musicians are the focus of Netflix's new reality series, Westside. And while each of them has a story to tell, it's already clear that Byous' journey will be a focus.
In a trailer for the show, Byous' fellow cast mate Caitlin Ary called him "the cool neighbor that the family has adopted," while co-creator/star Sean Patrick Murray said his friendship with the 29-year-old was the "most challenging" he had among the cast. At the time of filming, Byous was also struggling with alcohol and drugs, which the trailer highlights. "No, I'll sing, it's fine," Byous tells Murray in a scene. "I'm just going to have another drink."
Byous has been open online about his struggles with alcohol and drugs off-screen, saying in an Instagram video, "I used to think that in order to be a rockstar you had to do drugs and drink. I used to idolize those people."
According to a post from Nov. 1, Byous is now one year sober. His caption talked about how far he's come in that time.
"I have been clean and sober for 1 full year. Photo on the left is a year ago. 4 days before I got sober. No light in the eyes. You can tell I'm sick on the inside. The guy on the right not only has a killer mustache, but his eyes are full of life, love, and gratitude. It changed my life. It's been a hard year, but it's been the best year of my life. Being sober and present for life is the greatest gift I've ever received. I'm deeply thankful to be alive."
In another post, he said he first turned to alcohol and drugs as a way to cope with the rejection he felt. "Somewhere along the line I started taking it personally that the world wasn't always kind or receptive. I started drinking and using substances to mask the pain of colossal disappointment," he wrote.
His website bio says that he eventually became homeless, but he credits his family and friends' support for helping him get back on his feet. "If it hadn't been for the people in my life that had my back unconditionally, I might have given up on myself," he wrote on Instagram. "I want to thank my friends and my family for all the love and support."
Now, Byous is hitting the stage in "Naked," the live show in L.A. put together by Murray and featuring his fellow Westside stars, according to Variety. Between that and the Netflix show, he's poised to finally find the mainstream success that has eluded him since he got into the business at 17, per his website bio.
For now, you can listen to him sing his heart out in his handful of YouTube videos, and catch his Netflix debut on Nov. 9.