Steve Beshear Comments On His Wife, Jane Kiplinger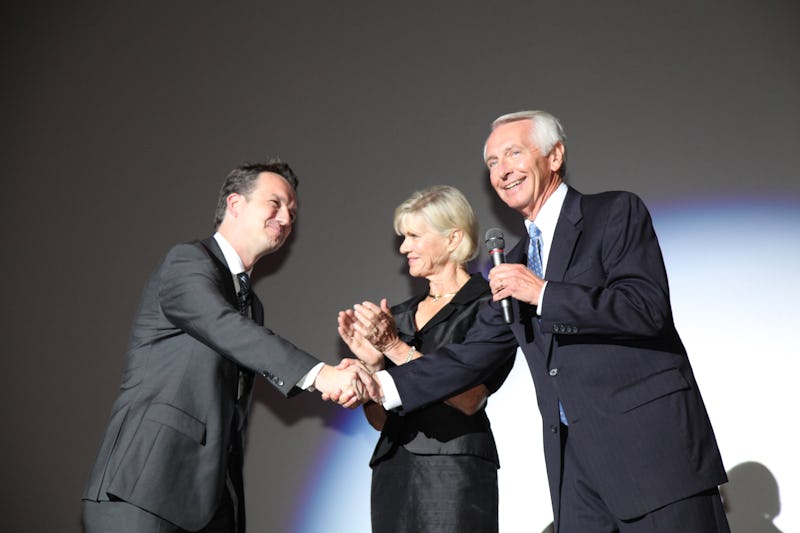 Handout/Getty Images Entertainment/Getty Images
The Democrats have chosen someone from outside the Washington D.C. Beltway to respond to Donald Trump's address to the joint session of Congress on Tuesday, Steve Beshear. Choosing the former governor of Kentucky not only helps combat attacks that the Democrats are too "establishment," but he also serves as an Obamacare champion. Beshear implemented Obamacare in a typically Republican, conservative state. Nearly half a million Kentuckians accessed insurance under the Affordable Care Act, many for the first time in their lives — and now he's going to try selling those policies to the entire country. But who is Jane Beshear, his wife?
The former first lady of Kentucky has become a source of contention between her husband and his successor. Beshear left office in 2015 due to term limits. And when he left office he made a few moves that angered the incoming Republican governor. Some of those had to do with Jane. Beshear named his wife to the Kentucky Horse Park Commission with a term that ends in 2019. That ticked off the new the new Republican governor, Matt Bevin, whose spokesman called it at the time "self-serving." Beshear's office countered:
The only people who should be embarrassed are those who question the First Lady's qualifications to be on the Kentucky Horse Park Commission.
Jane Beshear, according to Louisville's The Courier-Journal, has served on other committees and panels connected to the horse industry and is a former member of the Horse Park Commission — in other words, she'd already done this very same job. The position is unpaid.
The other move Beshear made was naming an education center after his wife. Beshear explained why he had named it after her to The Lexington Herald-Ledger:
I named it after Jane because she raised over $250,000 from the private sector to transform that old, abandoned building into a place where Kentucky schoolchildren visiting our Capitol could eat lunch and learn about different kinds of energy used in Kentucky. She never sought any recognition for her efforts, but I was proud to surprise her by naming the building for her.
The Capitol Education Center welcomes 60,000 people to the state capitol and was outfitted by donations that she solicited from private companies. However Bevin took down all the plaques that had Jane Beshear's name on it after taking office.
Besides these two issues, Jane Beshear has largely stayed out of the news. Her husband, on the other hand, has been more vocal since leaving office. He has participated in meetings with ex-governors to try and move through the bipartisan divide that continues to grow stronger by the day.
Tune in Tuesday night to see him take on Trump.