'BB19's Jason Is A Passionate Rodeo Clown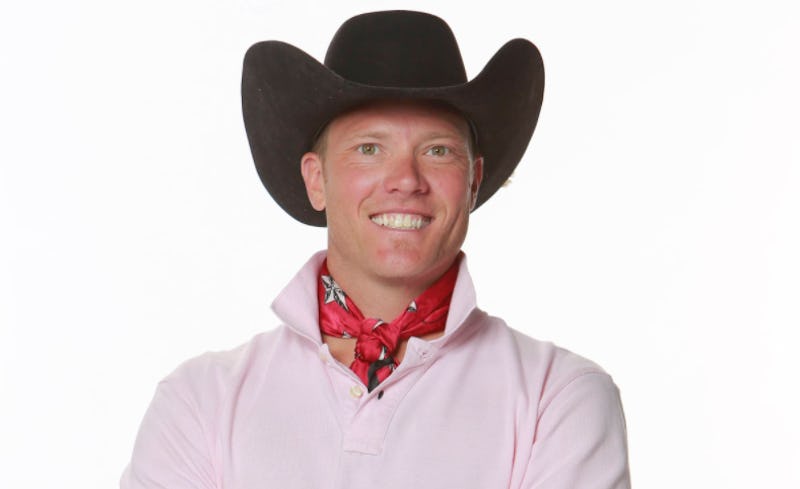 CBS
The next season of the summer's best reality show is almost upon us, and, if you're wondering who Big Brother 19's Jason Dent, the rodeo clown of the cast is, then you're probably not alone. After all, given that he's competing against a microbiologist, a cosplay artist, and a dance teacher and he still manages to have the coolest job, he probably won't have to fight for the spotlight. But what else do we know about Jason so far?
For a start, he's one of the older candidates for the half a million dollar prize. The Big Brother Season 19 contestant is 37 (and will celebrate his 38th birthday in July). But he's unlikely to feel self-conscious about this since the series appears to be making an effort to be more inclusive in terms of ages, with him appearing along a stay-at-home dad in his 50s. Dent hails from Humeston, Iowa, and this doesn't appear to be his first brush with fame. The man — also known by his nickname "Whistle-Nut" — appeared on NBC Montana in 2015 after he took his bull Ole on a joyride through "downtown Kalispell" to promote the Montana High School Rodeo State Finals. The news segment he appeared on gave some nuggets of info as to what we can expect from Dent.
According to NBC Montana, his bull Ole is a bucking bull who has been retrained to be ridden, and the rodeo clown has even ridden behind him on skis. He started out as a bull rider until a few years ago, when "a contractor asked him to give rodeo clowning a try."
The interview also some clues as to why the 37 year old would consider appearing on a reality show, with the reporter stating that a horse trailer with living quarters can cost about $100,000 and Dent himself saying, "It's expensive, boots are expensive, hats are expensive, belts, everything for cowboys is getting ridiculously expensive." Obviously, I'm sure Dent is also motivated by the desire to entertain people; he's a clown by profession, after all. But presumably he's going to be in it to win it, because that money could help his career.
And what a career! According to the clown's website, in 2013, "Whistle-Nut won Flint Rasmussen's PBR FUN Rodeo Clown Contest, taking him to the National Finals Rodeo in Las Vegas." It's easy to see why he's so talented. He sounds uniquely passionate about the sport, describing it to the Times Republican in 2014:
"You can't even describe it. It's like knowing that you're 40 miles per hour over the speed limit, getting pulled over, you know you're going to jail, lose your license, and then the cop drives past you to pull someone else over. Just like the relief. It's like you're scared to death, and then it's the best feeling ever—at the same time."
So, is this competent cowboy looking for love on the show? It's hard to say, because it's possible he's married. According to the same article, he was (and possibly still is) married to "a part time runway model for wedding apparel" Holly Dent, who described her husband as "the most outgoing guy you'll ever meet." Given his grit, passion and extroverted personality, he sounds like a great fit for the show. I'm sure I'm not the only one who can't wait to see him in action.