Everything You Need To Know About The Real Life Of Jax's Reiki Master On 'Pump Rules'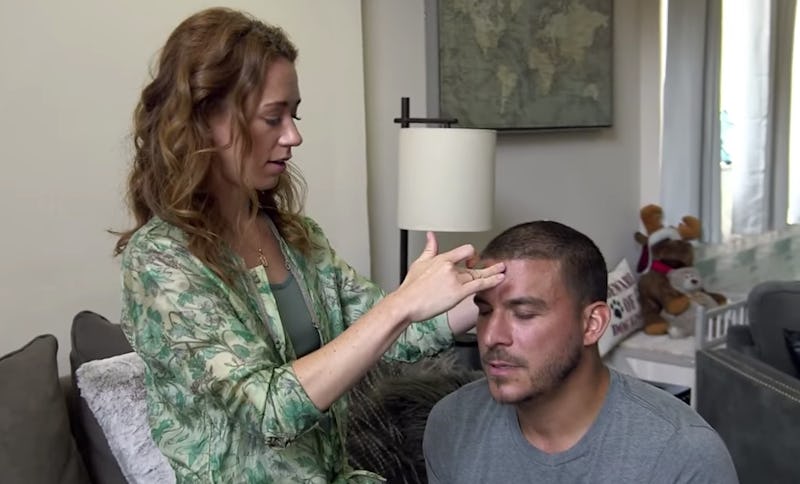 Bravo
Season 6 of Vanderpump Rules has focused heavily on Jax Taylor's relationship with Brittany Cartwright. Ever since he admitted to cheating on her with Faith Stowers, he's been trying to work on himself and his anger with help from Kelsey Patel. She specializes in an alternative type of healing called reiki. She's appeared in several episodes and it seems like it's time to get to know her better. So, who is Jax's reiki master?
As soon as the 38-year-old SUR bartender met Kelsey, he took a liking to her. He even told her to call him by his real name, Jason. They developed such a strong bond that Jax has told Brittany multiple times this season how Kelsey is "the best part" of his day. As he said during Monday's episode about meeting with Kelsey, "This is like the highlight of my week when I see her." He also said, "Every time I see her I just have the best day of my life. I mean, you might want to call her the Jax whisperer."
Since wrapping filming for Season 6, Kelsey told Page Six in February that she hasn't seen Jax or practiced reiki with him. "Jason and I are still in touch. We still message each other," she said. "I'll check in on him and I'm sure as you know, his dad passed away recently. When I've worked with someone, I always want them to know that I'm here to support them. We're all going to have ups and downs and [I want clients to know] that they can come to me whenever those things are going on."
Kelsey also said that she hopes Jax continues with reiki, especially since she found him to be an "open and willing person". She also made it clear that he was not "forced" to do the sessions. It was something he wanted to do freely and openly.
And with that, let's get to know more about Kelsey.
She's Married & Has Two Children
Despite many speculating about the nature of Jax and Kelsey's relationship, she also told Page Six they were only ever strictly professional. Plus, she's married and is a mom.
"I have male clients and female clients and I treat them all the same," she said. "I've always been a loving person and I want everyone to feel seen and to feel supported and to feel like they are worthy of living their best life. So however that translates to other people, I don't know, but I'm a very happily married woman with two sons. They're my stepsons and we're a very close, connected family. Every [ounce] of my being is committed to my husband."
She Loves To Travel
If you scroll through her Instagram, Kelsey has been all over the world — and to some stunning places. No matter where she is, Kelsey also always seem to find a place to heal and focus.
She Wasn't Always A Reiki Therapist
Before getting into reiki, yoga, meditation, and emotional freedom technique (EFT) and heading to Los Angeles, the Grand Forks, North Dakota native attended Boston University and worked for the United States Senate and also Fortune 500 companies, according to her website.
"Without the tools to find balance and work through my emotions, I dealt with the stress of my career by becoming obsessive about my work," she explains. "Before long, I lost myself in my career and neglected my body, mind, and spirit. My high-stress lifestyle started to unravel me, which manifested itself through crippling anxiety, intense back pain, and chronic sickness."
Eventually, she found her way into the world of alternative healing.
She's Worked With Many Celebs
As you can see on her Instagram, and according to her website, Kelsey's worked with a lot of celebrities. The list includes Jamie-Lynn Sigler (above), Constance Zimmer, Garcelle Beauvais, and Alicia Coppola.
"I walked away from our time together so inspired, and hopeful about so many things," Sigler wrote in a testimony for Kelsey. "She left me with a wonderful plan to continue our work until we see each other again (which we will) and I can't wait until that time comes. I would recommend Kelsey to anyone and everyone. I LOVE her."
She Loves Empowering Women
As you can read above, Kelsey is all about female empowerment. On different occasions, she's worked with Step Up Women's Network in hopes of inspiring women of all ages.
"We are helping to lift up and inspire the next generation of young women in LA and, let me tell you, these girls will amaze you," she captioned a photo of herself at a June 2017 event. "I'm so grateful to be a Board Member along with my fellow board team and for the insanely passionate and incredible women, and ️gorgeous man, that sat at my table today to help this organization. You all inspire me and, together, we are inspiring a bright future."
She Has Another Bravo Connection
Not only has she met Real Housewives of Atlanta's Cynthia Bailey, but Kelsey told Page Six worked with an Orange County Housewife and almost appeared in an episode.
"I've worked with Tamra [Judge] from The Real Housewives of Orange County and we had at one point been in conversations about doing a session for them," she said. "Even when that was happening, I was very nervous about it because for me these practices are sacred … and putting it on a reality TV show can be a little scary because I don't want to come across as the 'woo-woo fairy' that thinks that everything is great and easy in life and you should follow this path. So for me, I was nervous but I really trusted the process."
Based on what's been shown of her thus far on Pump Rules, it seems like Kelsey is very comfortable with being on reality TV and showcasing her craft. And hopefully, all of the above gives Pump Rules fans a better perspective of who Kelsey is and what she stands for.