Jeff Merkley Is Taking A Stand Against Neil Gorsuch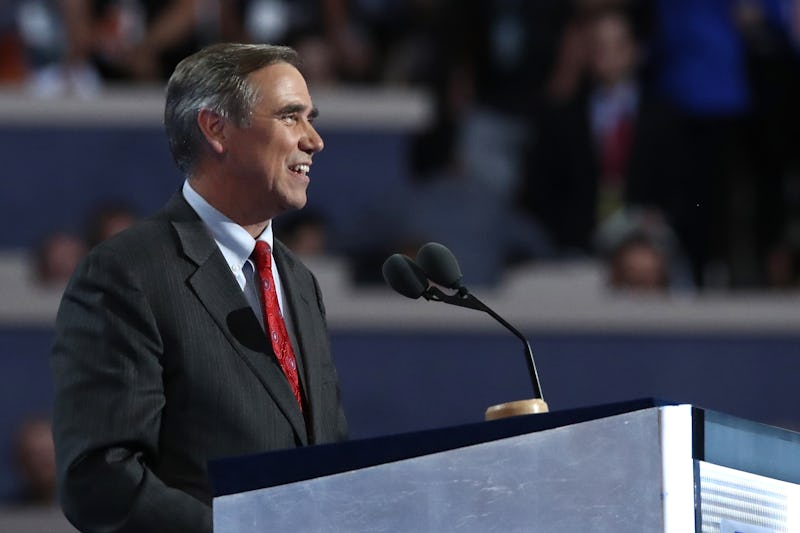 Jessica Kourkounis/Getty Images News/Getty Images
On Tuesday evening, a certain Democratic senator held the floor to protest Neil Gorsuch's Supreme Court nomination. And he wasn't ready to stop speaking, even after six hours had passed. So, who Sen. Jeff Merkley? To say the least, he's playing a crucial role in resisting Trump's Supreme Court pick.
Merkley is a Democratic senator from Oregon who has been in office since 2009. He also serves as the chief deputy whip for the Senate Democratic caucus and is responsible for helping line-up Democratic votes on legislation. According to The Oregonian, Merkley is a "favorite senator of the activist left" and has often indicated his commitment to advancing grassroots, progressive causes.
The Oregon senator has been highly vocal regarding his thoughts on the Supreme Court nomination process under Trump. In fact, according to Vice News, he was the only Senate Democrat to actually preemptively oppose Trump's nominee, saying that "it is illegitimate for anyone to be nominated who isn't Merrick Garland."
Merkley further expounded on his stance during an interview on CNN in March and warned about the long-term ramifications of appointing a man he considers an illegitimate nominee to the Supreme Court.
If one court seat is stolen from a president and shipped to another president, the temptation will be to do that forevermore. It highly, highly politicizes the court, makes it look just like another kind of elected political position. ... every 5-4 decision will be one we'll look at and say, "Well, you know, it's not really legitimate, because that Supreme Court justice really wasn't legitimate."
Thus, Merkley's decision to hold the Senate floor Tuesday evening aligns with his historic opposition to Trump's nomination of Gorsuch. Merkley's protest comes in light of the fact that Senate Majority Leader Mitch McConnell has indicated that Republicans will possibly use the so-called "nuclear option" to approve Gorsuch, changing Senate rules in perpetuity so that Supreme Court nominees only require a simple majority vote rather than a 60-vote minimum. This rule change would likely secure Gorsuch the nomination and also forever change the Supreme Court nomination process, rendering it much more partisan.
Merkley is using his hours on the Senate floor to criticize Republicans for their handling of the nomination process and to suggest that Trump rescinds Gorsuch's nomination. He also has questioned the legitimacy of Trump nominating a Supreme Court Justice in consideration of the fact that his administration and campaign are currently under investigation for their alleged ties with Russia.
If you are interested in watching the Senator continue his protest, you can tune in live on Facebook via this link.
While The Hill reported that Merkley's protest is unlikely to affect Republicans' consideration of Gorsuch, it nonetheless marks an important activist stance against Trump's Supreme Court nominee—a stance which has the backing of many of Merkley's Democratic colleagues.