You're Going To Want This 'Making It' Contestant To Redesign Your Apartment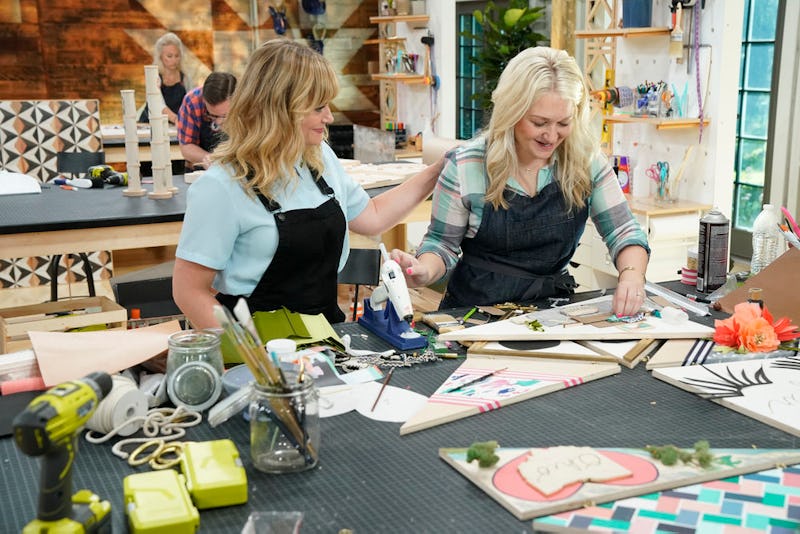 Paul Drinkwater/NBC
Former Parks and Recreation co-stars Amy Poehler and Nick Offerman have never lead any of us astray, and with their new NBC show, Making It, they're aiming to keep bringing viewers joy. The competition program brings together "makers" to create things using their own two hands, and go up against each other in challenges that get harder and harder as the series goes on. They've assembled an all-star cast of creators and they're all great at what they do, so it's worth getting to know them. Like, who is Jo from Making It? The Arizona native is destined to be a frontrunner with her DIY projects.
According to her official NBC contestant bio, Joanna Gick is co-owner of J & J Design Group, and her work has been featured everywhere from HGTV Magazine to the Wall Street Journal. She specializes in designing kids' rooms, the bio continues, and has always enjoyed crafting.
That definitely makes her seem like someone who'd fit right into a show that really leans into the world of glitter and glue guns, and in an interview with MarthaStewart.com, Jo made it clear that she's up to the task. "Ever since I was very small, I was crafting and making things," she told the outlet. "My mom would take me to craft stores and my dad would give me a pile of two by fours and some nails and hammer and I would just make things. My parents really nurtured that creativity in me."
The website for her company — which she co-owns with her partner, Jennifer — showcases colorful and whimsical, but practical designs, and her chops creating spaces for children are definitely on display. Regardless of how far Jo makes it in the competition, it's clear from her interviews after filming that she had a good time. She told AZCentral.com that her co-stars felt like family, and that there was no intense, high-stakes pressure. "You just felt like you were hanging out with your friends," she said.
That kind of wholesome entertainment and sportsmanship is part of why the buzz surrounding Making It has been so exciting. NPR's Linda Holmes wrote that the show is "part of the newer trend of competitions that are never mean, always upbeat, and dominated by people who support each other in the spirit of friendly competition."
The NBC page for the show itself also makes it clear that this isn't meant to be a show in which contestants are crying over a misplaced pipe cleaner or a shoddily pasted pattern — it's supposed to be fun, even if someone does have to be sent home every week. "This friendly competition will focus on the character and camaraderie of the crafting community," the site reads.
In a world full of Master Chef and Project Runway tears, this is a welcome addition. Those shows have their place, to be sure, but sometimes you just want to curl up and watch an episode of television in which everyone tries their best and gets along. Making It is shaping up to be just that.