The New 'Below Deck' Stew Is Breaking Down Gender Norms In Yachting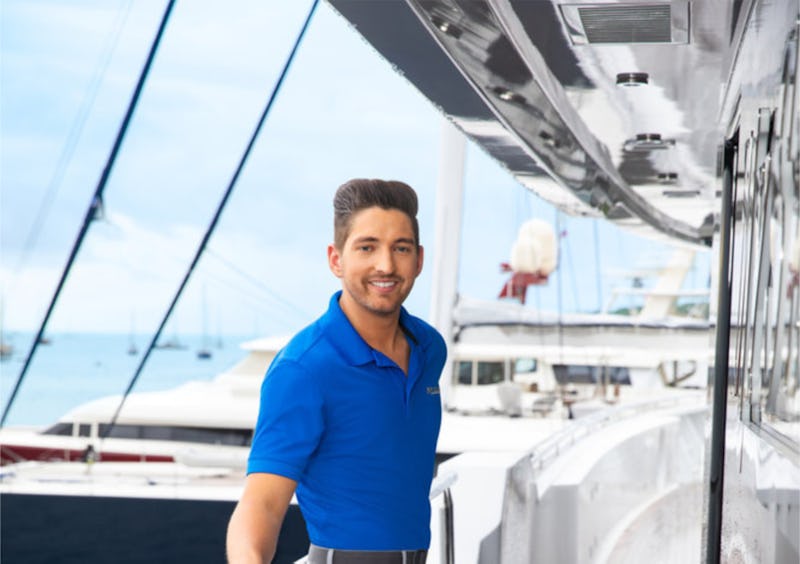 Greg Endries/Bravo
If you want to know about the inner workings of luxury yachts, Below Deck is the show you should be watching. Whether he's ready or not, the drama of Season 6 of Below Deck will involve series newcomer Josiah Carter, who is serving as Second Steward on the M/Y Seanna. Any drama will likely result from his relationships with fellow workers and bot from the guests he's serving, as Josiah has experience in the world of luxury hospitality as a formally trained butler, according to the official Below Deck webpage. This means that he'll be the first male stew that Bravo's featured on the series, and since the producers made such a big deal about female deckhands, expect the same treatment of a man doing laundry.
According to his official Below Deck bio, Carter has been working on yachts since 2013 and has served high-profile figures throughout his life, and it seems some of that luxury extends into his real life. Josiah grew up in England, but his current residence of Mallorca, Spain seems to be the a dream location for someone who has experience traveling on luxury yachts to exotic locations. Josiah's Instagram feed showcases snapshots of luxurious houses with nice cars, amazing views of the ocean, and extravagant restaurants, which suggest that although he's working on the M/Y Seanna, it's not ridiculous to think he may one day rent the boat for himself. Before getting to know him on Below Deck, here's a few more facts to keep in mind when meeting Josiah Carter.
He Loves The Sunshine State
While Josiah Carter has only been on one television show, that hasn't stopped him from dreaming of California and making a stop to take a picture in front of the legendary Hollywood sign. Who knows, maybe appearing on Below Deck will score him a gig as one of Hollywood's most in-demand service professionals.
He Loves Boats
When Josiah's not working on a boat, chances are he's sitting on won, driving one, or jumping off of one for leisurely purposes. When you live on a gorgeous island like Mallorca, it's not unreasonable to go out on a boat with relative frequency.
He Loves The Caribbean
Basically, if there is a city on this Earth that is located near water and gets lots of sunshine, Josiah Carter has probably been there at some point. This globetrotter is technically traveling while working on the M/Y Seanna during his time on Below Deck, but judging from his Instagram, it may be the most that Josiah Carter has allowed others to dictate his travel plans.
Josiah Carter has roamed the Earth and been to some of the world's most beautiful locations, and now he's assisting others in seeing the world through his tenure as Second Steward on Below Deck. While he is still an employee of the boat, his travel experience and luxury-adjacent lifestyle will likely come in handy when conversing with and entertaining the boat's clients. Josiah Carter will fit in perfectly with the boat's guests — but whether or not he fits in with his fellow crew won't be seen until Below Deck premieres on Oct 2.