Joy Villa's Donald Trump Dress Has People Talking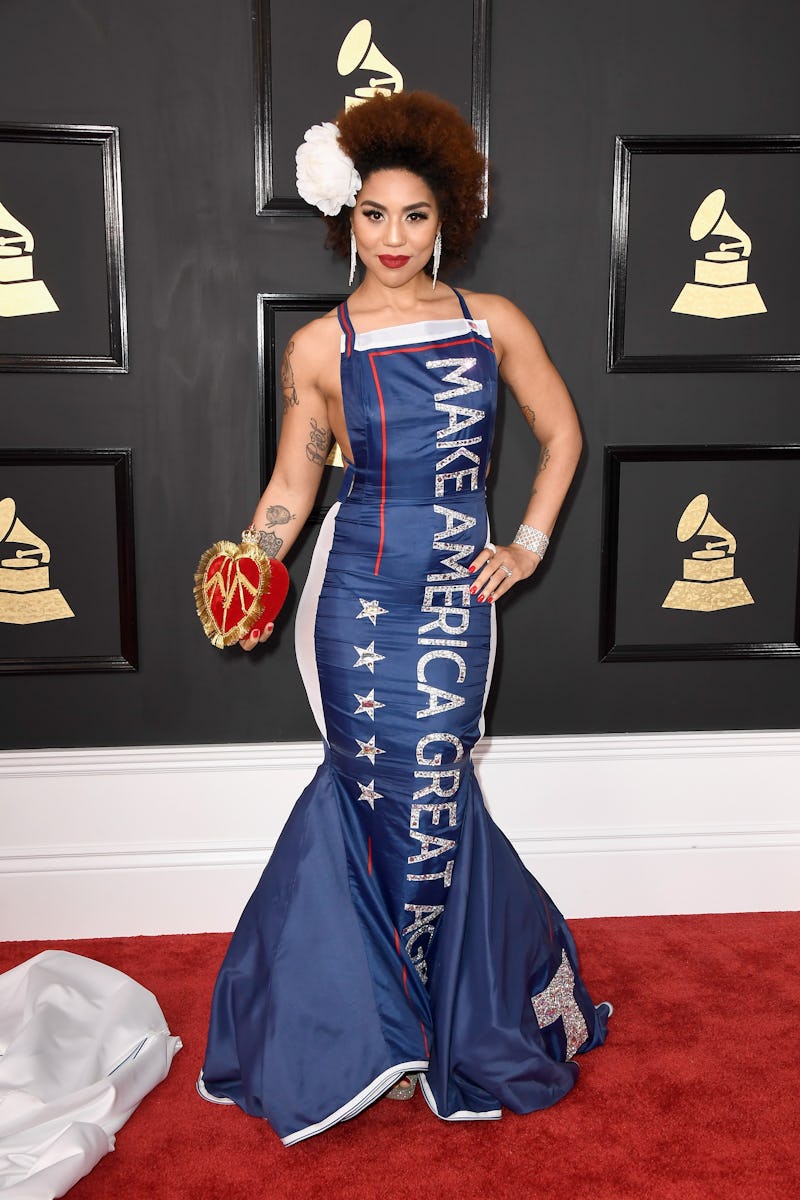 Frazer Harrison/Getty Images Entertainment/Getty Images
We need to talk about Joy Villa, because she has made herself certainly stand out from the crowd on Sunday night. Villa wore a Donald Trump dress to the 2017 Grammys, an event that marked what was really the first time that many people had even heard her name. Awards season has proven to be quite the political showing, and the singer certainly displayed her politics in full force with her outfit. But who is Joy Villa exactly?
The 25-year-old singer, whose Instagram profile lists her as "Grammy Considered," performs under the stage name Princess Joy Villa, and has released such songs as "Get Your Freedom" and "Vagabonds." Though she isn't nominated for an award at the Grammys, she semi-warned fans that she was going to make some sort of statement on Sunday night in the caption of an Instagram photo posted two hours before the red carpet began.
My whole artistic platform is about LOVE!🎶💕💋 I couldn't be where I am today without the love and tenderness of those beautiful supporters and friends around me. Thank you ❤️ I hope you enjoy tonight's @grammysawards2017 and remember to forget your problems and focus on your future! You are infinite and beautiful and no one can stop you but you. 💋So go out and celebrate yourself as a winner no matter what, together with those you adore! #happygrammysday #blessings #beautiful #love #grammys2017💝 #happyvalentinesday #celebration #style #postivevibes #love
The singer is active on Instagram, Twitter, and Facebook, and her website reveals her to be a model, vegan health coach, and author as well; in fact, you can download one of her ebooks, Meat, Dairy, and Eggs Replacement Vegan Guide, for free. Her website also advertised another ebook, 10 Fitness Myths Debunked, and she writes many of her own songs.
Villa is a Scientologist, who posted about being clear in November 2016 on her Facebook, and is married to Thorsten von Overgaard, a Danish writer and photographer.
At the Grammys, her statement-making Trump dress, which says MAKE AMERICA GREAT AGAIN down the side, was initially hidden under a white, conservative, flowing gown. Naturally, the dress became very polarizing very fast, leading Villa to become a trending topic on Twitter almost immediately.
Whether you think Villa is a hero, or you think she's a villain, the dress has pretty much done what it was intended to do: you're thinking about her. And now, if you didn't already, you definitely know who she is.