Trump Reportedly Cheated On Melania With A Playmate, Says Ronan Farrow's New Bombshell Article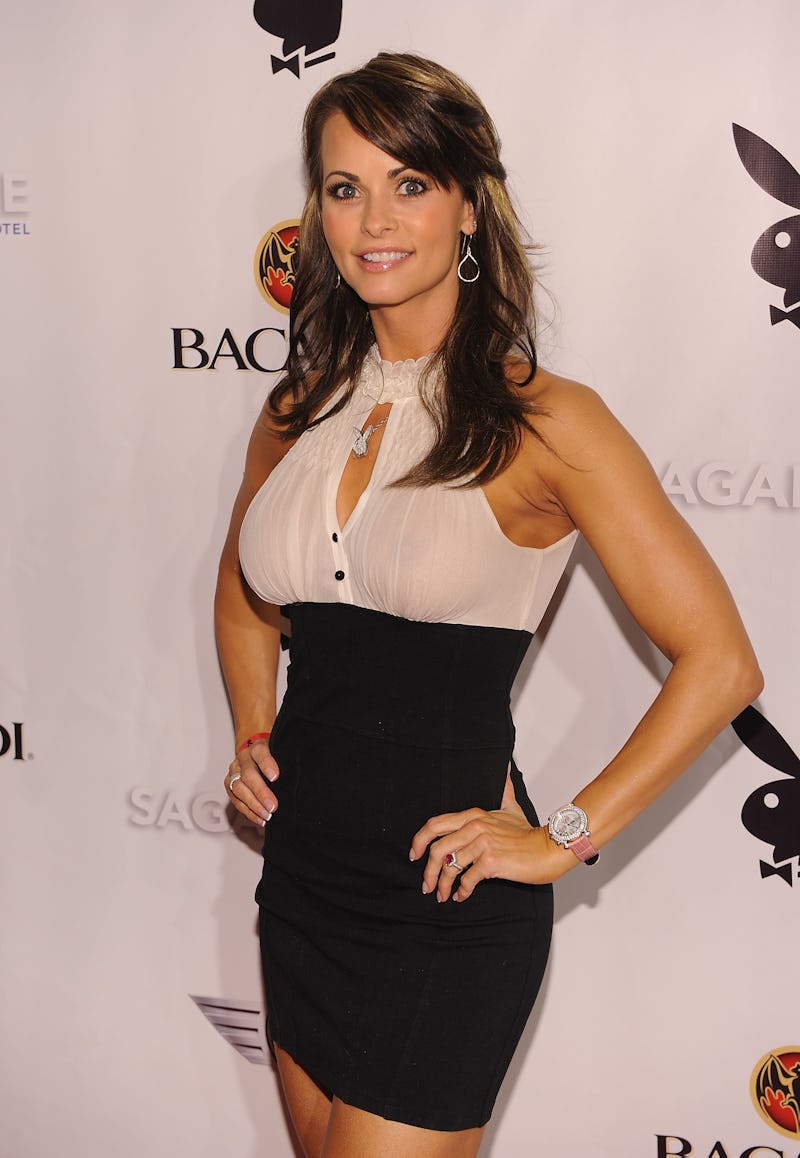 Dimitrios Kambouris/Getty Images Entertainment/Getty Images
In 2006, less than two years after he married current wife Melania Trump, Donald Trump reportedly had an affair with Playmate Karen McDougal, according to an exposé published Friday by Ronan Farrow in The New Yorker. The article claims that their relationship was consensual but carefully covered up, and suggests that it could have been available as leverage with which to blackmail President Trump. A White House spokesperson denied the New Yorker story in a statement, calling it "an old story that is just more fake news."
McDougal is a former Playboy model who was named Playmate of the Year in 1998, when she was 27. Her alleged relationship with Trump lasted for nine months, between August 2006 and April 2007. During that time, McDougal allegedly saw Trump frequently, attended events with him, and met his family. She apparently ended their fling because she felt guilty about it, telling The New Yorker, "If I could go back and do a lot of things differently, I definitely would."
Writes Farrow: "McDougal's account provides a detailed look at how Trump and his allies used clandestine hotel-room meetings, payoffs, and complex legal agreements to keep affairs — sometimes multiple affairs he carried out simultaneously — out of the press."
McDougal's claim was allegedly almost published once before. A few days before the 2016 presidential election, the Wall Street Journal reported that the National Enquirer had paid McDougal $150,000 for the story but didn't move forward with it. The Journal suggested that it might have been a "catch and kill" job, reporting that the Enquirer purchased the story to keep it from getting out (its owner, American Media Inc., has denied this, saying that "AMI has not paid people to kill damaging stories about Mr. Trump"). The publication openly supported Trump during the campaign and published several columns by him.
The Journal's November 2016 article didn't delve into McDougal's story, though the authors noted that they had spoken to friends of hers who confirmed that the affair had taken place. Trump's campaign responded by denying the rumors, saying that they were "absolutely, unequivocally" untrue.
AMI said that the purpose of the deal they reached with McDougal was just to welcome her to the Enquirer as a columnist. Whatever the agreement included, McDougal was assisted in it by her lawyer, Keith Davidson, who also represents Stephanie Clifford — aka Stormy Daniels — the adult film star with whom Trump allegedly had another affair. The November 2016 Journal article mentioned rumors about Daniels' relationship with Trump, but those allegations, like the ones about McDougal, then remained undeveloped and largely buried for over a year.
Daniels' alleged affair with Trump took place around the same time as his alleged affair with McDougal. Both occurred shortly after Trump's son Barron was born.
McDougal now wants to speak out about the relationship even though her nondisclosure agreement with AMI still stands. She told Farrow that she's been inspired by the women who've come forward with sexual assault claims as a part of the #MeToo movement.
"I know it's a different circumstance," she said, "but I just think I feel braver."
But Farrow got much of his information not from interviewing McDougal, but from eight pages of notes she kept about the affair, which one of her friends provided to him. The document details the first time she and Trump slept together at the Beverly Hills Hotel (where he's allegedly had several other affairs, including the one with Stormy Daniels). About that night, McDougal writes, "I was so nervous! I was into his intelligence + charm. Such a polite man." She described how Trump offered her money after the fact, which she refused.
She wrote that she met with Trump whenever he visited Los Angeles and that he reimbursed her for travel expenses to avoid directly paying for them and leaving a "paper trail." Still, he boldly introduced her to much of his family and took her to Trump Tower, where he showed her Melania's separate bedroom and explained that his wife "liked her space."
Several of McDougal's friends expressed concern to Farrow that the story, so long as it was still covered up, could be used as leverage against President Trump. Maxine Page, a former AMI employee, told Farrow that CEO David Pecker does use the "catch and kill" tactic to coerce people featured in salacious, unpublished stories. She said that Pecker has "power" over Trump because "he knows where the bodies are buried."
AMI denied this in a statement, saying, "The suggestion that AMI holds any influence over the President of the United States, while flattering, is laughable."