This New 'Westworld' Player Is Going To Be A Big Part Of The Park Rebuild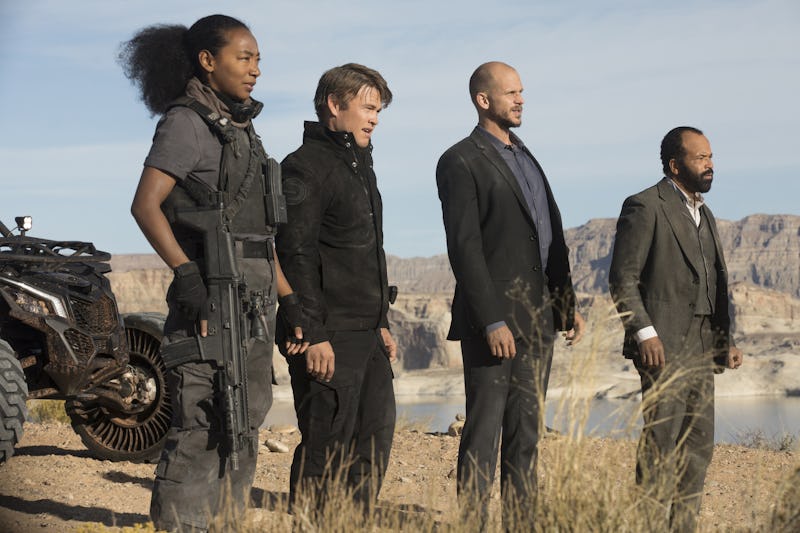 John P. Johnson/HBO
Westworld Season 1 ended with a park in chaos, for the human visitors at least. The crisis is going to call for some backup when the HBO series returns on April 22. One of several new Season 2 Westworld characters is Karl Strand — played by a member of a family you've probably heard of, Gustaf Skarsgård. That's right, he's one of those Skarsgårds. His brothers Bill (It) and Alexander (Big Little Lies) as well as their father Stellan (Mamma Mia!) are all well-known actors.
According to The Hollywood Reporter, this Skargård's Season 2 role is that of "a white-collar guy comfortable in the field." In the image above, Karl can be seen with Luke Hemsworth's character Ashley Stubbs, as well as fellow newcomer Westworld newcomer, Betty Gabriel from Get Out, who plays Maling. She's "trying to restore order on the ground," THR reports. Jeffrey Wright's character Bernard rounds out the group. The piece goes on to say that Maling and Karl will "find themselves in an unpredictable environment during the second season."
That "unpredictable environment" could just mean the host revolt currently happening in the park, or it could mean that some kind of mission has taken these characters into one of the other parks — Shogun World, of course, has already been teased by the series. At the end of Season 1, Bernard was with Teddy at Ford and Delores' massacre, and Stubbs (whose position in the park is Head of Security, if you recall) was alone in the wilderness searching for Elsie Hughes when he was ambushed by members of Ghost Nation who unsurprisingly refused to cease motor functions.
The above photo is from the series premiere, "Journey Into Night," whose creepy official description from HBO simply reads: "The puppet show is over, and we are coming for you and the rest of your kind. Welcome back to Westworld." So, unless this scene is a flashback, clearly some time has passed and both Bernard and Stubbs are safe and working on a solution if they are with Maling and Karl. Skarsgård's character can be seen a bit in the Season 2 trailer with Bernard on the beach, and charging through the park with armed men.
"It was a really, really hard scene, a long speech," Skarsgård told Interview about his Westworld audition. "I only had two days to prepare, so I thought I f*cked it up. I called my manager and was like, 'No, this is not my role. This is not going to happen.' I went back home to Sweden and heard back 'No' on all the other projects. Westworld was the one that I wanted the most, but since I had given up on it, I was like, 'OK, this is it. There goes my acting career.'"
In the same interview, the actor added that his character is a "man with a military background, who you call in to solve sh*t, get sh*t done." As Season 1 mostly dealt with the corporate side of Delos, it will be interesting to see how those with military and/or law enforcement training take to the current situation.
Just because one actor from a well-known family is teaming up with Liam and Chris Hemsworth's brother on Westworld doesn't mean that these two siblings are going to get along on screen.
"[Gustaf] and I have a few showdowns," said the eldest Hemsworth in a recent interview with NBC's Access Hollywood. "It's Skarsgard versus Hemsworth now, so it's personal. Just between you and me, Hemsworths are always on top."
How can there possibly be drama amongst humans when robots are are on the loose? You can always trust Westworld to throw in an unexpected conflict — here's one between two industry families. But is Strand himself evil? He probably means well, at the very least. Delos is a complicated place with lots of conflicting goals. Hopefully fans can root for this new character, but in a show like this you never know.