This Terrifying New Character On 'The Little Drummer Girl' Has Big Plans For Charlie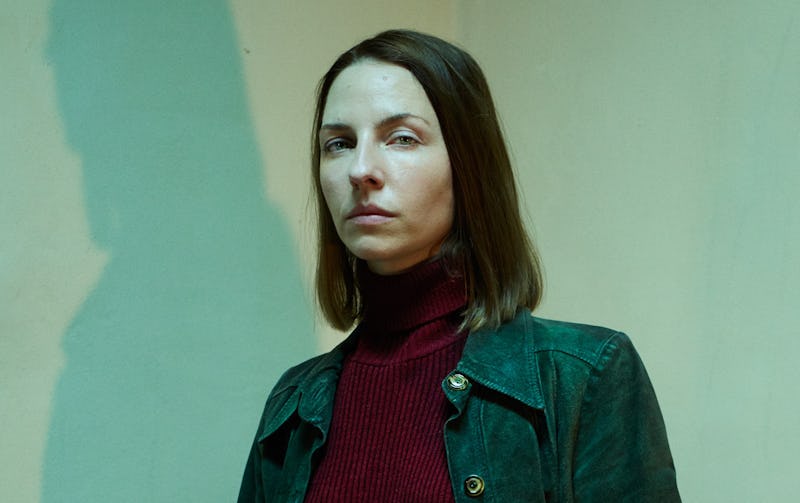 Nadav Kander/BBC/The Little Drummer Girl Distribution Limited.
As if there weren't enough new characters in The Little Drummer Girl, we're now meeting Helga, played by Katharina Schüttler, an associate of Salim/Michel and Khalil. Helga, who helps to recruit European women to their cause, coldly interrogates Charlie to determine the legitimacy of her relationship with Michel, horrifying the actor when she discloses her faux boyfriend's death. With an ever expanding cast, it's getting difficult to keep track of who's who behind the scenes of The Little Drummer Girl — so who is Katharina Schüttler, and where might you have seen her before?
Schüttler was born in Cologne, Germany, in 1979, according to the Deutsches Theater. She scored her first acting role at the age of 11, appearing in German children's film Die Lok. But her major breakthrough — and her first exposure to an international audience — came with the 2013 miniseries Generation War, which aired on BBC Two in 2014. According to the Guardian, the series drew a large German audience, but was also condemned for presenting Nazis in a sympathetic light. Schüttler played Greta in the series, a bartender forced to conceal her relationship with her Jewish boyfriend, Viktor.
In 2013, Schüttler also appeared in the Channel 4 miniseries Run, which was subsequently broadcast on Hulu. She played Kasia in the series, which focused on four marginalised people and the random intersections of their lives in London. The cast also included Lennie James as Richard, Katie Leung as Ying, and Olivia Colman as Carol.
German cinema fans might also recognise Schüttler from several leading film roles, including Elsa in 2015's 13 Minutes (released as Elser in Germany). The film depicts Georg Elser's thwarted attempt to assassinate Adolf Hitler in 1939; Schüttler plays Elsa Härlen, Elser's girlfriend who was interrogated by the police when suspicion fell on Elser. In 2016, she starred in Die Welt der Wunderlichs as Mimi Wunderlich, the lead role. She was nominated for the Best German Actress Jupiter Award for her performance in the comedy drama.
Another of Schüttler's major English language roles came in 2016, with the Hans Fallada adaptation Alone in Berlin. Emma Thompson and Brendan Gleeson led the cast as Anna and Otto Quangel, a married couple who distributed postcards condemning Hitler and the Nazi regime. Daniel Brühl played Escherich, the detective investigating the anonymous postcards, while Schüttler appeared as Claire Gehrich. Fun fact: according to German Films Quarterly, Brühl and Schüttler are actually close friends off-screen.
Schüttler's established a name for herself in the theatre, playing the lead in major productions of Lolita and Hedda Gabler. And she's got several more TV shows on the way too, including impending Netflix crime series Dogs of Berlin, in which she plays Paula Grimmer.
According to IMDb, Katharina Schüttler's terrifying Helga will also appear in the final two episodes of The Little Drummer Girl, where she'll presumably deliver Charlie to Khalil's team (providing Charlie's growing misgivings don't cause her to back out). With a le Carré adaptation and a Netflix series under her belt, it looks like Schüttler's inching her way to household name status.