Katie Leung Is A Long Way From Hogwarts With Her New Badass Role On 'Strangers'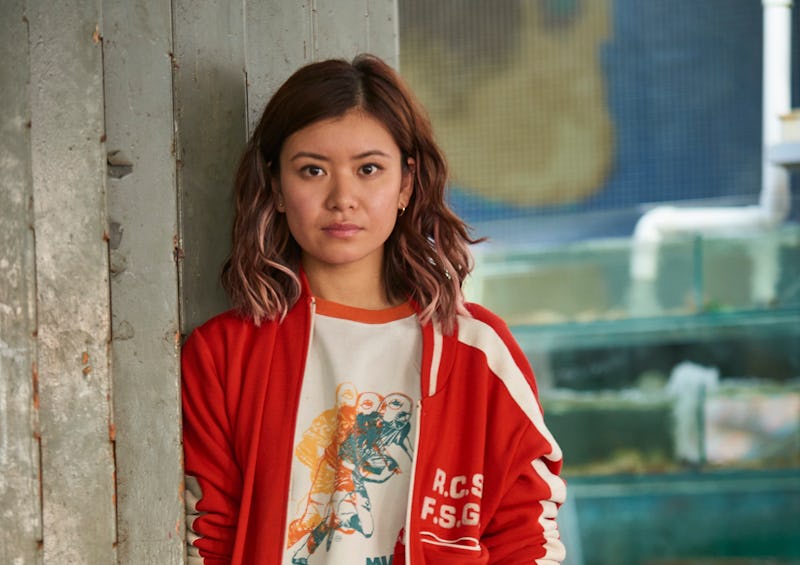 Strangers / ITV
If you're going to be tuning into Strangers later tonight on ITV, there's one face I bet you'll recognise. And if you don't, it's time to turn in your Sorting Hat and wizarding robes. Katie Leung, who previously starred as Cho Chang in the Harry Potter series, will be a long way from Hogwarts on Strangers as she's now playing a new character: Lau Chen. Beyond the teen film role that made her famous and her mysterious new part as Lau on Strangers, who is Katie Leung? Well, she's had a much bigger career than you might have realised.
Katie first stepped into the limelight when she played Cho Chang in Harry Potter and the Goblet of Fire. I can still hear her iconic first line now, delivered as she bumped into Harry on the Hogwarts Express food cart: "Two pumpkin pasties, please." As you might have guessed from her accent, she's from Scotland and was kind of a big thing there, as she scooped up a prize as Most Stylish Female at the Scottish Style Awards and later in 2014 snagged BAFTA's Breakthrough Brit award. As a result of the latter, she was appointed a familiar mentor: Olivia Colman, a.k.a. the new Queen Elizabeth on The Crown.
She played one of the lucky Potter characters that made it all the way to the end with Harry Potter and the Deathly Hallows, even if her onscreen boyfriend Cedric Diggory didn't. (Still not over it.) As Harry's first real crush and eventual kiss, it made me as a Filipina girl hella emotional to see an Asian woman in a blockbuster franchise and it was a real moment of visibility that really stayed with me as a teen growing up.
However, it wasn't all smooth sailing as her role also incited a surge of racism. According to The Telegraph she was subjected to "racist online messages" and there was even a website called "I Hate Katie" set up by misguided fans of the series.
She told the paper that she was able to deal with it as a teen by "being in denial", but since then she's become a prominent voice in the fight for increased diversity onscreen. She also rallied behind Kelly Marie Tran, who recently deleted her social media in the wake of racist barrage, wearing a shirt in honour of the Star Wars actress.
In her interview with The Telegraph , the Dundee-born actress talked about the struggles of battling against being racially typecast. She said, "The challenge is being able to rid these stereotypes, so I'm not playing the submissive female who's a victim, but somebody who is determined and fearless. [So] they can see a Chinese girl on the screen who has her own mind and is able to make decisions for herself and she's independent."
And that's something she's taken with her in ensuing roles onscreen and particularly onstage, where she's enjoyed quite a bit of success. She made her made a big splash onstage in a 2012 adaptation of Jung Chang's family epic Wild Swans (playing the author herself) and more recently starred in Tony Kushner's newest play The Intelligent Homosexual's Guide To Capitalism And Socialism With A Key To The Scriptures. Filmwise, she also played Jackie Chan's daughter in The Foreigner which was released last year.
Now that she's proved herself a deft hand onstage and on the silver screen, she's turning her attentions to television with her new role in ITV's Strangers.
She's previously starred in mini-series like Run and One Child, however her role as Lau Chen in the series will take her closer to the city her parents hail from: Hong Kong. The eight-part thriller co-produced by Amazon centres around a professor named Jonah Mulray (played by John Simm) whose wife is killed in a car crash while working in Hong Kong and gradually becomes embroiled in a political conspiracy.
Katie plays a local activist in the series and revealed to The Scotsman that the role was "reminiscent of the activism happening during the umbrella movement", where thousands in Hong Kong shut down and camped out around the city's prominent districts to protest for greater democracy. She hinted in the interview that she was a "crucial part of the narrative" and later revealed on Instagram that her character has a potential same-sex romance below.
She also revealed in the same interview that she still has cousins who live in Hong Kong, and her knowledge of Cantonese (the local dialect used in the city) came in handy on set. She said, "I don't really speak it that often, only with my parents when I go to visit them in Scotland, but to actually use it in a role was fabulous. I really enjoyed doing that."
Strangers will air on ITV tonight at 9 p.m. on ITV.