Katie Piper's Journey To 'Strictly' Is The Most Inspiring Story You'll Read Today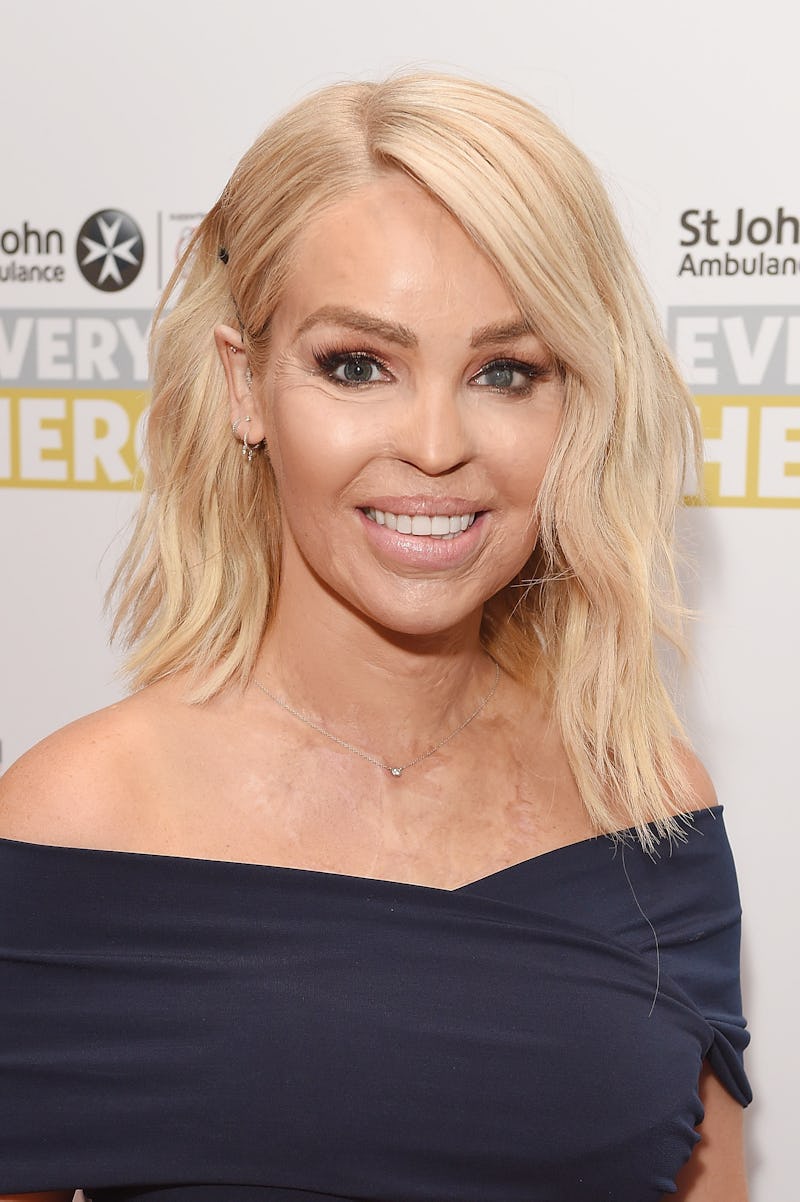 Anthony Harvey/Getty Images Entertainment/Getty Images
There are a few things that mark the start of autumn in my house. Chai spiced lattes (call me basic, but they're delicious), a return of woolly jumpers and boots, and Strictly Come Dancing. Nothing quite says a quiet, cold Saturday night in front of the TV like Tess Daly and Claudia Winkleman poking fun at Craig Revel Horwood. And it looks like the countdown for Series 16 has officially started as the first celebrity contestant was unveiled on Monday; but who is Katie Piper? What does she do and what do you need to know about her?
Let's start at the beginning. Piper first started her career as a model. She wanted to appear in magazines and had big aspirations to eventually move into television presenting. However, in 2008, she received a message on Facebook from a stranger called Daniel Lynch — he would go on to become her boyfriend and change her world forever.
Recalling how they first started dating, Piper wrote in an article for the Daily Mail back in 2009: "His profile picture showed a good-looking, mixed-race guy. I didn't recognise him but we had 30 mutual friends on Facebook — people I'd met through my promotional work at various sports events. Had I met him at one of those?"
It turned out, they hadn't met previously, but the pair started dating soon after. However, it didn't take Piper long to realise that the relationship was not right. "I was starting to feel smothered by the emails and phone calls: when I came home from work one day, I found he had sent me 37 messages in a few hours," she explained. This though, was just the beginning.
As the relationship progressed, Lynch would go on to violently assault Piper, rape her, and threaten to kill her family. Despite being terrified, she eventually found the strength to leave Lynch. But that did not put an end to his abusive behaviour. He continued to harass Piper and a couple of weeks later, after persistent contact, told her he had sent her an email and insisted that she read it. Her Internet connection was down, so she made her way to an Internet café on Golders Green Road. She didn't realise it at the time, but this was a set-up.
Lynch had arrange for a man in a hoodie, Stefan Sylvestre, to approach Piper while she was on her way to the café. When he spoke to her, she assumed he was going to ask for some money and so stopped and reached into her bag. But that's not what he wanted. Takinger Piper by complete surprise, Sylvestre then hurled the coffee cup he was holding at her face before making a quick escape.
"For a moment, I didn't understand what had happened," she explained. "And then the pain hit me — an explosion of agony, unlike anything I had ever experienced before."
Piper then realised she had been the victim of an acid attack. The substance thrown at her was industrial-strength sulphuric acid, leaving her with third degree burns on her face, chest, and arms, and blind in one eye.
Piper had to undergo countless operations afterwards. The acid was so strong that it had melted her skin down to her bone. It was a long and painful journey to recovery, however, when she was finally able to, Piper bravely decided to waive her anonymity to speak out in Channel 4 documentary Katie: My Beautiful Face' in order to raise awareness for survivors that have been through similar ordeals..
Since the documentary aired, Piper has gone on to be a regular on our TV screens, securing presenting gigs as well as using her platform to start conversations about acid attacks. She also established the Katie Piper Foundation to raise money and awareness for survivors as well as creating a community and support network.
She was also very busy in her personal life. She married her partner, Richard James Sutton in 2015, and the couple have two daughters together; Belle Elizabeth and Penelope Dianne.
She announced on Monday she would feature on this year's Strictly 2018 line-up, and I for one couldn't be more excited to see such an inspirational woman taking part in the series. Speaking to Louise Minchin and Dan Walker on BBC Breakfast, she said: "For me it's really out of my comfort zone — it's not something I've ever done before. Will I go home? Will I be dreadful?"
When she was asked which professional took her fancy, Katie replied: "Am I allowed to say who I want (to be partnered with)? I'd like to be partnered with Giovanni [Pernice] but I have no sway with that. So, Giovanni, if you're watching I'm coming for you."
Girl, I don't blame you.
Piper is already a massive inspiration to so many people and is so insanely likeable that, in my eyes she seems like the perfect fit for Strictly Come Dancing.
Now Strictly fever has caught hold, I can't wait to see who will be joining Piper.