What You Need To Know About The White House's Full-Time Stylist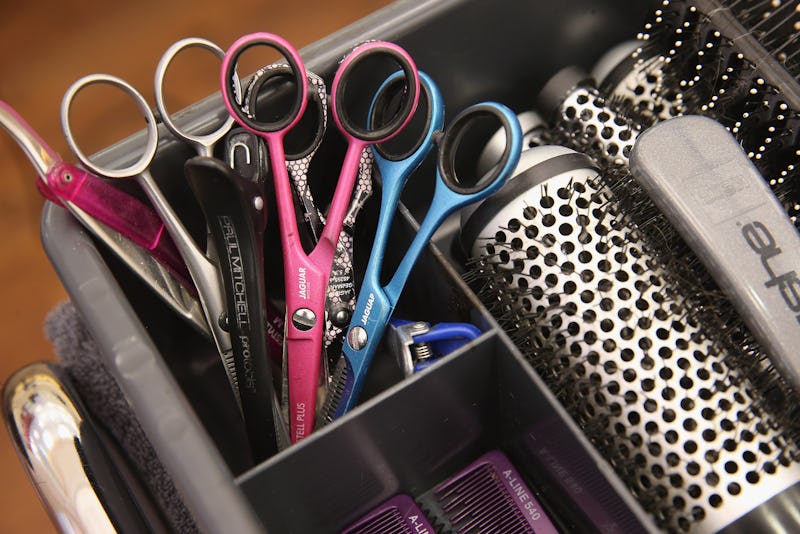 Sean Gallup/Getty Images News/Getty Images
Candidates vying for a spot in the Trump administration could benefit from adding a few new credentials to their resume: doing hair and makeup. These are the skills that helped earn professional stylist Katie Price an official White House job.
The stylist first earned public praise from Anthony Scaramucci, the short-lived communications director who spent 10 days in the White House this past summer. During an interview with CNN's Jake Tapper in July, Scaramucci said to White House press secretary Sarah Huckabee Sanders, "If you're watching, I loved the hair and makeup person that we had on Friday. So I'd like to continue to use the hair and makeup person."
Shortly thereafter, "the Mooch" responded to critics who thought he had directed the comments at Sanders, implying that she needed the makeup. He insisted that it was his try at #humor, tweeting, "For the record, I was referring to my hair and make up and the fact that I like the make up artist."
Scaramucci didn't last much longer in his job, but Price stuck around. Politico reports that after she was lauded for her work, the White House created a taxpayer-funded job for her. As a production assistant, Price works in the press office, doing hair and makeup for officials like Sanders. She was previously a hair and makeup artist for networks like Russia Today and CNN, and reportedly ran a bridal hair and makeup business in Northern Virginia called NOVAbelles, according to Politico.
Since Politico broke the story about Price, the NOVAbelles website has been deleted, along with the stylist's LinkedIn page. It did appear that her Facebook page was still active as of Sunday evening — on the profile page of one Katie Price, the user has chosen to display a cover photo with what appears to be herself and fellow White House staffers in the Oval Office.
Sanders only had nice things to say about Price, noting that the stylist is not only good at her job, but she's also fully supportive of the Trump administration's mission: "It's a combination of her talent and her support of what we're doing," the White House press secretary told Politico. "You don't want someone who doesn't support what we're doing or want to be here."
While the White House Press Office is a somewhat divisive addition to any résumé, this isn't the first eyebrow-raising office Price has worked for. Russia Today, one of her previous employers, is considered a propaganda tool for the Kremlin by many mainstream outlets.
The Obama White House did not employ a professional stylist, but as Politico notes, George W. Bush's administration did bring on an in-house makeup artist — albeit one who was eventually given a number of other duties as part of the press team. As employees of a president who made his career as a reality television show star, it's no surprise that Trump's team hired someone like Price.
One thing that Price won't likely be doing anytime soon: Donald Trump's hair. The production assistant is not working with the president or any members of the first family. First Lady Melania Trump employs a stylist herself, and as Vanity Fair reported last January, she had plans to install an elaborate room for hair, makeup, and wardrobe upon her arrival to the White House. Melania's makeup artist, Nicole Bryl, has a much more public profile than Price. Bryl has her own skincare line, and regularly posts photos on her Instagram from inside the White House. Perhaps the most vital stylist in Washington has yet to be revealed, though: the person responsible for the president's perpetually orange glow.