Iceland's New Prime Minister Is A Feminist & Crime Thriller Expert — And She's Only 41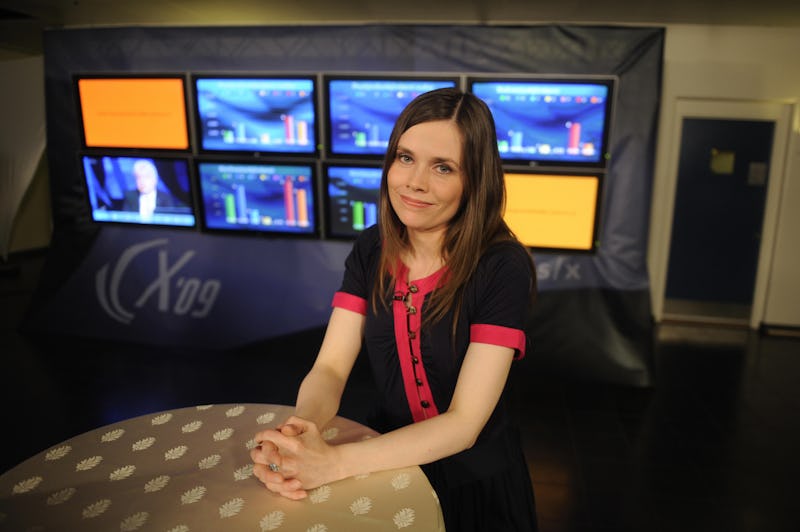 OLIVIER MORIN/AFP/Getty Images
Those dismayed by the policies that the Trump administration has pushed in the U.S. may not have to look far for at least a spot of good news. In fact, they don't even have to look all the way across the Atlantic. Katrin Jakobsdottir, Iceland's new prime minister, is a feminist and environmentalist who has stepped up to the helm of her small country at only 41 years old. On the feminist front, she's leading by example — and she's vowing that Iceland will do the same for the environment.
Following a scandal — specifically, the previous prime minister's father called for a convicted pedophile and rapist's "honor to be restored" — and a snap election, Jakobsdottir is stepping up as the new head of the Icelandic governing coalition, which will consist of her Left-Green party, the center-right Progressive Party, and the conservative Independence Party. After two scandals that resulted in two governments falling, there is high hope that this new coalition will bring some longer lasting stability to the Nordic nation.
"It is important that we try to change the way we work together," Jakobsdottir said on Thursday in the Icelandic capital of Reykjavik, when they announced the new coalition. "This agreement strikes a new chord."
Among her priorities, Jakobsdottir has listed improving Iceland's already excellent level of gender equality, investing in health care, education, and transport infrastructure, and making Iceland entirely carbon neutral by 2040. While her party didn't gain the largest share of the votes, the most Icelanders wanted her to be the prime minister, and she's one of the country's most respected and well-liked politicians overall. One of the other things she campaigned on was a pledge to restore trust in government after the run of scandals, and she certainly has a solid base to begin that effort.
One of the reasons why Jakobsdottir was such a popular choice to lead the country is that despite her young age, she's already served in various political capacities since 2003, when she took the job of deputy chairperson of the Left Green Movement. In 2009, she became both the Minister of Education, Science and Culture and the Minister of Nordic Co-operation, positions she held until 2013.
On a personal level, Jakobsdottir is also definitely someone who you want to emulate. She got a B.A. in Icelandic and French and an M.A. in Icelandic Literature, focusing specifically on Icelandic crime writer Arnaldur Indriðason — so she's a great example to use the next time your parents ask you what you can possibly do with your literature major or why you're reading the same thriller novel for the third time in a row.
She and her husband have three children, and Iceland Monitor reports that the two of them worked together to translate a book about how to raise children ecologically.
Jakobsdottir is likely both a product of and a force behind Iceland's position as the nation with the highest level of gender equality, an accolade that it's received for the last nine years. She's actually the second female Icelandic prime minister; the first was Johanna Siguroardottir, who broke barriers as the first openly lesbian head of state in the world from 2009-2012. Before the two of them, Iceland also had the world's democratically elected first female president: Vigdis Finnbogadottir, who served in that position from 1980 to 1996. The Icelandic president is largely a ceremonial role, however, and the prime minister holds much more political power in the country.
As 2017 has gone on, maybe keep looking at Iceland and its other Nordic brethren if you're a progressive in need of an upbeat news nugget. For now, you can take delight in the fact that the group of Nordic countries now features two female heads of state, out of five.