Kayleigh McEnany Becomes Trump TV Host One Day After Quitting CNN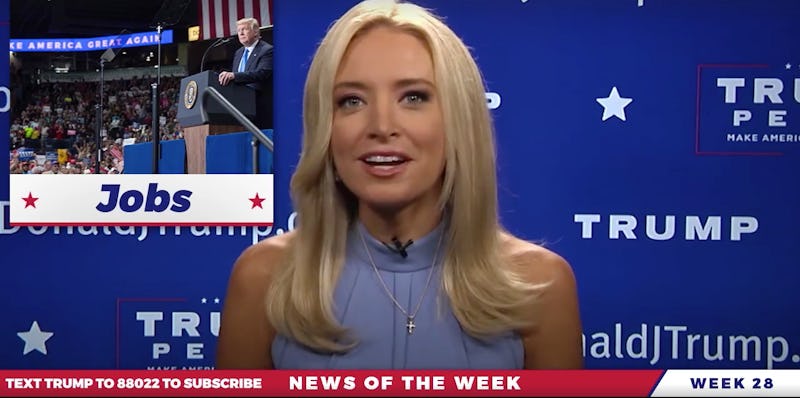 Facebook/Donald J. Trump
President Trump has a pretty vicious ongoing feud with the cable news network CNN. Or rather, he has a long history of attacking the outlet and its reporters on his personal Twitter account and at press conferences. On Saturday, he appeared to take a jab at the network in one of the most interesting ways possible: by hiring one of its commentators to host his own online news show. Trump supporter and former commentator at CNN Kayleigh McEnany is now hosting Trump's "Real News" broadcast.
McEnany's debut on the program, which is broadcast on Trump's official Facebook page, was on Sunday — just one day after she announced that she would be leaving CNN for a "new role." According to CNN Money, McEnany was not fired by CNN, but asked to be released from her contract early.
McEnany, a conservative pundit, has been an ardent supporter of the president, and has defended him on various on-air segments and panel discussions. In July, when Trump stirred controversy for tweeting out a gif of himself bodyslamming a personification of CNN to the ground, McEnany defended the Tweet as "just a joke."
"I think it was intended as a tongue-in-cheek, satirical video," McEnany said. "Nothing serious." Now, she's moved onto a news channel that's completed dedicated to Trump and the "real news." You can watch Sunday's segment below.
Trump launched the weekly Facebook series last weekend in an effort to combat news provided by traditional mainstream media outlets. So far, this seems to mean focusing exclusively on President Trump's accomplishments while completely ignoring accusations of a paranoid, chaos-embroiled White House.
The first installment of the series was hosted by Trump's daughter-in-law Lara Trump, and received over two million views. Critics were quick to point out that in addition to being the President's family member, Lara Trump also previously solicited donations for Trump's 2020 re-election campaign in another video posted to Facebook in July.
This, of course, poses just a bit of a conflict of interest, to say the least. Typical journalistic standards require journalists to decline reporting on topics that they are involved or invested in. While "journalism" is hardly a word that could be used to describe the President's broadcast, it's certainly concerning that millions of Americans are turning to the show thinking they're being provided with "real news."
McEnany's first broadcast focused on Trump's newly-unveiled immigration act, which would cut legal immigration in half by imposing a strict merit-based system for entering the country. She also discussed Trump awarding a Medal of Honor to a war veteran on Monday. Noticeably, she did not mention Trump's controversial ban on transgender service members, or the fact that Robert Mueller's special council investigating Russian interference in the presidential elections has impaneled a grand jury.