Kechi Okwuchi Shared Her Incredible Story With 'America's Got Talent'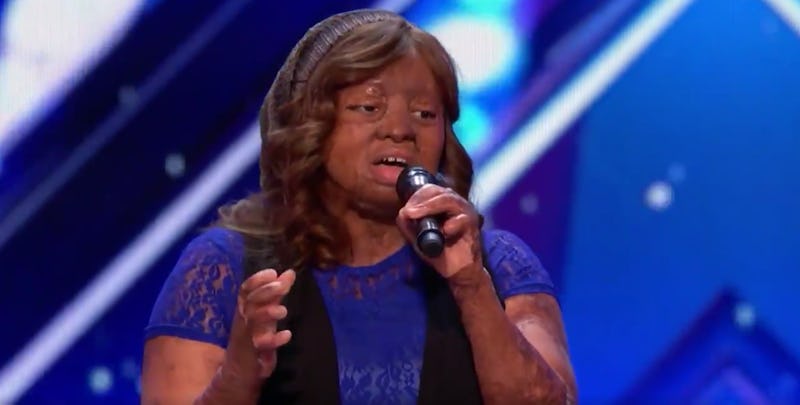 Courtesy of America's Got Talent
America's Got Talent is always a show of hits and misses. However, when Kechi Okwuchi took the America's Got Talent stage, she did so with a story that was both powerful and inspirational — and totally won everyone over with her talent. When she was 16, Okwuchi was one of two survivors in a deadly plane crash and sustained massive burns, but she's persevered to continue her love of singing.
Okwuchi received a "yes" from each of the judges, but that was to be expected from such a strong talent. The real story lies in her journey, where singing always had a strong presence. Okwuchi began singing in a children's choir back in Nigeria and this love of singing helped her work through her experiences as a survivor of the Sosoliso Airlines Flight 1145 plane crash that took the lives of 107 passengers.
As she detailed in her story on the show, on December 10, 2005, she was returning from a Christmas holiday vacation with other students from her boarding school. Then, with 20 minutes to landing, she experienced one of the most horrific moments of her life.
Okwuchi was found mixed with the debris with burns covering her entire body. After more than 100 surgeries, Okwuchi survived, but she still struggles with the traumatic experience. She credits music as her escape to help her cope with losing her friends and with her painful surgeries. "I hope that maybe something is going to come out of this," Okwuchi said before she performed.
Her song choice, "Thinking Out Loud" by Ed Sheeran, got the judges' attention and it also spoke to the audience, as the camera panned to the emotional faces of the audience. The song was a beautiful tribute to the friends and the childhood that she lost, but her voice remained strong and powerful. When Okwuchi finished, she received a standing ovation.
According to Naij.com, the now 26-year-old Okwuchi graduated with honors from the University of St. Thomas with a degree in Economics. Since then she is working toward her Master's degree and uses her social media pages to deliver positive messages to her followers.
Okwuchi's optimism that her singing has led her to a greater purpose had an impact on both the judges and the audience. Her kindness also stands out as her Twitter page was filled with positive comments and cheers for her fellow contestants.
Kechi Okwuchi is a young woman who managed to find hope and solace within her traumatic event. As she performed on America's Got Talent, she showed audiences that power of finding one's voice, especially as a tool to heal. Regardless of whether she wins the competition, Okwuchi's story deserves a bigger stage. She has a message and the world is waiting to hear it.