Oscar Hernandez Surprised Everyone On 'America's Got Talent'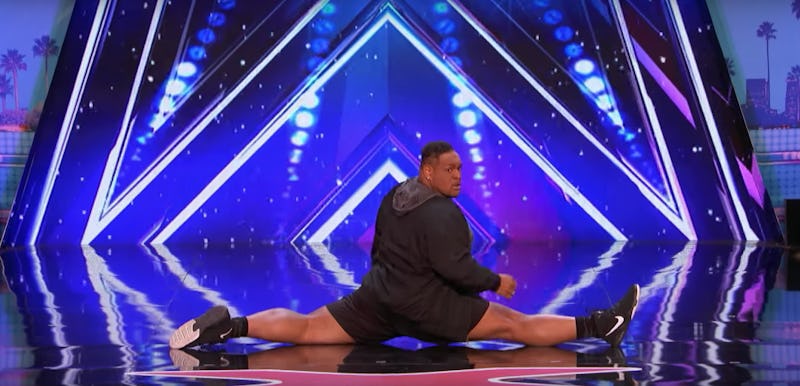 NBC
On the June 13 episode of America's Got Talent, Oscar Hernandez kicked off the show with a very surprising talent. During his audition, he managed to defy everyone's expectations, even Simon Cowell's. When he was finished, he had floored the judges and audiences alike. He's definitely going to be someone to keep an eye on.
America's Got Talent is known for its unconventional contestants and their talents, but to have Hernandez open the show set the precedent for the rest of the night. Hernandez walked slowly on stage, holding a microphone. "Are you nervous?" Cowell asked him. Hernandez replied that he was. After Cowell reassured him not to be, Hernandez nodded and began his routine — and the crowd went wild.
As Nicki Minaj's "Anaconda" played, Oscar Hernandez engaged in one complicated dance routine. His moves were sharp and focused. As the crowd cheered and the camera panned to the shocked faces of Tyra Banks and the judges, Hernandez continued to show off his moves, ending his routine with a fantastic split.
When Hernandez finished his audition, he did so to a cheering crowd. The judges, to say the least, loved his "surprise" talent. Cowell was the first to break the spell by saying to Hernandez, "Well, we weren't expecting that!" to which the audience started cheering again.
The rest of the judges added their reactions. Howie Mandel told Hernandez he seemed "possessed by tiny Laker girls." Heidi Klum added, "I like the moves coming from you more than the girls!"
Those moves are Hernandez's specialty. According to his Twitter bio, he is a "Choreographer for Dance teams across the world." Based on his performance, dancing seems to be where Hernandez's heart lies. Before he went on stage, he shared with audiences that he was raised by his grandmother. He also shared that he tried playing sports, but his heart was in performing and his talents back that up.
After his performance, Mel B told Hernandez, "You got swagger!" Before Hernandez received a resounding "yes" from all four judges, Cowell said, "That was amazing. You are the sort of the person who can start a new trend."
Perhaps Cowell is on to something here. While America's Got Talent is usually a platform for people to realize their dreams, Oscar Hernandez is proof that following his passion for all this time was absolutely the right choice.