This Bill Cosby Accuser May Be Playing A Different Role In His Retrial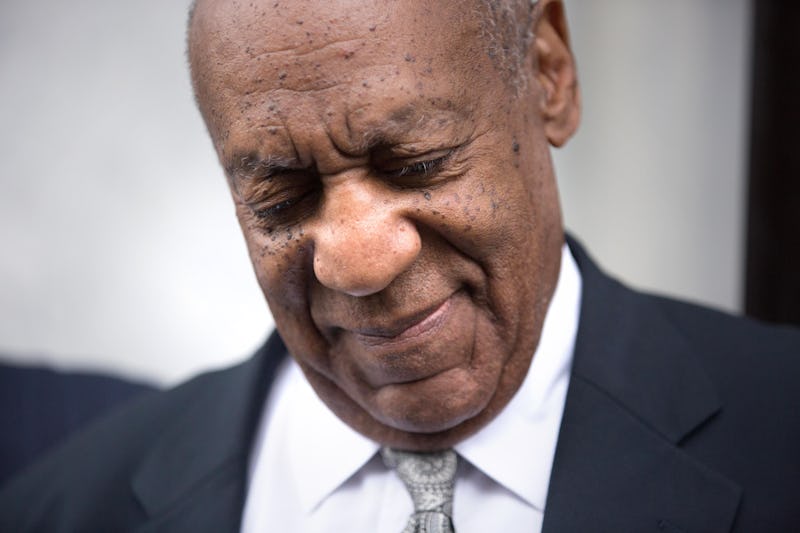 Kevin Hagen/Getty Images News/Getty Images
Comedian Bill Cosby's legal battle continues Monday, more than a decade after sexual assault allegations were first made against the comedian. Cosby will return to the same Pennsylvania court that he stood trial in last year for a retrial of his sexual assault case. But who is Kelly Johnson? The Cosby accuser was one of just two women allowed to testify at Cosby's original trial, but she may not be playing the same role this time around.
Although nearly 60 women have publicly accused Cosby of sexual assault — all accusations that his legal team has vehemently denied — only the allegations of Andrea Constand have led to criminal charges against the comedian. Moreover, only two women, Constand and Johnson, were allowed to testify against Cosby at his sexual assault trial last year. But Johnson will not be among the five women testifying at Cosby's retrial, the Associated Press reports.
According to The Los Angeles Times, Johnson first met Cosby in the 1990s when she worked as an assistant at the William Morris Agency. At the time, Cosby was one of biggest names the talent agency represented. In her testimony at Cosby's original sexual assault trial, Johnson said the comedian was often friendly towards her until one day in 1996 at his bungalow in a Bel-Air hotel. She says he "intimidated" her into taking a pill that made her temporarily lose consciousness.
"I sort of came to in the bedroom of the bungalow ... on the bed," she said at trial, as quoted by NBC News. Johnson said that when she woke, she had been partially undressed and her breasts were exposed. She alleged that Cosby then put lotion in her hand and made her touch his penis and masturbate him. "I didn't understand a sense of time," Johnson said on the witness stand, as quoted by The Los Angeles Times. "I felt like I was underwater."
Johnson also alleged that soon after the encounter, Cosby reported her as being a "problem" to her employer and encouraged her firing. This spurred her to file a worker's compensation claim. "I was very afraid," an emotional Johnson said, as quoted by The Los Angeles Times. "He was the biggest celebrity in the world at the time. And it was just me. It was just me."
Prosecutors at Cosby's first trial tried to introduce evidence and testimony from 13 other women in hopes of showing that the comedian had a pattern of drugging and molesting women, but those efforts were denied. This time around, prosecutors hoped to put 19 women on the stand despite opposition from Cosby's defense team, which argued some of those allegations dated back nearly 50 years and were "virtually impossible to defend against."
Ultimately, the judge presiding over the case ruled prosecutors could call five women to testify in support of Constand. Former model Janice Dickinson is expected to be among those women, according to the Associated Press.
In late 2015, Cosby was charged with three counts of aggravated indecent assault stemming from allegations Constand first made in 2005. In a statement Constand gave police when she first reported the incident, she claimed she went "in and out" of consciousness after taking pills Cosby offered her. Constand told police she "was unable to speak" and thus could not tell Cosby "no" as the comedian allegedly fondled her breasts and genitals.
Cosby admitted to "petting and the touching of private parts" in a statement he provided police in 2005, but denied that the activity wasn't consensual. Cosby has also maintained that he only gave Constand Benadryl. As the trial unfolded, dozens of women came forward to accuse the comedian of sexual assault — all charges that Cosby vehemently denied.
The Pennsylvania judge overseeing Cosby's sexual assault trial ultimately declared a mistrial after the jury announced it was unable to render a unanimous verdict following six days of deliberations. Cosby's retrial is set to begin April 9. If convicted, Cosby could face up to 10 years in prison.