'The Bachelor's Kristina Is A Dark Horse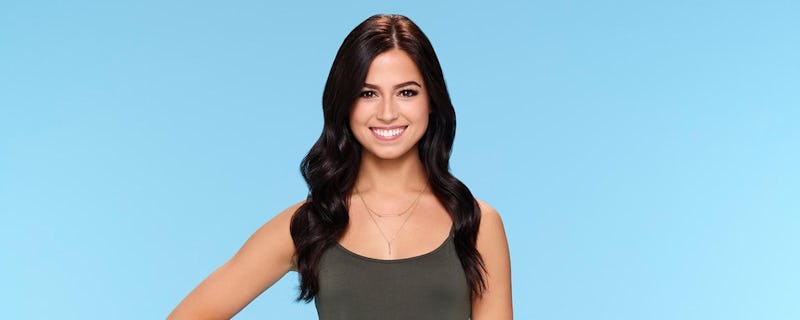 Craig Sjodin/ABC
If there is one woman to keep an eye on, it is Kristina Schulman from The Bachelor. Schulman is one of large group of women who will be vying for Nick Viall's affections on the latest season of The Bachelor, set to premiere on Monday Jan. 2. Don't be fooled: the Kentucky native is much more than just a pretty face, though. Having recently graduated from the University of Kentucky, Schulman works as a dental hygienist outside of her Bachelor duties. Her Bachelor bio is also incredibly revealing.
In her Bachelor bio, Schulman revealed at various moments that she has been through quite a lot in her life which has ostensibly made her stronger and more resilient. When asked who she admired most, Schulman replied, "My parents. It takes courage to open your heart and home to four orphans and give them a life otherwise unobtainable." Schulman's parents adopted her when she was younger; perhaps we will learn more about her family life during The Bachelor?
Also revealing in her bio was the fact that she is attracted to strength, both physically and in a person's character. This is perhaps no great stretch considering she has remained resilient through the different obstacles life has thrown her way. This is evident in, oddly enough, questions about her favorite TV show and her favorite fictional character.
For television, Schulman stated, "Ninja Warrior. I am amazed by what a human body is capable of and it motivates me to work out." But wait, it gets better. On her favorite fictional character: "Fiona from Shrek. She's got some serious karate moves and she's feisty and darling." I mean, how great is that?
Oh, and in case you were wondering whether Schulman may officially be your new fave Bachelor contestant, her favorite actress is "Meryl Streep. She can adapt to any character assigned and do a wonderful job fulfilling that role." You can't go wrong liking someone who loves Meryl Streep. Ever.
Schulman's answers, while being totally badass, also indicate to me that she is a dark horse in this Bachelor competition. She may end up giving Viall a run for his money.