This Is The Badass Judge Who Blocked Arkansas' Extreme Abortion Bill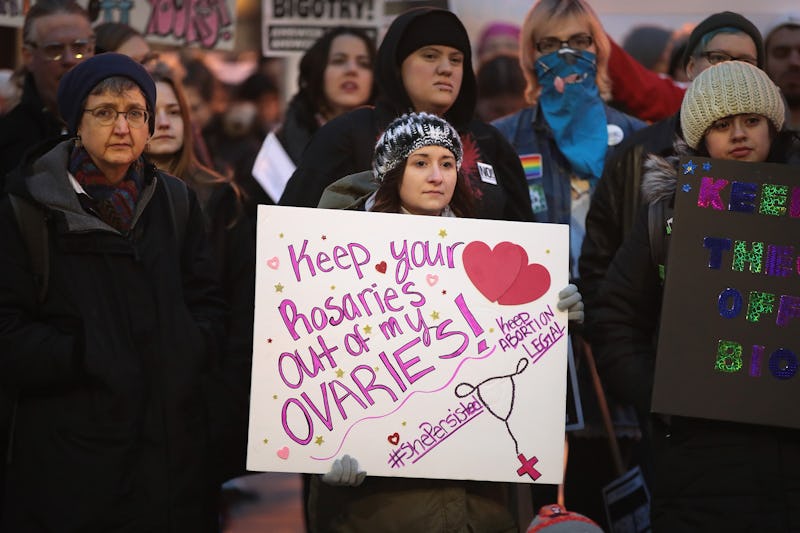 Scott Olson/Getty Images News/Getty Images
In January of this year, Arkansas passed the first of four controversial and extreme abortion laws. First off, the most common second-term abortion procedure, dilation and evacuation, was outlawed. Then another bill basically required that women notify their partners or other family members of their abortion because they have to agree to the disposal of the remains of the fetus. However, these definitely problematic laws were blocked late Friday night, the Associated Press reported.
So, who is Kristine Baker? She's the federal judge in Arkansas who blocked this anti-abortion legislation.
Baker, a U.S. District Court judge, blocked the bills with a preliminary injunction; three of these bills would have taken effect on Tuesday. She's an Obama appointee who was nominated in 2011 and confirmed in 2012. Baker started off studying at St. Louis University, where she got a bachelors degree, and then went on to the University of Arkansas School of Law.
Before taking the bench, according to the Obama White House press release announcing her nomination, she worked two years as a law clerk for the Eastern District of Arkansas, the same District Court where she works now. From there she spent over a decade in private practice in Little Rock, Arkansas — first at Williams & Anderson LLP and later at Quattlebaum, Grooms, Tull & Burrow PLLC, where she was a partner.
The case she heard on the anti-abortion laws was brought by the American Civil Liberties Union and the Center for Reproductive Rights on the behalf of an abortion provider in the state, Dr. Frederick Hopkins. Baker wrote about why she issued the injunctions in her ruling:
The threatened harm to Dr. Hopkins and the fraction of women for whom the mandate is relevant clearly outweighs whatever damage or harm a proposed injunction may cause the State of Arkansas.
Moreover, Baker wrote specifically about the problems in the bill on fetal remains. She noted that the state doesn't require these people be notified for the abortion itself, and so requiring it for the remains was a contradiction to existing state law:
The law mandates disclosure to a woman's partner or spouse, even if that person is no longer in her life or is a perpetrator of sexual assault. For minor women, it bypasses the state's constitutionally mandated judicial bypass process, through which a minor can choose not to involve her parent in her abortion decision and instead obtain judicial authorization.
One of the other laws required that doctors request medical records covering the entire pregnancy before performing an abortion. That would essentially inform a patient's prior doctor that she's getting an abortion, something that could dissuade women from seeking abortions, for fear of their privacy being violated.
It will cause women to forgo abortion in Arkansas rather than risk disclosure to medical providers who they know oppose abortion or who are family friends or neighbors.
In addition to this abortion law injunction, Baker has been in the news for a ruling earlier this year. In April, she halted executions in the state that had been planned with lethal injection drugs; inmates had sued with claims of cruel and unusual punishment. She decided to let their cases move forward in a 101-page ruling.
The ultimate decision on the anti-abortion laws is forthcoming, but while the cases move forward, they will not be enforced.