Lady Leshurr & Maya Jama Go Head-To-Head For Some EPIC Battles On Their New Show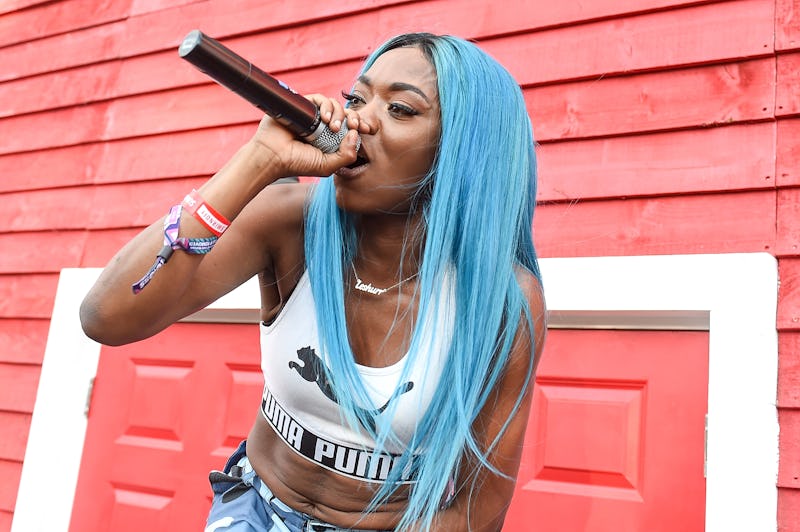 Tabatha Fireman/Getty Images Entertainment/Getty Images
On Oct. 11 ITV launched Don't Hate The Playaz, a hip hop themed panel show bringing together freestyle performances, trivia, and a whole lot of laughs. Host Jordan Stephens from Rizzle Kicks is joined by team captains, presenter Maya Jama and grime artist Lady Leshurr. They decide who wins the ultimate prize — bragging rights — and fans of the show are here for it. Whilst being hilarious, Don't Hate The Playaz has also shown some serious talent, and there is one name in particular you need to know. So, who is Lady Leshurr?
Melesha O'Garro, or Lady Leshurr to you and I, was born in Birmingham in 1989 to parents who were originally from St Kitts, the BBC reports. Speaking to the New Statesman about her mum, she said "I just want to make her happy and buy her nice things. She was a single mother, she had to look after four kids, she was the mum and the dad, and she had three jobs. It made me realise I don't need a man in my life. I can just go out and get it." And go out and get it is exactly what she did.
She learnt to rap and produce in a youth club near her home when she was just a teenager. She put together her first mixtape when she was 14, telling the Guardian, "I had no idea how to promote, or how to get my things in shops, so I just used to leave CDs on the bus when I was on my way to school. I'd hand them out to strangers, leave them on park benches, anywhere I thought people might see them and pick them up." Her enthusiasm worked as a stranger uploaded her music to the internet and they went viral.
After starring in an independent film about gangs in Birmingham, she made the decision to leave her own hectic home life and set her sights on London. "I didn't tell my parents I was moving to London," she told the newspaper. "I just packed one suitcase, I left and I never went back. I think I told my mum I was going on a trip with the college or something."
YouTube has played a fairly fundamental part in Lady Leshurr's rise. Despite being offered a deal with Atlantic Records in the U.S. after seeing her music online she turned it down, as industry execs wanted to pit her against Nicki Minaj. That's isn't her style. Returning to the UK she took some time to look at the kind of music she wanted to produce. Injecting a little bit of humour into the grime and rap that she had already received recognition for is what catapulted her from an underground artist to internet sensation.
In 2015 she released the first video on YouTube in her Queen's Speech series. These videos are everything that doesn't spring to mind when you hear "Queen's Speech." Witty, quick, and undeniably talented, Lady Leshurr set each of her instalments of the Queen's Speech videos in different venues, from London to LA, and talked about everything from brushing her teeth to keeping your shoes on when you're in the club. Speaking to the BBC she said, "I took a year out before I started those. I used to just fling out songs here and there, but I took a break, and started to get to know myself. Because, even though I had been doing music for ages, I didn't feel like I had a proper trademark sound. So I was watching a lot of people that came out in 2015, and I just realised what's missing from the music industry is fun. A sense of humour, like old-school Eminem."
Lady Leshurr effortlessly combined politically conscious lyrics about Brexit with complaints about people who spend their entire night out Snapchatting. This girl leaves no stone unturned. Whilst she has ended the Queen's Speech project now, she still uploads freestyle videos around London, most notably "Black Panther" filmed on London's DLR network. Speaking to the BBC about why she thinks the videos were such a massive success she said, "I say certain things in Queen's Speech because I know it's going to be relatable to the common man."
So, what's next for Lady Leshurr? Since leaving the Queen's Speech series behind after its seventh instalment in 2017, she has gone on to release "R.I.P", "OMW", and "Black Madonna". In 2016 she won Best Female Act at the MOBO awards and has been working on her own sketch show, VICE reports. She is one seriously busy woman. If you are as obsessed with her as I am you can catch Lady Leshurr alongside Jama and Stephens on Don't Hate The Playaz on Oct. 25 on ITV2 at 9p.m.