'Fantastic Beasts' Introduces A Huge New Character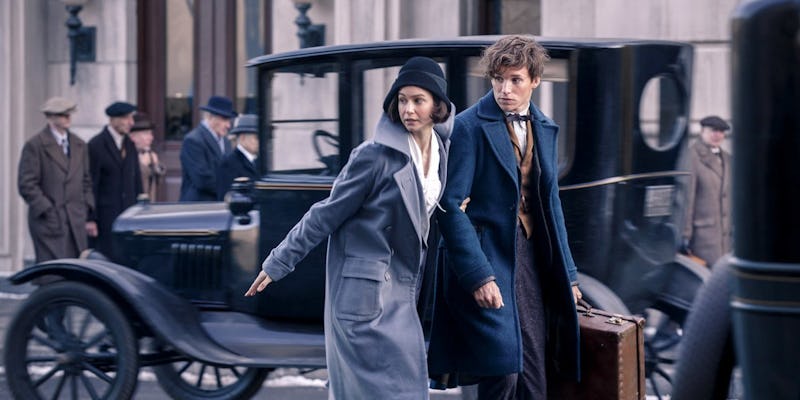 For all of the brand-new characters introduced in Fantastic Beasts and Where to Find Them, it's the one who has a connection to a family fans already know that might have the biggest impact on the franchise. Spoilers ahead. Who Leta Lestrange is in Fantastic Beasts' world is not yet totally clear, but judging from the new movie, it appears that she's going to play a major role in the next few films. Although she's not seen in person, her photo (Zoe Kravitz) appears on a desk in Newt's case, and it's hinted that the duo had a very close relationship while at Hogwarts. And according to Beasts' director David Yates, that bond — which seems to be more than friendship, less than full romance — will definitely be explored in the next Fantastic Beasts installment.
"Leta comes into the second movie," says Yates at Fantastic Beasts' New York press junket. "She's quite complicated, a little damaged, and confused... she's kind of tragic figure in a way."
She sounds like an intriguing addition to the Potter world. What's even more fascinating, though, is what her relationship with Newt will be like going forward, since the first movie ends with Newt developing an intimate connection with American witch Tina (Katherine Waterston). How that newfound connection affects the one Newt has with Leta remains to be seen, but Yates reveals that there will certainly be some drama. Explains the director, "Newt is still absolutely in love with [Leta], so she has a kind of power over him."
In addition to the potential love triangle, the introduction of Leta into the Fantastic Beasts world means that the Lestrange family will be explored in more detail. Although it's not known yet how Leta is related to Bellatrix and the others, it's safe to assume that more will be revealed in Fantastic Beasts 2, when that movie comes out in November 2018. Will Leta be a good person who has nothing to do with her relatives' horrific nature? Or will she secretly harbor a dark side, and have more in common with Bellatrix than Newt might be comfortable with?
Only time will tell, but one can assume that Leta's introduction into the world of Harry Potter will have repercussions for many years to come.
Images: Warner Bros.
*Editors Note: This post has been updated to reflect the accurate spelling of Leta Lestrange.