Want A VIP Bachelorette Party? Call This 'Bachelorette Weekend' Star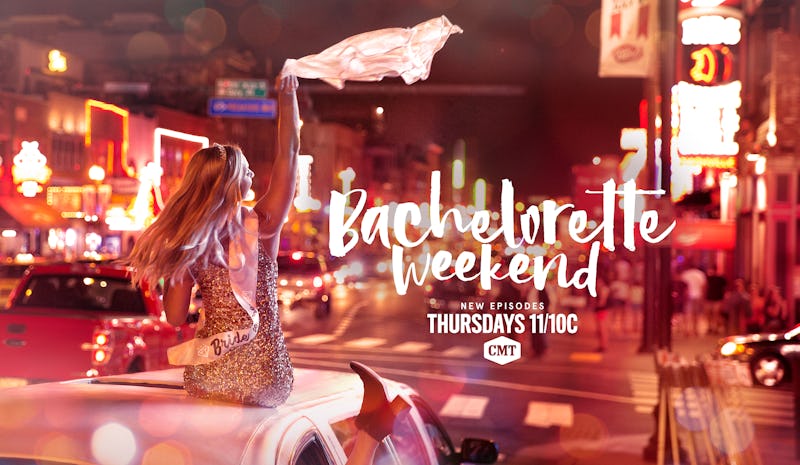 CMT
Everyone's idea of their dream bachelorette weekend is different. But whether you want a relaxing spa weekend or a wild night out at a club, wouldn't you want an amazing team behind you to make sure your last celebration of unmarried life is absolutely perfect? CMT's new reality series Bachelorette Weekend follows a team of people whose job is to make sure they throw their clients the absolute best Nashville party they could ever dream up. Behind every great party are great people, and CMT's new show introduces you to those elite party planners. So who is Liz on Bachelorette Weekend, and what is her role in the Bach Weekend company?
Liz is a key member of Bach Weekend, because she is one of the party planners responsible for making sure you've got a VIP table, the best spot on the dance floor, and the stretch limo parked right outside. In particular, Liz manages the partnerships for the company. "I'm in charge of finding all of the hottest places in town, and convincing them that they want to work with us," Liz explains in a video introducing the team. So if you're looking to get into that super elite club in Nashville with the line down the block, Liz has got you covered.
But even though bachelorette parties should be nothing but fun, planning them isn't always such a good time. After all, bring a bunch of gals to Nashville, add in lots of alcohol, and things might not always run so smoothly. "There are so many times when I get so neurotic and crazy," Liz shares in the same video, which then cuts to a clip of her swearing and crying. "It's the Italian in me I think," she says by way of explanation. "I just want to argue back."
That doesn't mean that Liz can't still be the life of the party — or at least, make sure that you're having the time of your life. From the quick glimpses the video provides of the parties that will be featured on the show, it seems like when you hire Bach Weekend, you're just about guaranteed to have an absolute blast.
Liz still has to be on her guard during the parties, though, to make sure that everything is running smoothy. Judging by the season preview, that is far from always the case. Bottles are smashed. Someone is arrested. Men are fighting in a limo. Things don't always go as planned during a bachelorette weekend, but that's why Liz and the rest of the team are there to run damage control and make sure the party goes on.
Thee show won't just feature drama amongst the party-goers. The CMT website hints that Liz, (dubbed "The Tornado") often butts heads with Rosa, who is the director of sales. The website notes that the two have very different working styles, and they don't always see eye to eye. But in a reality show, the more drama, the better. I'm sure that Bachelorette Weekend will milk the tension between these two for all it's worth.
But, as the official trailer for the show reminds us, planning the perfect bachelorette weekend is really all about making memories. And for the women featured on the show, those memories will be captured forever on camera... for better, or worse. Kind of like those marriage vows, eh?