This Student Asked Cambridge To Diversify Its Curriculum — And Then Got Major Backlash Online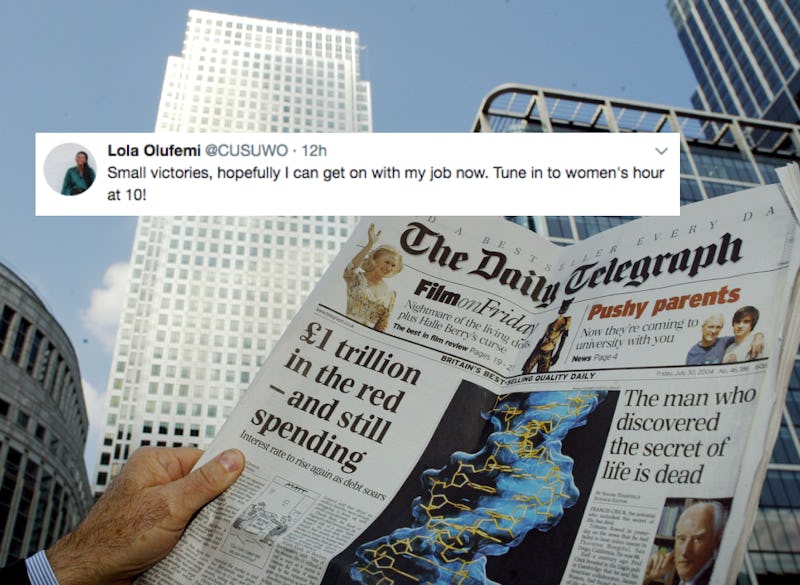 CARL DE SOUZA/AFP/Getty Images
It shouldn't come as a surprise that academia, like many other fields, has a diversity problem. Students at the University of Cambridge, led by a woman named Lola Olufemi, wrote an open letter to faculty members this past June, asking them to "decolonize" their literature syllabus by adding more writers of color. It doesn't seem like an outrageous request, but the students were met with pushback online, with people expressing concerns about "culture being replaced." The Daily Telegraph ran a story with a picture of Olufemi, on its front page on Wednesday, Oct. 25, after Cambridge professors said they were considering how to best respond to the open letter. The print headline? "Student forces Cambridge to drop white authors." The paper ran a correction on Thursday, Oct. 26, saying the article incorrectly stated the university will have to replace white authors with Black writers. Per the correction: "Neither [academic staff] nor the open letter called for the University to replace white authors with black ones and there are no plans to do so." Neither the Telegraph or Olufemi immediately responded to Bustle's request for comment, and we will update this post if they do.
Olufemi, who is the head of the Cambridge University Student Union's Women's Campaign, says she faced abusive comments after the Telegraph article was published. She called the correction a "small victory" via Twitter. The Daily Mail also faced backlash for its article about Olufemi and the open letter.
In interviews with BBC and The Guardian, Olufemi said she thinks the Telegraph used her picture "as if to incite this kind of abuse, and incite hatred, and make me into a figure that people could attack." The Telegraph has not responded aside from issuing the correction and updating the online version of the article.
"The [Telegraph] article is riddled with factual inaccuracies and attempts to misconstrue what the task of decolonising [sic] is and delegitimise [sic] me as a co-author of the open letter by using out-of-context quotes in an attempt to turn me into a 'controversial figure,'" she told The Guardian.
The University of Cambridge is one of the top schools in the world, and there's no reason they shouldn't give minority writers more of a platform in their required reading. The value of representation for students of color is well-documented, whether it's having a diverse group of educators or emphasizing the importance of diversity in a classroom, and the response from academics has been encouraging. But as the famous unattributed expression says, "When you're accustomed to privilege, equality feels like oppression." It's worth asking why people became so panicked in the first place. Is the idea of including authors of color on school syllabi that troubling?
Cambridge issued a statement on its official Twitter account, emphasizing that possible updates to the curriculum "will not lead to any one author being dropped in favour [sic] of others." The statement also said that the university "condemn[s] the related harassment directed towards our students on social media as a result of the recent coverage."
Some people took the controversy in stride, mocking news outlets who made it seem as if Olufemi's request meant no white authors would ever be mentioned on the university's campus ever again. Cambridge lecturer Priyamvada Gopal jokingly tweeted, "All white men have been locked up pending execution, and students will ONLY STUDY BLACK WRITERS. Resistance is futile." She later tweeted a serious question: "So what, if there was a limited curriculum, and a white writer was, in fact, replaced by a black one. So what? Is there to be no changeover ever?"
Gopal makes a compelling point: Even if the university were to exclude white writers completely and only study works from writers of color, which was never suggested by the Cambridge students, what would that actually do to erase white supremacy worldwide? The backlash that the coverage of the open letter sparked shows that it likely would not make a difference. Cambridge students made a measured request of faculty members and were met with hostility on Twitter and in the news, further underscoring the need for people of color not just in academic programs, but in all institutions.