This UK Charity Overturns Wrongful Convictions & Its Founder Is Just As Inspiring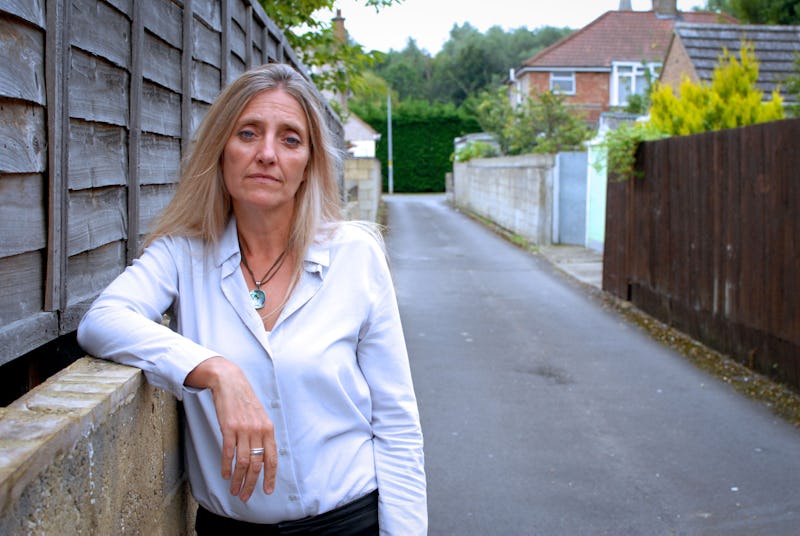 BBC/Raw TV/Nick Mattingly
If you've been watching the super compelling BBC Two series Conviction: Murder in Suburbia on BBC iPlayer, you've probably been left with a heap of questions. Who is Glyn Razzell? What happened to Linda Razzell? But also, who is Inside Justice founder Louise Shorter? Well, that last one, I can answer.
Louise Shorter is the CEO and director of Inside Justice and — according to her LinkedIn page — has been since July 2010. Inside Justice itself is a registered charity that investigates alleged miscarriages of justice in England and Wales by reopening cases of convicted felons still protesting their innocence. According to the official Inside Justice UK webpage, the non-profit organisation also has the resources to assess trial evidence, revisit witnesses, identify and commission new forensic work, and dig through previously unused material in order to find a piece of evidence significant enough to bring cold cases back to the Court of Appeal.
In Conviction: Murder in Suburbia, the two-part true crime documentary follows Shorter and her Inside Justice team as it re-investigates the murder of Linda Razzell, who disappeared in 2002, with her estranged husband Glyn Razzell later convicted of the crime.
But, what was Shorter doing before pioneering Inside Justice at grassroots level? And, does she have previous form in helping overturn wrongful convictions?
Actually, yes. Shorter actually began her career at the BBC in 1991, and — according to LinkedIn — worked as a Radio and TV researcher, director, and producer for the public service broadcaster until 2008. In fact, it was during her time at the BBC that Shorter first helped out with investigations that actually led to the overturning of wrongful convictions.
In 2005, Shorter worked on the BBC's now disbanded Rough Justice programme, producing a film about the murder of 19-year-old Rachel Manning in Milton Keynes in 2000, and the subsequent conviction of Barri White and Keith Hyatt in 2002. White was Manning's former boyfriend at the time and was convicted of her murder, while his friend Hyatt was convicted of perverting the course of justice, says the BBC.
According to The Guardian, it was actually the Rough Justice film produced by Shorter — amongst others — that helped unearth new evidence in the Manning case and ultimately resulted in both White and Hyatt's convictions being quashed, after White had already served six years in prison for Manning's murder. As Shorter's former BBC colleague and investigations correspondent, Mark Daly wrote for the BBC back in 2013: "Alongside the brilliant and dedicated Louise Shorter, we investigated the case for more than two years and produced a film in 2005 which would prove that Barri White and Keith Hyatt had been wrongly imprisoned for this murder."
If that wasn't impressive enough, Shorter's organisation Inside Justice reportedly played a part in convicting Manning's real murderer, Shahidul Ahmed, following case re-examination led by Tracy Alexander, an Inside Justice Advisory Panel member, in 2013. So, it seems Shorter really does know her stuff when it comes to overturning wrongful conviction.
But, why does Shorter do it?
"Part of the motivation for me is that I want to help an individual," Shorter explained in Conviction: Murder in Suburbia episode one. "If there's any person in prison who can't get help or might be innocent, I think they deserve help and they should get it." Alright, that is actually incredibly admirable. So, what's next?
Well, despite her super aspirational career thus far, it looks like Shorter is still looking to expand on her already pretty impressive CV, as she is currently studying for her Research Masters in Law at Queens Mary University of London and has been doing so since 2016, according to her LinkedIn page.
OK. Yep, I'm inspired. And you should totally be as well.
Conviction: Murder in Suburbia is available on BBC iPlayer