Mandy Moore Is Reportedly Engaged & We Can't Handle It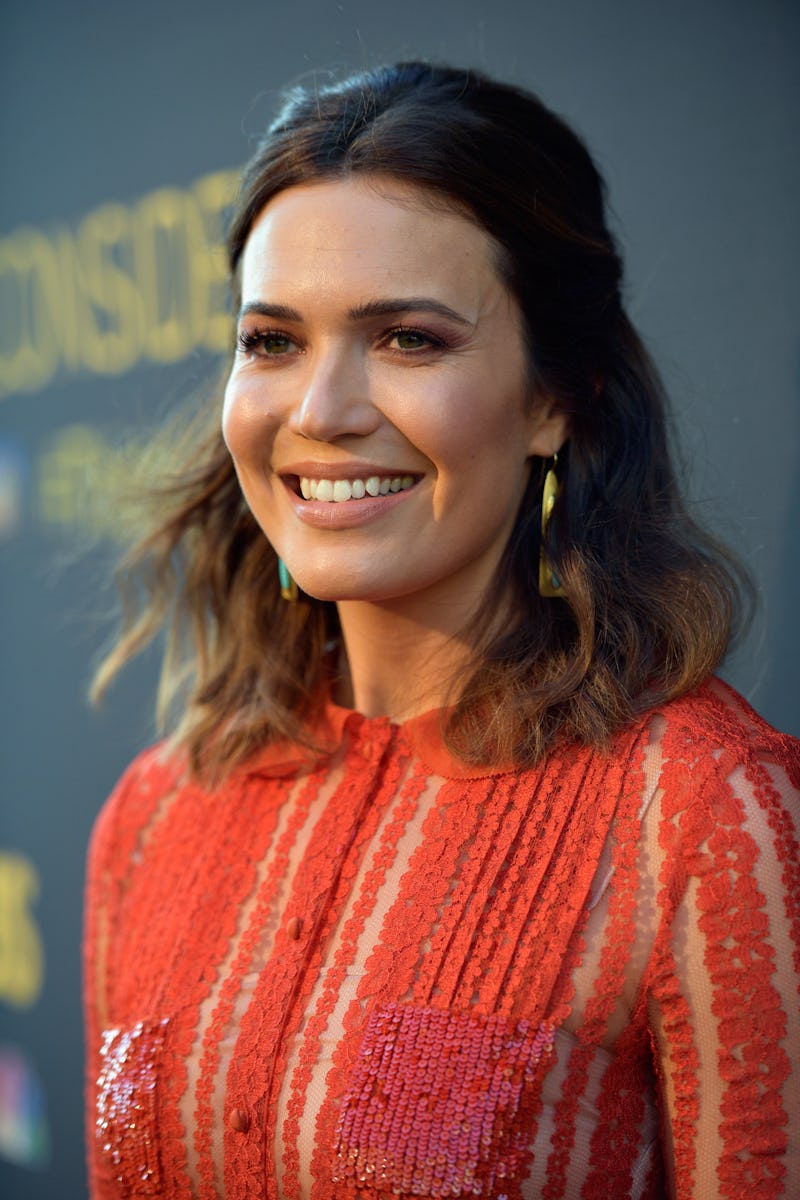 Matt Winkelmeyer/Getty Images Entertainment/Getty Images
As fans begin to stock up on tissues ahead of the Season 2 premiere of This Is Us, recent news that the show's lead actor Mandy Moore is reportedly engaged to Taylor Goldsmith will give you a whole new reason to sob. However, the real question at hand is — who is Taylor Goldsmith exactly? It turns out that Goldsmith is a vocalist and guitarist who performs in the band Dawes. The musician has remained an integral part of the group alongside his brother and the band's drummer Griffin Goldsmith since they formed in back 2009. Over the past eight years since breaking into the industry, Dawes has produced five studio albums, and once made a cameo appearance on the TV show Parenthood back in 2012.
After probing into Goldsmith's background, it's starting to seem like Moore may have a type, or at least a preference in profession, when it comes to her love life. She was married to singer-songwriter Ryan Adams from 2009 until their divorce was, sadly, finalized in 2016. Before that, the Princess Diaries alum had been linked to singer Greg Laswell and DJ AM.
News of Moore and Goldsmith's rumored engagement spread like wildfire after entertainment journalist, Marc Malkin, posted the news to his Facebook page late Tuesday evening. (Bustle reached out to Moore and Goldsmith's reps for comment, but did not receive an immediate response.)
The newly (reportedly) engaged pair began dating in 2015 shortly after Moore split from Adams, and they celebrated their two-year dating anniversary this past summer, according to Entertainment Tonight. A milestone that the "Candy" singer referred to as the "the best 2 years" in a caption beneath a celebratory photo of the two on Instagram.
Moore also posted a sweet vacation snapshot alongside her love back in July of this year which she adoringly captioned, "You know you're with the right person when they don't think twice about waking up at 5:30am on vacation to go tour some slot canyons."
Moore and Goldsmith's courtship appears be nothing short of a fairytale romance, although they have largely remained private about their budding relationship over the past two years. However, Moore couldn't help but to gush over her newfound love, once telling In Touch,
"I am very happy! [Taylor] is a gem of a person. I really lucked out."
During the 2016 interview, she also revealed some of the lessons she's learned since splitting from her ex-hubby and offered some important advice to other women who may find themselves in a similar situation. She cautioned,
"Make sure you're always prioritizing yourself before anyone else. Listen to your gut. Listen to your instincts. I think women aren't told that enough."
It seems that Moore must have been taking heed to her own advice as far as her love revival with Goldsmith is concerned.
Making it perfectly clear that his feelings for Moore are totally mutual, Goldsmith recently took to his band's social media site to share his adoration for the primetime star. Amidst his birthday celebration last month, he posted a snapshot of himself and Moore with the caption: "Thanks for all the birthday wishes everyone. Here's me blowing out some candles with my favorite person in the world."
Fans of the 33-year-old entertainer appear to be equally as happy about her reported engagement as they took to social media to express their excitement for Moore, and some of the reactions are super sweet.
Tears of Joy
One fan was reduced to tears upon hearing the announcement.
Excitement
Meanwhile another was completely shocked and excited about the news.
Well Wishes
This social media user showed Moore some love by offering her congratulatory a tweet.
It's obvious that just about everyone is over the moon for Moore and her newfound happiness in life. She's surely having one hell of a year both on and off screen with the success of This Is Us and her engagement. The way things are headed, it's safe to say that the best is yet to come.