Meet Marlon Bundo, Mike Pence's Insta-Famous Bunny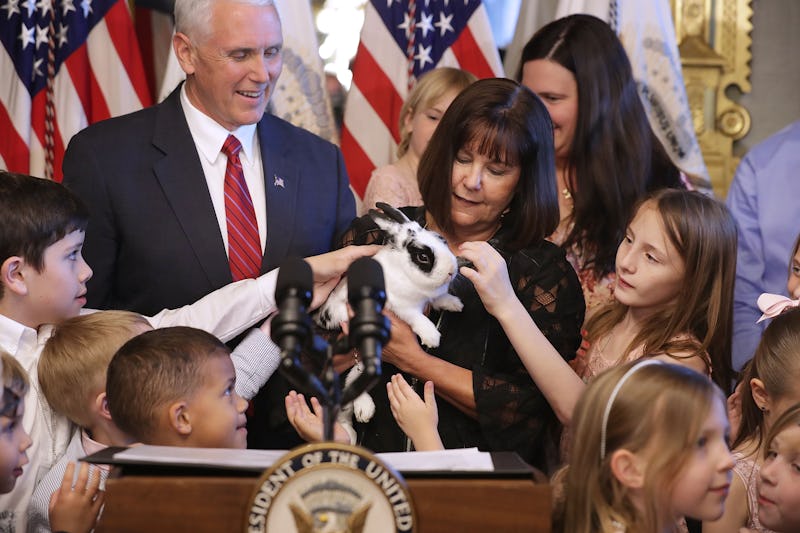 Chip Somodevilla/Getty Images News/Getty Images
Many take issue with the vice president for his opposition to LGBTQ rights, women's rights, and reproductive rights — among other socially liberal causes. But his family has a secret weapon to win you over. Mike Pence's rabbit Marlon Bundo is starring in a children's book written by Pence's daughter and illustrated by the second lady. The move may further humanize a politician that even Omarosa Manigault has warned against.
Bundo, who has become Instagram famous since Trump won the election, has more than 18,000 followers. His nickname is "BOTUS" or "Bunny of the United States." Based at the Naval Observatory, Bundo has been photographed for the account doing all sorts of things like talking on the phone, reading the newspaper, and most recently unboxing copies of the book based on his life.
Pence's daughter, Charlotte (who the rabbit calls "Mom"), wrote the book and Pence's wife, Karen, illustrated it. The book deal was announced in September. Bundo even made an announcement on his Instagram. "Mom wrote a children's book about me and Grandma painted beautiful watercolors in it, too!" Bundo's social media team wrote. "In the book, I follow Grampa around all day, as a BOTUS should, while he goes about his duties as Vice President!"
The book and the bunny have been the talk of Twitter on Monday following John Oliver's latest episode of Last Week Tonight. He said the one positive thing about Pence is Bundo, and then decided to hijack the rabbit's big day by releasing an alternate book on the pet. In Oliver's version, Bundo falls in love with another boy bunny and tries to get married. It's a commentary on Pence's anti-gay views and features an evil stink bug that is almost surely based on the vice president (just check the hairstyle).
In real life, Bundo's sexuality isn't really talked about. Instead his social media presence focuses on traditional messaging from conservatives. He celebrates Christmas and has been seen hanging out in nativity scenes. No words on whether he's a traditionalist when interpreting the Constitution, but he does have his very own copy.
Bundo's book tour includes a stop at Focus On The Family, a conservative organization that's dedicated to propagating the conservative definition of family, a married man and woman. The organization also advocates for conversion therapy, the attempt to turn LGBTQ people straight. Mainstream psychologists call the treatment harmful.
Focus On The Family dedicates a portion of their website to "leaving homosexuality." Bundo has not declared a public stance on the matter. He will also be visiting the Reagan and Nixon libraries in addition to a few military bases — not the traditional children's book circuit.
Unwittingly, Bundo could become an LGBTQ icon. The audio version of his unauthorized gay biography penned by the Last Week Tonight team features other famous Americans including Modern Family's Jesse Tyler Ferguson and RuPaul of Drag Race fame.
This would be quite a change of pace for the rabbit. Bundo made his first public appearance at the White House when Pence celebrated Military Appreciation Month last May. He entertained the children of service members.
Icon or not, he's not camera shy, as both his Instagram and name prove. His full name, Marlon Bundo, comes from his grand entrance to the Pence family. Charlotte needed a bunny to star in a school project. "She was making a movie in college, and she needed a bunny to be the star," the second lady said last year.
The bunny's notoriety is set to rise. The book based on his (gay) life is number one on Amazon in the general books category. The version released by the Pence family is also number one, in the "children's United States biographies" category.