Matt Might Finally Be Remembered On 'Bachelor In Paradise'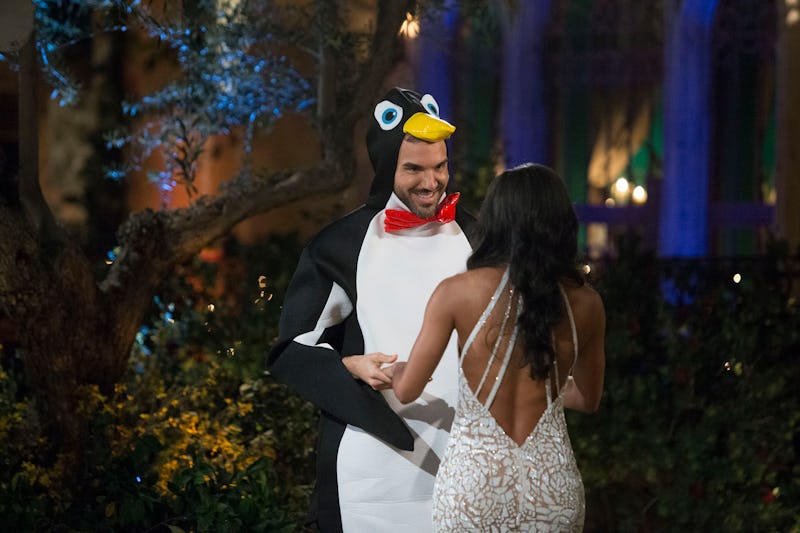 ABC
Every once in a while you'll get someone who steals the spotlight from the very moment they appear on The Bachelor or The Bachelorette, which usually means they're a shoo-in to appear on Bachelor In Paradise. And then there are some contestants who… well, they're also there, I guess. For example: Matt Munson will officially be appearing in this new season of BiP, despite the fact that nobody in Bachelor Nation seems to know anything about him. So who is Matt on Bachelor In Paradise, exactly — and will he finally get to show off his personality this time?
It's kind of a bummer that anybody's still asking this question, given that Matt's season was the most recent one; the 32-year-old construction sales representative from Connecticut appeared as one of Rachel's suitors in the 13th season of The Bachelorette. However, he never really stood out all that much, save for the very first night when he stepped out of the limo dressed in a full-length penguin suit. His reasoning, he told Rachel, was that she apparently loves the birds, and penguins "mate for life," which was admittedly really cute at the time. But after several episodes, Matt still didn't have any stand-out moments beyond that initial meeting, which usually doesn't bode well on this show.
Still, Matt made it surprisingly far into Rachel's season and clearly must have shared some good times with her, even though clearly none of them made it on air. After reaching the final six, he was let go along with Adam just before Hometown dates — and his break-up with Rachel was actually pretty emotional, considering no one really knew who he was.
"Of all the people in this entire journey, you remind me the most of myself, and you have such a soft place in my heart," she told him while crying. "Real talk and outside of this, all this would be different for you and I if we had the time to cultivate [our relationship] and really get to know each other, but unfortunately in this process, other relationships have moved past it."
However, even though he didn't get a whole lot of attention on the show, by all accounts Matt seems like a pretty cool guy. According to his Instagram page, he's involved with his local Boys & Girls Club:
And he clearly has a sense of humor, because he had these penguin cupcakes at his first Bachelorette viewing party:
Hopefully Bachelor In Paradise will give Matt the opportunity to show America what Rachel saw in him when she tearfully let him go. And who knows? Maybe he'll be so charming this time around that he'll secure himself a spot on The Bachelor next!