Stormy Daniels' Lawyer Has Actually Gone Up Against Trump In Court Before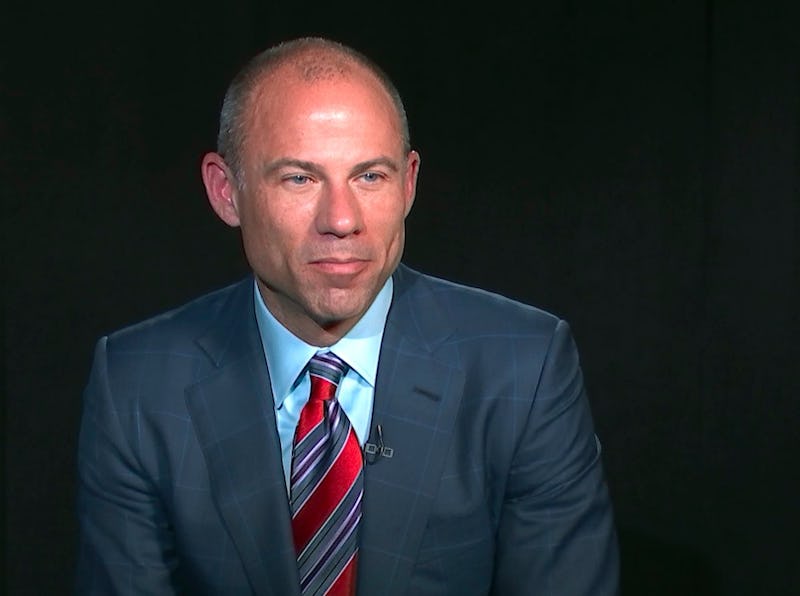 Joe Frederick/AP/REX/Shutterstock
When an adult film actress sues a reality television star-turned-politician, it only makes sense that she would hire a lawyer known for representing high-profile entertainers. Such is the case for Stormy Daniels, who seemed to mean business when deciding who would be her legal representation for her lawsuit, which was announced earlier in March. But who is Michael Avenatti? He's a lawyer known for, among other things, race car driving and negotiating costly settlements for his clients.
Daniels' suit is actually not the first time Avenatti has gone up against Trump. Back in 2006, he reportedly filed a suit on behalf of Velocity Entertainment Group in an unrelated case against the real estate mogul and Mark Burnett, a producer for The Apprentice. The suit claimed that Trump and Burnett had stolen one of his client's ideas and used it on the show. Avenatti helped negotiate a settlement between both camps, though the amount was reportedly never released.
Now, he's at it again. This time, Avenatti is arguing that his client, Daniels, should be freed from a legal agreement she reportedly entered with Trump in the weeks leading up to the 2016 presidential election.
In a complaint filed on March 6, Avenatti and Daniels, whose legal name is Stephanie Clifford, argue that a nondisclosure agreement (NDA) between she and President Trump was not valid because Trump never personally signed on to the document. The NDA in question was reportedly intended to formally stop Daniels from publicly speaking about an alleged affair she engaged in with the president in 2006 and 2007.
Trump has not himself spoken about the alleged affair, but his lawyer, Michael Cohen, has consistently denied it on Trump's behalf. "President Trump once again vehemently denies any such occurrence," Cohen said in January.
"We believe that it was done through force and intimidation," Avenatti said of the NDA, according to The New York Daily News. "Once she tells the truth about what happened people are going to understand why she signed it." Similar sentiments are expressed in the complaint itself.
By many accounts, Avenatti appears to be focused as much on the impending legal battle as he is on swaying the court of public opinion. As POLITICO reports, since taking Daniels on as a client, he has engaged in tactics that might not be admissible in court, but which are sure to draw public attention, such as tweeting out a photo of Daniels taking a lie-detector test. During the test, she reportedly discussed details of her alleged affair with Trump, and the test concluded she was telling the truth. That's not evidence that is normally allowed in a courtroom, but it is a way to generate positive headlines about his client.
Notably, Avenatti is not just a lawyer. He's also a professional race car driver, something he told Sports Illustrated has helped him prepare for high-profile cases such as this one.
"Well, once you've driven 190 miles per hour in the pouring rain, in the middle of the night, down the Mulsanne Straight with prototype cars whizzing by you at 240-plus miles per hour… compared to that, what I'm doing right now is a warm-up lap," he told the magazine of the highly-publicized lawsuit.
Indeed, he has reportedly been described as an "adrenaline junkie" by a former law school professor professor, and appears to have little fear of speed. In an interview with The Washington Post, Avenatti said that he decided Daniels was making credible claims within 20 minutes, though he declined to clarify what swayed him.
While the fate of the lawsuit is difficult to predict, chances are that Avenatti will steam full-speed ahead if his professional history is any indication. "Have I ever not been confident or have I ever not acted confident?" Avenatti said to The Post. "I think I've always acted confident even at times I haven't been confident."