Michelle Williams Is Engaged & Her Fiance Is Not In The Movie Biz — REPORT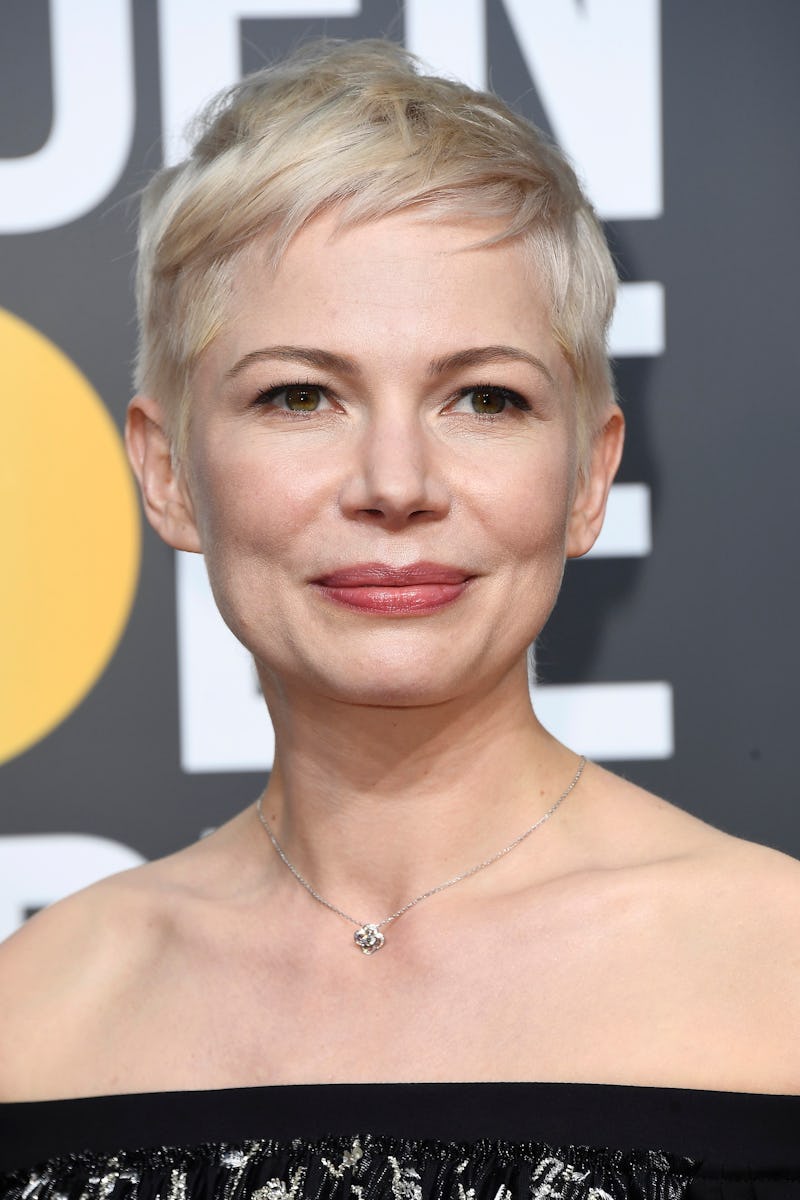 Frazer Harrison/Getty Images Entertainment/Getty Images
It sounds like congrats are in order for Michelle Williams. (No, not that Michelle Williams. The other one.) According to Us Weekly, the All the Money in the World star is engaged. So, who is William's fiancé? Apparently, his name is Andrew Youmans, and his career is far different from Williams' since he works as a financial consultant, according to Just Jared. Bustle has reached out to reps for the actor for comment, who will not comment to confirm or deny Us Weekly's report.
The engagement rumors have been running rampant ever since Williams' appearance at the 2018 Golden Globe Awards on January 7. As she walked the red carpet, people could not help but notice that she was rocking a diamond on ring on that finger at a very public event. But, when asked if it was an engagement ring, Williams just told People that it was "beautiful jewelry." No one could disagree with that.
Aside from looking for an engagement confirmation, the other big question right now is: Who is Andrew Youmans? Aside from being rumored to be Williams' fiancé, he is a very intriguing and accomplished individual. Us Weekly reports that he is a Harvard Business School alum, which is confirmed on Youmans' employee profile on the Handel Group website, where he is an Investor and Operations Management Consultant.
Before getting his MBA from Harvard in 1992, Youmans completed his undergraduate education from Dartmouth College in 1987. His company profile also refers to him as "Andy" instead of "Andrew," and that is truthfully the most "personal" detail about Youmans that is circulating on the internet. Even so, there is a lot of information about his successful professional life, including that he worked for his family's manufacturing business called Connecticut Spring, but left the family business in 1996 to start his own operations management consulting firm called Yomo Consulting, according to his employee profile. He served as the president of his own company until he stepped down in 2011.
It doesn't seem like he has any career connection to the entertainment industry, so how they met and ended up dating is probably an intriguing story. There's no word on how or when these two got together, but they were first spotted holding hands back in July 2017, according to Us Weekly. The duo was reportedly in Rome, Italy while Williams was filming the movie All the Money in the World.
The mother of one has been very private about her personal life throughout the years, so there isn't a ton of information out there. She didn't bring Youmans as her date to the Golden Globe awards. Sure, that diamond ring she had on brought his name into the conversation, but most of the focus was on her actual date, who was a very important one. Williams walked the Globes carpet and did interviews with the #MeToo movement founder Tarana Burke by her side.
Even though Youmans did not make a red carpet debut with Williams, it does sound like things might be serious — even if they aren't engaged. There might not be a lot of information circulating about Youmans or his relationship with Williams, but the Daily Mail reports that he was spotted on vacation in the Bahamas with her. They might keep quiet and not walk red carpets together, but it sounds like they're probably having a good time together — even if they aren't engaged.