Michelle Williams' Globes Date Is The Woman Behind #MeToo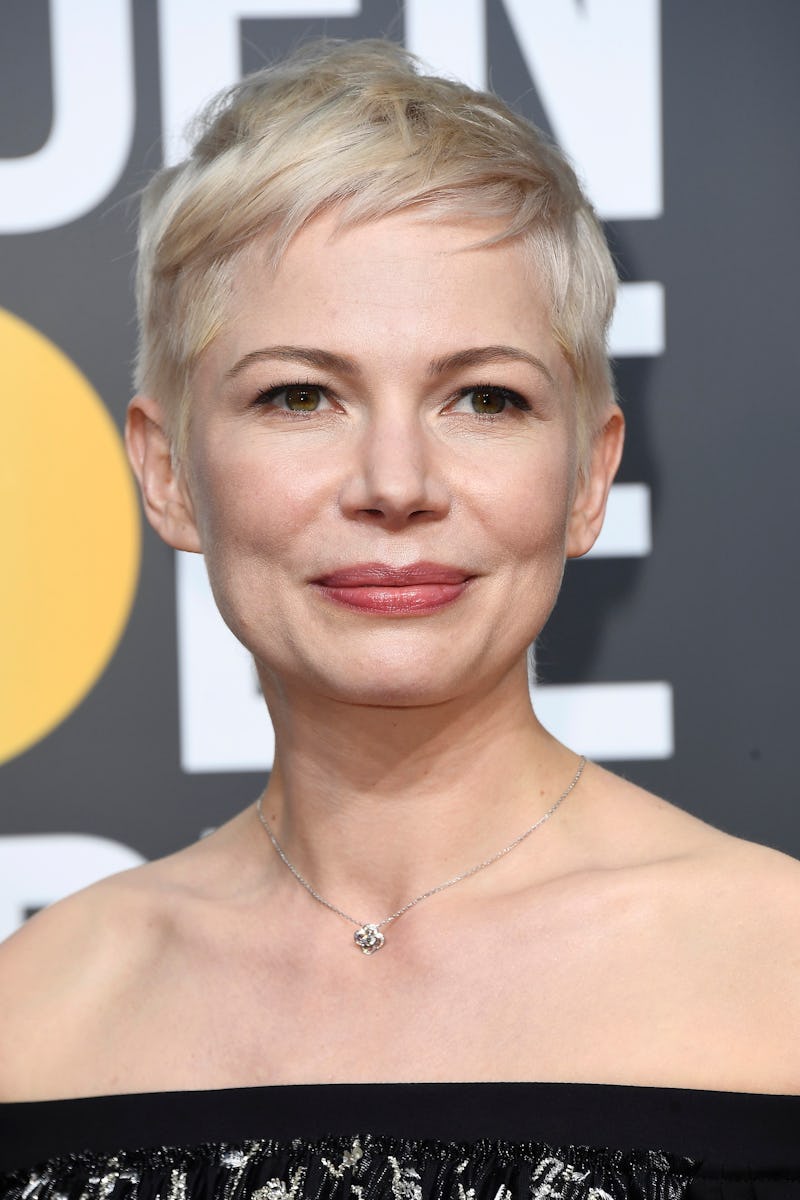 Frazer Harrison/Getty Images Entertainment/Getty Images
Her all-black outfit is clearly on point, but it's Michelle Williams' 2018 Golden Globes date that has people talking. Williams brought Tarana Burke, who is a women's rights activist who founded the #MeToo movement, according to The New York Times. Burke is also the "senior director of the nonprofit Girls for Gender Equity," which is a non-profit looking to improve socio-economic conditions for at-risk girls.
Burke was there with Williams in support of the Time's Up movement, where Hollywood A-listers started to help fight systemic sexual misconduct, not just in Hollywood but everywhere. Burke announced she would be attending the show on Twitter, writing:
"People have been asking me for the last week about my involvement with #TIMESUP and I have been silent because we were working behind the scenes on this action and other things. Now we can talk about it."
Burke also posted a longer statement on her Facebook on behalf of the "Gender and Racial Justice Activists on their Attendance at the Golden Globes Alongside Actresses," which include Marai Larasi, Rosa Clemente, Ai-jen Poo, Mónica Ramírez, Calina Lawrence, Billie Jean King, and Saru Jayaraman who were all walking the red carpet with actors Emma Watson, Susan Sarandon, Meryl Streep, Laura Dern, Shailene Woodley, and Emma Stone, respectively.
In the statement, the activists explained that they were at the 2018 Golden Globes as "a show of support for victims of sexual harassment and assault." The women wrote:
"Our goal in attending the Golden Globes is to shift the focus back to survivors and on systemic, lasting solutions. Each of us will be highlighting legislative, community-level and interpersonal solutions that contribute to ending violence against women in all our communities. It is our hope that in doing so, we will also help to broaden conversations about the connection to power, privilege and other systemic inequalities."
According to Watson, it was Williams who "spearheaded the idea of actresses bringing activists on the red carpet." But, when Williams and Burke stopped to talk to E!'s Ryan Seacrest on the red carpet, Williams didn't even mention this. Instead, she talked about how moved she was to be there with Burke, even telling him she had tears in her eyes.
"We're here," Williams told him. "You know why we're here? We're here because of Tarana." Not because of her nomination for All The Money In The World (casting: Carmen Cuba), she said, "We're here because she started a movement."
In fact, Burke started the #MeToo movement a decade ago to help victims of sexual abuse, but after Alyssa Milano shared the hashtag #MeToo on Twitter, many more people got a chance to hear Burke's story.
"It's deeply humbling," Burke said of the accolades she's been receiving for #MeToo. "This is something I started out of necessity, something my community needed and it's grown over the years, but I could have never have envisioned it growing like this."
And Williams believes that it's just going to keep growing. It's what gives her hope for the future, specifically the future of her daughter, Matilda. "I thought I was going to have to raise my daughter to learn how to protect herself in a dangerous world," she said, but "I think because of the work Tarana has done and the work I'm learning how to do, we have the opportunity to hand our children a different world."
Burke looked touched as Williams talked of how powerful this movement has been for so many women. "I am moved beyond measure to be next to this woman," she said. After seeing Burke on the red carpet, the hope is that others will be just as moved.
If you or someone you know has been sexually assaulted, call the National Sexual Assault Telephone Hotline at 800-656-HOPE (4673) or visit online.rainn.org.