This Is Trump's Rumored Comey Replacement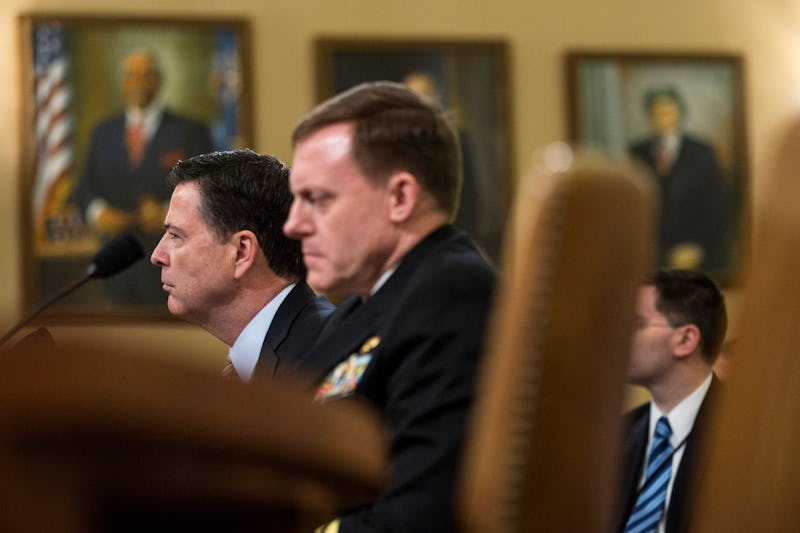 Zach Gibson/Getty Images News/Getty Images
Since President Trump has fired FBI Director James Comey, the agency now needs a new leader. And while several names have been floated as possibilities, the only one to formally be announced as a possible contender is Mike Rogers, Reuters reported Thursday. The former congressman was also once an employee at the FBI, though Rogers' previous role in Trump's White House transition team is also an immediately relevant point on his resume.
With experience at the FBI, the Rogers choice makes sense from a practical standpoint. Yet, as a former Republican congressman, Rogers is an obviously political choice, and that could be problematic. The position of FBI director is one that requires senatorial approval, and as demonstrated during the confirmation hearings for several of Trump's Cabinet picks, Democrats are not going to back down from an ideological fight.
Rogers might be able to garner bipartisan support, given his 2014 committee report that cleared Secretary Clinton of any wrongdoing in the Benghazi attacks that left four Americans dead. His findings were widely panned by many of the far-right, feisty ideologues on the Republican side, which showed a willingness and ability on Rogers' part to work in a bipartisan and unbiased manner.
Still, Rogers was an original member of Trump's White House transition team, brought on my New Jersey Gov. Chris Christie. That singular fact may be enough to convince wary Democrats that Rogers is not the right man to head up an agency currently tasked with investigating the same president who happened to be his one-time boss.
Then again, the fact that Rogers was asked to leave said transition team may earn him some extra credit. Especially after learning that his replacement was none other than Rep. Devin Nunes, now (in)famous for relaying classified information to the president of supposedly "new" findings on Trump's wiretapping claims, before even alerting his own colleagues on the House Intelligence Committee. Those turned out to be non-existent or irrelevant, and have since landed Nunes as the subject of his own investigation from the House Ethics Committee.
After retiring from Congress, Rogers went on to become a media personality, hosting his own radio program and appearing as a regular contributor on CNN, as well as producing and hosting Declassified: Untold Stories of American Spies for the cable news network.
As someone who has been praised for his bipartisan record, Rogers might have the clout and experience to pass the Senate's confirmation hearing. Of course, that depends on Trump making Rogers his final choice for FBI director, and that decision remains to be announced.