Why Ashlee Simpson & Evan Ross' BFF Is The Best Part Of Their New Reality Series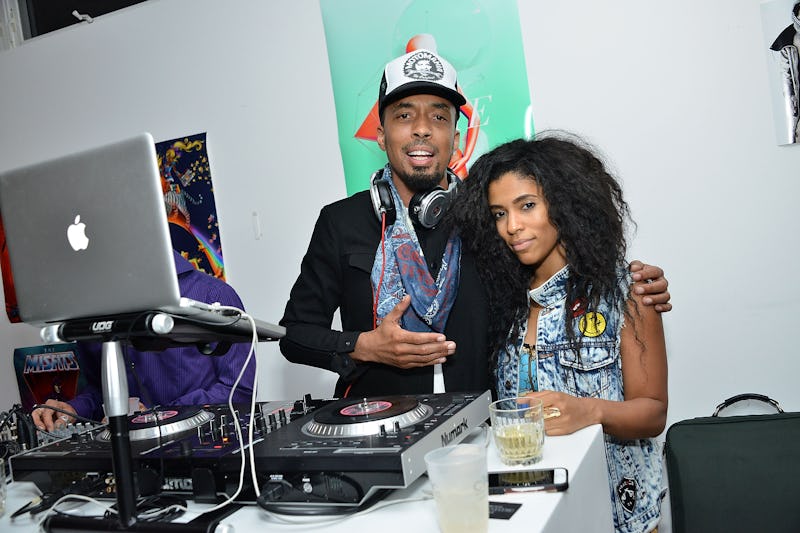 Araya Diaz/Getty Images Entertainment/Getty Images
Every good reality television program has its unlikely stars, and for Ashlee + Evan, the brand-new reality show from Ashlee Simpson and Evan Ross, that person is mutual BFF Naz Tokio. As Ashlee describes it on Ashlee + Evan, Naz came into the equation as one of Evan's nearest and dearest, but in the years that Ashlee and Evan have been together, Naz has shifted to bestie of both, and she and Ashlee hang out all the time. So who is Naz Tokio on Ashlee + Evan? This Grammy-nominated musician has been through a lot to get to where she is.
Her Instagram bio is fanciful, if not exactly descriptive. It reads: "Producer: Arcade Distillery Video Games Singer Writer Spaceship Alien Crash Landed on Earth!" But seeing the few moments of Naz Tokio that I have, I think it sounds pretty good, because Naz is hard to describe. She's fun and fiery, and she seems super creative. In terms of Naz's professional life, she's a Grammy-nominated singer and songwriter whose most recent song, "Samson," was produced by Mike Zombie, who was the guy behind Drake's "Started From The Bottom." Naz's song is featured in Season 4 of BALLERS, too, so it's sure to get some love from music lovers and people who just love Dwayne Johnson.
It hasn't always been easy for Naz. On the Sept. 16 episode of Ashlee + Evan, Ashlee, Naz, and some of their friends went to a self-defense class as a means of exercise. In one of the demonstrations, the "perpetrator" was on top of the class instructor, and as Naz watched, she was very visibly shaken — so much so that she had to leave the room. When Ashlee chased after her to check in on things, Naz admitted that in her upbringing, getting beaten up in such a manner by a man was an expected occurrence, and she told the story of one man in particular that she dated who used to abuse her nearly every day. Naz was able to overcome her traumatic past, but clearly, it's something that will always stick with her.
Ashlee lent an ear to Naz's ordeal, and she thought of the best way possible to cheer up her friend — dressing themselves and their squad up in crazy costumes and renting out a roller rink for the day. Yeah, I think that would cheer me up. Interestingly enough, it seems as though Naz's song, "Samson," is the perfect fit for this situation. In a press release, she said of the song, "'Samson' is a song about reminding a person you love that they are worthy, beautiful, and powerful – especially in times of weakness. It's a reminder that you are there to fight their battles right alongside them…their warrior and their protector kissing their demons away."
Besides being a musician, Naz is also a philanthropist, supporting charities like Unlikely Heroes, that helps young girls previous caught up in sex trafficking. She's also a devoted auntie to Jagger, Ashlee and Evan's daughter. Naz, Evan, and Ashlee are the real deal when it comes to friendship, and it's nice to see that play out on television.