Ashlee Simpson & Evan Ross' First Song Is Called "I Do" & It's Almost Too Romantic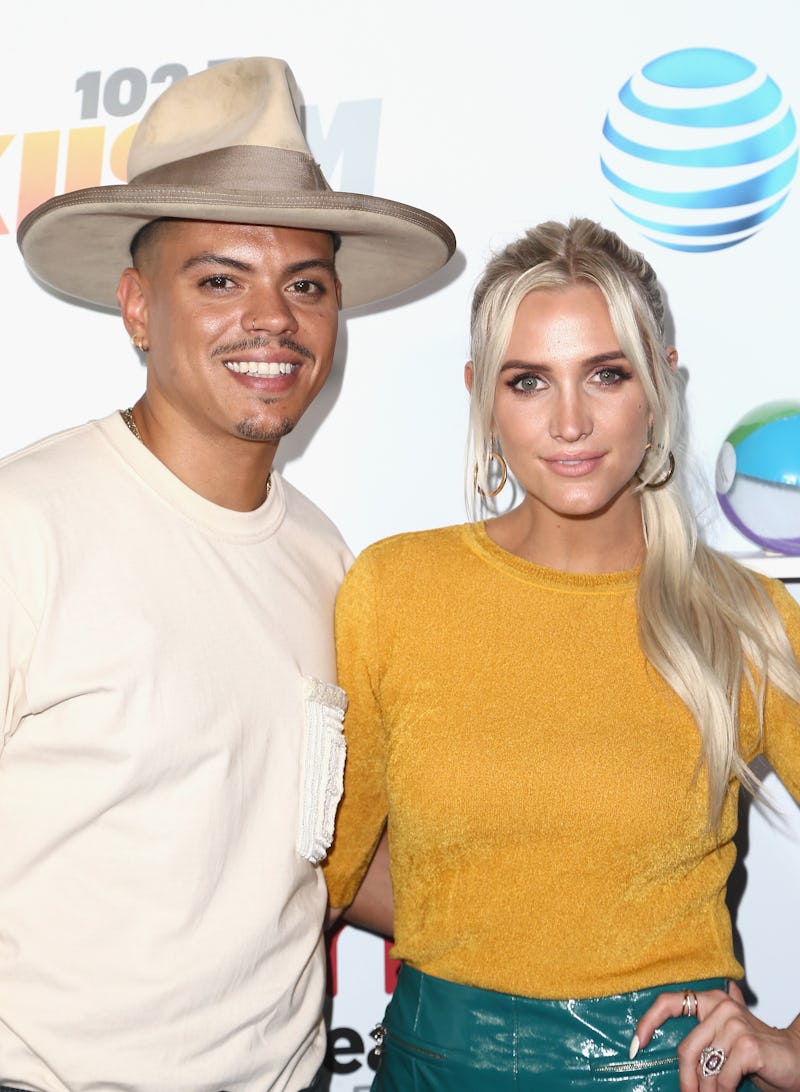 Tommaso Boddi/Getty Images Entertainment/Getty Images
Just days ahead of the premiere of their new reality show, ASHLEE+EVAN, Ashlee Simpson-Ross and Evan Ross released their first song, "I Do," marking their musical debut as a couple. The tune, which is an ode signifying that Simpson and Ross' love for one another is stronger than ever, made its debut on Ryan Seacrest's iHeartRadio show on Sept. 6, and is now available on most major streaming platforms, according to E! News.
The song's heartfelt lyrics are undeniably romantic as Ross, son of the legendary Diana Ross, opens the first verse of the song with:
"Something, you give me something / That special something no one never could / And if there's one thing I know, yeah / I know that you're the one / Leaving me open / I'm floating for your love"
E! News reported that "I Do" will be part of their duet album, which is due to be released this fall in conjunction with their new reality series. The show, set to debut on Sept. 9, will showcase Simpson and Ross' journey as they make music together and share other aspects of their home life. In a trailer for ASHLEE+EVAN, Ross explained: "This is the right time for us to work on our music."
The actor, who fans might recognize from his roles in 96 Minutes, The Hunger Games, and ATL, married Simpson in 2014. The two have a daughter together and Simpson also shares a son with ex-husband, Pete Wentz.
Simpson and Ross released a statement along with the song, per E!, saying, "'I Do' is our commitment to our music and each other." In their joint press release, the duo also share how they bonded through music and reveal how they ultimately decided to record together, explaining:
"Music was always one of the things that connected us from the beginning. We liked our voices together, and as time went on, we thought it was something that we wanted to share."
The forthcoming album and reality series will mark a big year for Simpson, who hasn't released an album since 2008. And "I Do" is Simpson's first single since the 2012 release of "Bat for a Heart."
The "Pieces of Me" entertainer has certainly been more of an open book since returning to the spotlight in recent months, discussing past topics that she often shied away from in the early years of her career. During a recent appearance on Watch What Happens Live, Simpson confirmed speculation that her song "Boyfriend" was about Lindsay Lohan and Wilmer Valderrama, finally putting years of rumors to rest. She also recently opened up about her SNL lip-sync blunder, which became a huge media topic in 2004, telling E! News that the controversy ultimately made her "a better person." As for the evolution she's experienced since, Simpson shared:
"For me, I feel like it's been such a long time since I've been out. I came to a place where I was like, 'Well I do want people to know where I'm at and who I am in my life.' I was a teen, angsty girl on my show back in the day and now I'm a woman and a mother."
It goes without saying that the next chapter of Simpson's career is going to be one of her best yet. Simpson and Ross' love and commitment to one another is clear, and the release of "I Do" appears to be just a small snippet of what fans are about to see from this amazing duo.