Everything You Need To Know About 'Total Divas' Star Nia Jax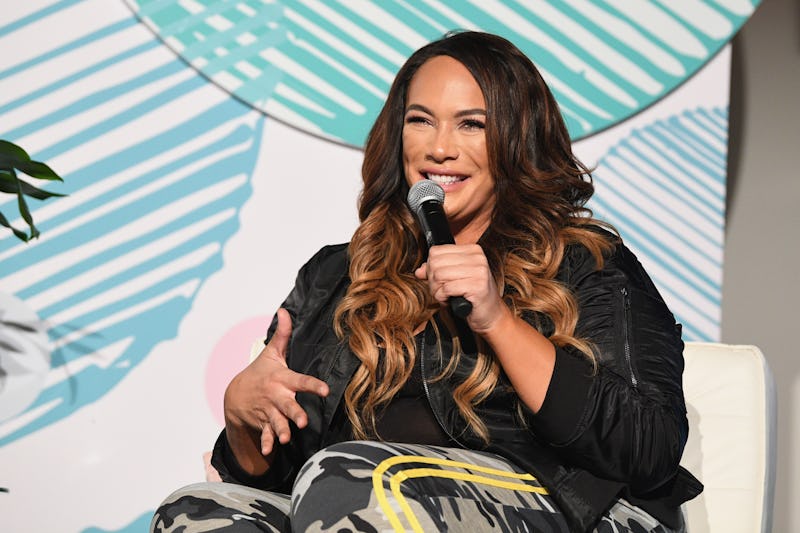 Slaven Vlasic/Getty Images Entertainment/Getty Images
The women of WWE are back for more action inside and outside of the ring. E! reality series Total Divas will drop its Season 8 premiere on September 19 and there are a few ladies who are returning as main cast members, including Nia Jax. But, who is Nia Jax and how will she fit into this season's action?
Jax is probably a familiar face to Total Diva watchers after making guest appearances in Seasons 4 and 6 before bumping up to the main cast last season. The WWE diva was born Savelina "Lina" Fanene and is a member of the Anoa'i family of wrestlers that includes her famous cousin Dwayne "The Rock" Johnson, according to Heavy.
Johnson has posted about her frequently, including a photo of a horrific 2014 wreck involving his mother and Jax. According to the caption, Jax and The Rock's mom were hit head on by a drunk driver and walked away from the accident without life-changing injuries. The cousins have also hit the gym together and he gushed about her potential to be one of the most dominant superstars in WWE history. Jax's confidence and personality shines through in the clip and it's easy to see why she makes a great wrestler.
Warning: This clip contains NSFW language
The aforementioned accident took place the same year that Jax signed with WWE and celebrated her 30th birthday, thereby proving that virtually nothing can stop a person from following their dreams. Per WWE, she captured the Raw Women's Championship title back in April against fellow Total Diva star Alexa Bliss, but later lost it to Bliss after she interfered in Jax's June rumble with Ronda Rousey.
As a tall and plus-sized wrestler, Jax has endured her share of body shaming from viewers and other wrestlers. But, this hasn't stopped her from loving herself and encouraging other women to do the same. She recently attended theCURVYcon, a three-day event that brings together curvy influencers to embrace their bodies, shop, and talk about lifestyle issues, per their website.
At the con, Jax teamed up with fellow WWE superstar Nikki Bella to host a panel called "Body Positive Besties: Supporting Each Other in Our Journey." It's incredible to see two powerful women coming together to support each other and encourage other women to do the same thing.
And, while it seems like being an athlete would lead to body insecurities, Jax revealed to Yahoo that sports helped her love her frame. "Sports helped me become super, super confident in my body growing up, especially in my high school and college careers," said Jax. "I wasn't going to be a hot prom chick that everyone wanted to go on dates with, but I was a stellar athlete. Yeah, I was a bigger, taller girl but I could kill it on the basketball court and was unstoppable on the volleyball court. That gave me confidence, knowing that my body had its purpose."
She also spoke about how a 2013 trip to Wrestlemania encouraged her to enter a wrestling training camp. Jax said she was apprehensive about taking the leap, but her aunt said the industry needed more women with curves. She told Yahoo that she attended the same training camp as The Rock, but she asked him to make sure no one knew they were related so she could earn her spot. And, despite looking different from everyone, she was the top candidate out of all the trainees.
Now, Jax feels like her current life is a "dream" where she can do what she wants despite what others think about her. Can someone please bottle up her confidence and pass it around to every woman and non-binary person who needs a self-esteem boost?!
Nia is certainly doing her part to spread happiness to Total Divas viewers. E! news posted a video featuring a few fans sharing their love for Nia and her co-star Paige. Each person was surprised and delighted by appearances from the divas, which ended with lots of hugs and photos.
The duo is well-known for being close friends and hanging out with each other outside of filming the show. They were featured together in a Twitter sneak peek where Nia comforts Paige after she is forced into retirement following an injury. The tweet simply says "Sisterhood means having your friend's back. No matter what." and their relationship is the perfect example of being there for a friend even when life gets busy. Everyone totally needs a friend like Nia Jax.
Nia's next moves inside and out of the ring will be documented in Total Divas Season 8 and it's sure to be a fun ride. She's a total diva in a positive way with her confidence, strength, and determination to get whatever she wants in life despite obstacles. And, fans can't wait to see her crush new goals while being a great bestie this season.