'Total Divas' Will Be Back Before You Know It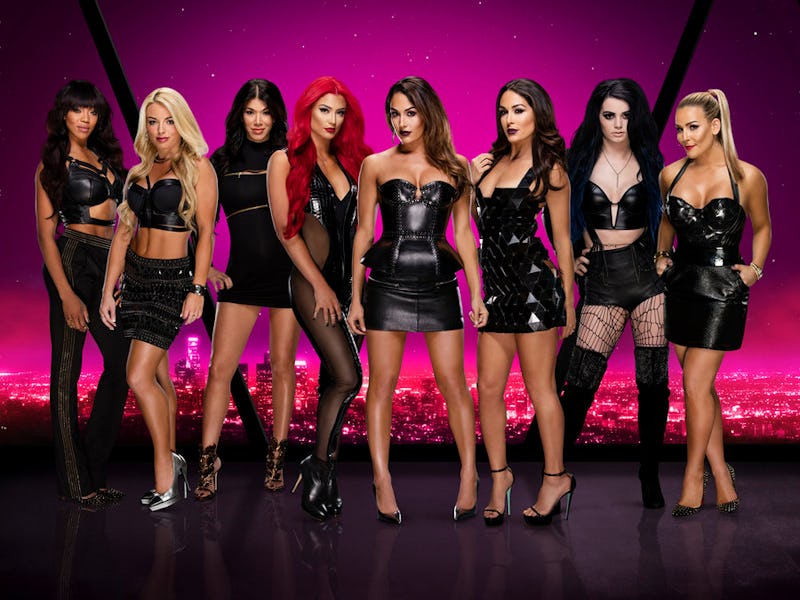 E! Entertainment
There isn't much in life that reality TV doesn't give you a closer look at. E! series Total Divas gives audiences an inside look at the lives of WWE Divas. From their career goals to their relationship goals, the show covers everything in the lives of these powerful ladies. WWE itself is a fascinating spectacle of athleticism and performance. It makes sense that there's a reality show exploring the lives of the women who do it. It also makes sense that this reality show has lasted six seasons already. So, when will Total Divas return from its Season 6 hiatus? The mid-season finale is on Jan. 25, but it is a good bet that the show will return not long after that.
Most seasons of Total Divas air between four to six months. While there is a hiatus after the mid-season finale, it most likely won't be a long one. February would be a good bet based on the past five seasons length being no more than six months. In addition, Season 3 followed a similar pattern as Season 6 time wise. It ended with a mid-season finale in late January and returned in early February. It's a good thing the show will most likely return quickly, as it will probably leave off on a cliffhanger. The lives of these WWE stars are constantly changing, and fans want the inside look. This season there have been new divas, engagements, potential career threatening injuries, and a lot of drama sprinkled in.
Total Divas has always been a balance of featuring the women's professional and personal life. In the mid-season finale, both wedding drama and WWE professional issues will be dealt with. The show will most likely leave fans with questions that need answers regarding the fate of the ladies' lives. The episode description for the mid-season finale features this balance of personal and professional:
In the mid-season finale, Renee brings boyfriend, Dean Ambrose, home to meet her family and chaos ensues, the big wedding day for Lana and Rusev has finally arrived and some last minute disagreements bring emotions to a high, while Nikki discovers if she's cleared to return to the WWE in time for the draft.
Again, while the show does make fans wait between seasons, the mid-season finale should be followed relatively quickly by the second half of the season. In the meantime, fans could watch old episodes of the show or even WWE wrestling clips. 'Cause, seriously, these women can preform.
While the cast of Total Divas has changed over the seasons, the basic idea has stayed consistent. It's a behind-the-ring look at the lives of women in this profession. It makes larger than life personalities into vulnerable people dealing with day to day problems. I may not be able to relate to swinging a lady over my shoulder, but I can understand a fear of commitment. I may not be able to punch someone, but I do get being nervous about my career. This is what is cool about the show. That's why I'm glad it will likely be back in no time at all.