The Event Planner From 'Bachelorette Weekend' Is WAY Too Good At Her Job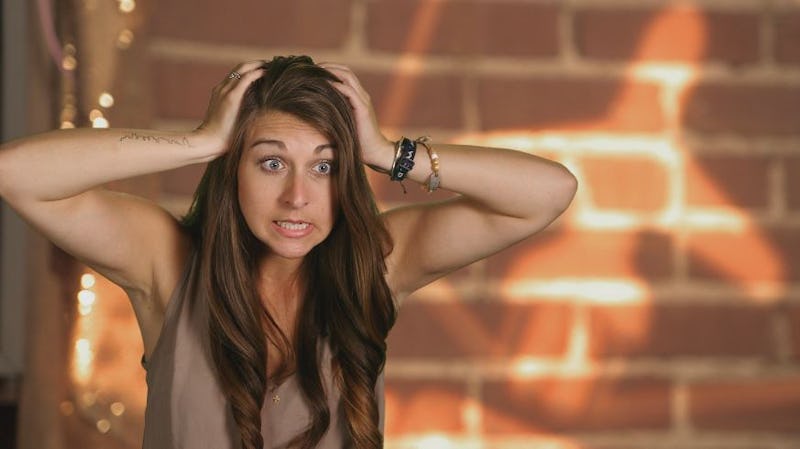 Courtesy of CMT
During any weekend of partying, drinking, and celebrating the end of your single life, there are bound to be some bumps in the road. And those involved in CMT's new reality show, Bachelorette Weekend, are no strangers to that situation. There's a lot that goes into planning the perfect bachelorette party, and the show's cast needs to be up to the task. So who is Nicole from Bachelorette Weekend, because she's obviously a pro.
According to her official CMT biography, 24-year-old Nicole Pancotto is Bach Weekend's customer service and event manager — a.k.a., she's responsible for all that goes down at the company's parties, and for fixing it when it inevitably gets a little out of hand. "Whether it's dealing with strippers or crying drunk people, Nicole is in charge of dealing with anyone who is having issues and fixing the problem," the site says.
If you think those instances will probably be few and far between, then you are sorely mistaken. Even the first trailer for Bachelorette Weekend features a stunning amount of strippers, body shots, drunken yoga, and high-heeled stumbles. It's actually kind of beautiful, if you know what makes great reality TV.
Luckily, she's up to the task. Nicole's LinkedIn shows that she's been with the company for more than 2 years, and was previously in roles such as sales supervisor and marketing coordinator.
Her Instagram account is public and also offers a little bit more insight on who she is when she's not wrangling tipsy bridal parties. She can often be found on the beach, hanging with her mom, traveling, and even palling around with the women she helps plan the parties for. She also has a Twitter account, but it's super inactive — nothing new has been tweeted or retweeted since 2015. So if you want to see what's up to when she's not party planning, Instagram is the way to go.
Viewers will soon get to see just how much Nicole has on her plate as the event manager, and judging by Bach Weekend's website, the company pulls out all the stops. It specializes in what it bills as "48 epic hours in Nashville or New Orleans," and packages range anywhere from $250 to $550 per person.
The site offers full-service party planning and custom itineraries, exclusive parties and open bars, activities around your chosen city, and actual red carpets rolled out for you and your entire bridal crew. They also partner with beer and liquor companies, car services, and bars around the Nashville area, according to the site, so you won't have to look far for a good time.
When you think about it, a company specializing in bachelor and bachelorette parties is really the perfect set-up for a reality show. These wild nights are a recipe for fun, but also open the door for potential disaster — there need to be skilled hands at work behind the scenes to ensure that things don't go to hell. Not only will inevitable conflicts between co-workers come down the pike for the staff of Bach Weekend, but with an endless stream of soon-to-be-weds trying sew a few more wild oats before saying their vows, Bachelorette Weekend won't have to go far for drama.