Here's What To Know About Paris Hilton's Fiancé (Besides The Fact He Has A Paris Tattoo!)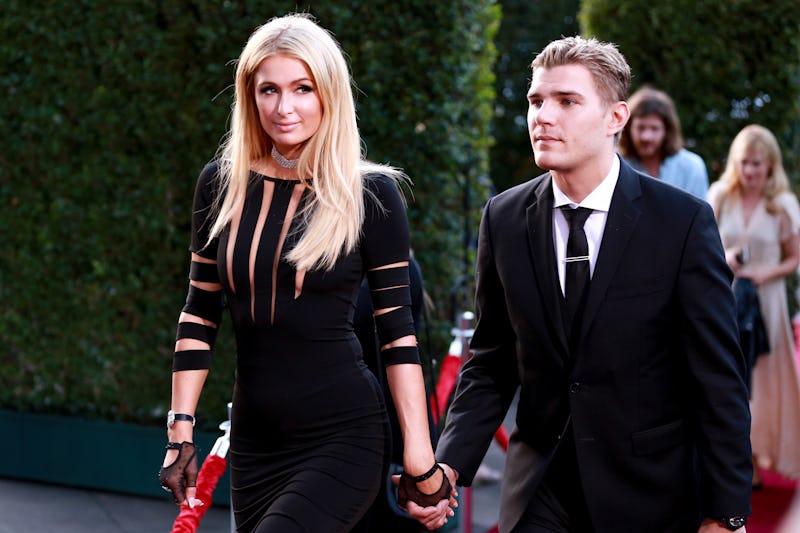 Rich Fury/Getty Images Entertainment/Getty Images
Paris Hilton's picture-perfect engagement snapshots graced the internet on Tuesday, courtesy of People, but exactly who is Paris Hilton engaged to? The "candid" photographs (seems iffy that a photographer just happened to be perched atop the same blustery Aspen ski slope at the exact moment Hilton's future hubby got down on one knee) expertly captured the 36-year-old socialite smooching her beau against a backdrop of frosted Coloradan mountains, immediately post-"putting a ring on it." Ah, the simple life.
A bit of light research and some surface-level social media stalking reveals that the man behind the giant pear-shaped rock is Chris Zylka, the 32-year-old Ken doll look-a-like perhaps best known for his leading role in HBO's creepy dystopian drama, The Leftovers. Hilton shared a sweet video of Zylka popping the question on Instagram Tuesday, Jan. 2, calling the proposal "the most romantic moment of my life!"
Seriously, though. That ring is so enormous it might as well be described as pear-sized. Zylka reportedly paid around $2 million for the 20-carat diamond, which was hand-crafted by celebrity jeweler Michael Greene, according to TMZ.
Zylka is an Ohio native, who was actually born Christopher Michael Settlemire, but adopted his mother's maiden name as a stage moniker upon the launch of his acting career. The actor first stepped out onto the Hollywood scene back in 2008 with a guest appearance on 90210, the CW's now-fallen spinoff of the '90s TV classic. Over the next several years, the brawny blonde snagged roles in a handful of projects across both TV and film, including in the supernatural tween drama The Secret Circle and the 2012 Spider-Man reboot before landing the part of Tom Garvey in The Leftovers.
Hilton and Zylka have been dating for about a year and a half, and their relationship first began stirring up titillated whispers in February of last year. Hilton confirmed that the two were still going strong several months later in April 2017, when the heir (who now doubles as a wildly successful DJ) posted a starry-eyed black-and-white photograph to Instagram of herself with then-newfound boyfriend. Her aptly mushy caption echoed the photo's sugary-sweet tenor. "He has the most adorable eyes you could ever fall for & the cutest smile that takes your breath away," Hilton wrote. "He has the ability to make you smile every time he speaks & whenever you look into his eyes it's so hard to turn away."
It seemed like Zylka was feeling the forever love too, because, this past November, the husband-to-be added a gigantic new addition to his tattoo collection paying homage to Hilton herself. The tattoo certainly didn't thrive on its subtleties — it's literally just "Paris" scrawled across his forearm in bold Disney-style font — and that's exactly what Hilton loved about it.
In a Nov. 26 Instagram post showcasing Zylka's new ink, Hilton wrote, "Now this is what I call real love & dedication!" (Note the hashtag: #BrandedbyPH)
Since deleting his once-active Twitter account, Zylka is now a social media-free man. So, to keep up with his latest escapades, we'll just have to defer to his wife-to-be.
Though their relationship began much more recently, the couple actually met eight years ago at a Chateau Marmont Oscar party, Hilton told Page Six during a December 2017 interview. "And then we flirted for years and years," she continued. "Then two years ago at Art Basel, my brother got a text because Chris had seen an Instagram ... and he wanted to meet up." Meanwhile, Zylka had began and ended an almost year-long engagement to model Hanna Beth.
During an interview with People, which dropped Jan. 2, Hilton gushed about her new fiancé. "I am so excited to be engaged to the love of my life and my best friend. I have never felt so happy, safe and loved," she said. "He is perfect for me in every way and showed me that fairytales really do exist!"
If the couple's fairytale proposal pics are any indication of what's to come in their relationship, it seems safe to say that Hilton and Zylka's future is looking about as bright as the blinding glare of the Aspen mountains reflecting off that colossal engagement ring.