Pedro Pascal Goes Full '80s In This Intriguing New 'Wonder Woman 2' Photo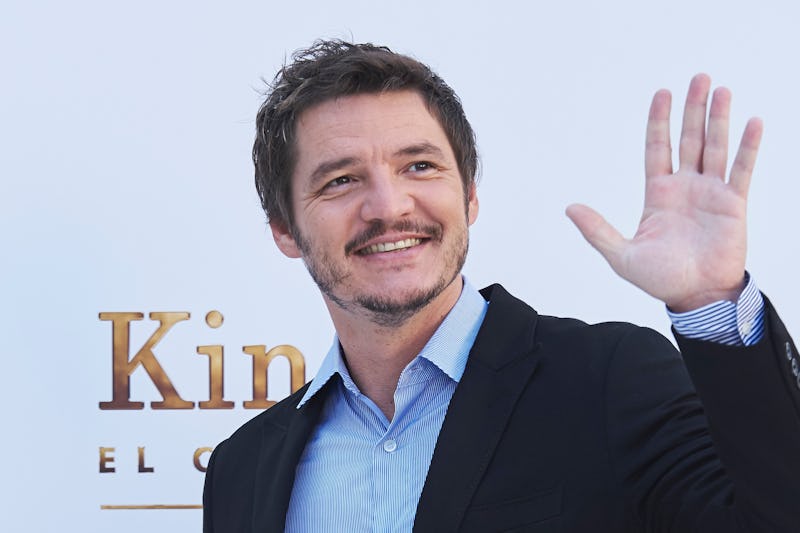 Carlos Alvarez/Getty Images Entertainment/Getty Images
Considering that the Wonder Woman sequel won't hit theaters until November 2019, fans are eager to learn as many new details as possible as a way to help quench their Themyscira thirst. So when director Patty Jenkins tweeted out a new Wonder Woman 2 photo featuring Pedro Pascal wearing his best '80s attire, the internet was set ablaze in excitement over this latest piece of intel. What's exactly going on in this scene and, perhaps more importantly — who is Pedro Pascal playing in Wonder Woman 1984?
Variety was first to break the news back in March that the Narcos and Game of Thrones star had been cast in a "key role" for the film, though no other specifics regarding his character have been released. However, if this photo is any indication, he's going to have no trouble at all fitting into the movie's 1984 setting. But will he prove to be a friend or a foe to Gal Gadot's Diana Prince? That's apparently something for Jenkins and Pascal to know and for the rest of us to find out. Either way, it's enough to get any fan more than a little psyched for the newest installment in this DC franchise.
Pascal's role isn't the only mystery surrounding the highly anticipated sequel, though. The first Wonder Woman 2 photos, which were released back in June, teased Chris Pine's return as Steve Trevor, who died at the end of the first film during World War I back in 1917. Obviously, the big question here is: if he died back in the first World War, how can he possibly be around in the '80s? Once again, that's a question that doesn't seem to be getting an answer anytime soon.
Head-scratching plot points aside, though, the sequel is looking to be just as enticing as the original. That's partially to do with some of the new faces coming aboard the franchise, including Kristen Wiig, who will be playing the villain known as Cheetah, and Pascal who will be playing, well, someone really cool — or at least we can assume as much.
Speaking of assuming, the lack of information about Pascal's role in all of this hasn't been enough to stop some fans from theorizing what type of role his character will playing in the ongoing plot. Based on the comments underneath Jenkins' tweet of Pascal's character, some believe he'll be tackling the part of criminal mastermind Maxwell Lord from the DC Comics. He was also the CEO and founder of Lord Technologies in The CW series Supergirl. Meanwhile, others believe he could be the immortal supervillain Vandal Savage or the powerful sorcerer Doctor Fate, both of which are major players in the DC world.
Any of these options seem equally possible at this point in time, along with the numerous other DC characters we have yet to think of yet. Considering how the original Wonder Woman ended — with the seemingly kind Sir Patrick turning out to be Ares, the God of War — the true identity of these characters can't always be based on their outside appearances. So while Pascal may look nice enough (as well as an exceptionally dapper dresser) in this photo, that doesn't necessarily mean he's one of the good guys. On the contrary, he could prove to be an even greater threat than Wiig's Cheetah.
More details about Pascal's role are sure to come out of the woodwork as the Wonder Woman 2 premiere date draws closer, but until that time comes, all we can do is sit back and wildly speculate on how it'll all play out. One thing's for sure though: November 2019 can't come soon enough.